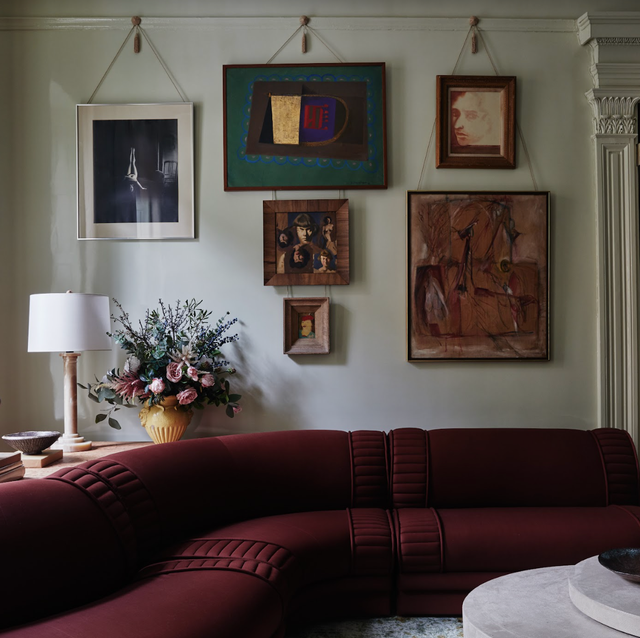 Jeff Holt
As we near the end of this year, it's time to start planning ahead by thinking about what will be trending in 2023. Naturally, we asked industry leaders what their interior design predictions are for the fresh season ahead—and they delivered. From an emphasis on meaningful collections to bathrooms with undercounter refrigerators, get ready to ruminate on these elements that designers expect to see everywhere next year.
Advertisement – Continue Reading Below
Prepare to lean into authenticity and prioritize joy. "Quiet greens and calming blues can combat a tumultuous political landscape, but ultimately it's the objects we fill our homes with that hold the most power to ease our anxieties," says Jean Lin, the founder of design co-op and firm Colony. "Maybe it's your grandfather's collection of fly fishing lures, or maybe you're zealous for antique maps—whatever it is that brings your truest self to your living space is on trend."
Here, design firm Chused & Co. filled the parlor of the 2022 Brooklyn Heights Designer Showhouse with well-loved vintage furniture and art from around the world.
"Homeowners are moving away from hiding their wine cellars and are using wine storage like an art installation," says designer Jeff Andrews. "It is a collection after all!"
Here, Sire Design fashioned a wall of wine that adds intrigue and acts as art in a client's living room, which was recently featured on the Netflix show Designing Miami.
"More and more homeowners are incorporating bold statement pieces of marble in their kitchens to create a focal point and add a touch of drama," says designer Hilary Matt. "You can achieve this look with a bolder use of colors, unique veining styles, or both!"
Interior design by Interior Archaeology.
Organic Materials and Shapes
Earth tones and organic shapes are expected to draw popularity—according to Elad Yifrach, the founder of L'Objet—because they're rough and refined at the same time. "This trend towards softer, curvaceous forms and imbuing elements of nature within our homes reflects a desire for comfort, albeit in a more sophisticated and refined manner with the incorporation of metals, rocks, and harder textures to add juxtaposition and visual complexity," Yifrach says.
The brand's TIMNA collection features prime examples, including porcelain vases and bowls glazed in rich mineral tones and "smooth undulations and bulges" that mimic forms found in nature.
"Cabinetry and kitchen islands are statement pieces within the home, and consumers are opting for bold looks and wanting their appliances to compliment the overall design," says Andrews. "Induction cooktops and ranges are especially gaining traction because of their sleek look, safety, and efficiency. I recently renovated my dream home and installed a Wolf induction cooktop that not only looks great in the space but also offers powerful performance."
Induction cooktops are even becoming widely available on more traditional-looking ranges, like in this kitchen by Nicole White.
Wellness is a driving factor of design for 2023. "Adding elements that help promote self-care and well-being can transform any space into an oasis," says Andrews. "Adding a pair of undercounter refrigerators to a home spa to store beauty products and chilled towels is something our clients are loving."
The designer recommends Sub-Zero's designer undercounter refrigerator to enhance convenience and serenity in the bathroom, living room, or primary bedroom.
Interior design by Elizabeth Roberts.
"Traditional kitchens are evolving and extending into other parts of the home," Matt says. "In the coming year, I predict larger—and even double—kitchen islands will be integrated to accommodate for larger entertaining and gathering space in the kitchen."
Interior design by Alice Lane.
Coffee Beyond the Kitchen
Coffee machines naturally find a home in the kitchen, but brewing your favorite drink doesn't have to take place there. "Clients are now adding the luxurious comfort of an at-home coffee station to spaces like home offices and home theaters," Andrews says. Adding one to a bedroom would make waking up with a cup of coffee in hand even quicker.
Interior design by Alison Victoria.
Advertisement – Continue Reading Below