The old adage "there's no time like the present" is never more apropos than at the start of a new year. While we're tackling our fitness goals and hauling away the Christmas décor, it's also a good time to take stock of everything that's not working in your home — ya know, what needs refreshing, what needs to be organized and, probably, what's ready for the donation pile. The good news? A 2023 home glow up doesn't have to break the bank, thanks to Target.
That's right, the mega retailer has just dropped hundreds of new items from its spring collections that are guaranteed to refresh pretty much every area of your home. Whether you're looking to update a patio space, add décor details to a living room or organize a pantry, Target's got myriad options from its exclusive design partnerships Threshold designed with Studio McGee (Shea McGee!), Hearth & Hand with Magnolia (Joanna Gaines!) and Opalhouse designed with Jungalow (Justina Blakeney!), not to mention its own home organization brand Brightroom.
Covering palettes from muted and minimalist to colorful and modern, the newest pieces include everything from pillows and planters to curtains, decorative baskets, chairs, lamps and more — and it all starts around $3. Check out our favorite picks from each collection below.
$20 at Target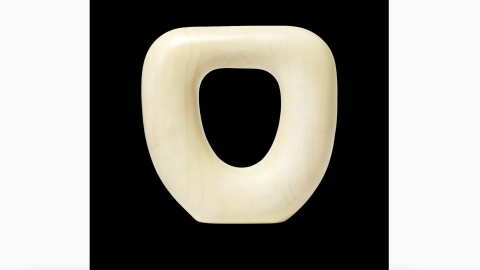 Target
If you've scrolled through Instagram and TikTok ogling highly-curated shelves — full of frames, books and objets d'art — you're not alone. While mimicking those designs might seem impossible, Threshold Designed With Studio McGee is making the task a bit easier this spring with lots of shelf-friendly pieces that are super affordable. Like this teak sculpture that rings in at 20 bucks and is perfect for stacking atop books or placing next to a vase.
$25 at Target
Target
Another decorative piece we can't get enough of? This stunning marble sculpture. Chock full of grays and browns that will blend with your existing aesthetic, the figural looks far, far more expensive than it actually is.
$25 at Target
Target
Affordable décor accents can have a big impact in your space. Case in point: this striking faux leather tray. Like something you'd find at a fancy home store, the tray is not only chic and eye-catching, but also practical in that it can corral TV remotes, magazines or snacks atop a coffee table. We also love that the collection has matching small and large boxes with removable lids that you can coordinate with in your room.
$185 at Target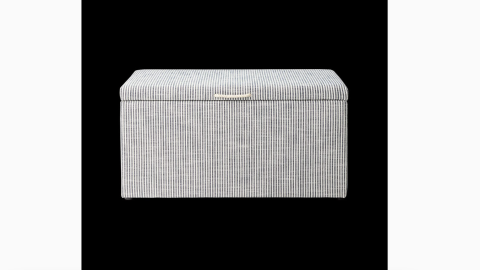 Target
Let us count the ways that we loooove this bench. For one, its ticking striped pattern is crisp, airy and neutral, making it a universal piece that will look great wherever it lands. Second, it can provide extra seating for two people. And third, it's got storage! Whether you're tossing toys, blankets or extra shoes and boots in there, the piece is a triple threat that will work in any room.
$250 at Target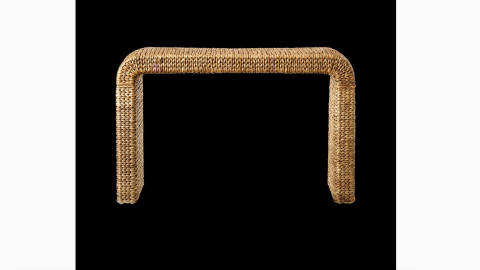 Target
Natural materials is another design trend that is staying put this year, and this water hyacinth console table fits right in. Perfect for entryways — its shallow depth is just 13.38 inches — the table is also a great option for placing behind a couch or gussying up an empty corner.
$80 at Target
Target
There's no quicker (or cheaper) way to refresh an outdoor space than with a rug, and this one from Studio McGee has a sage-and-charcoal gray striped pattern that's perfect for accenting your sitting area. We love that it can be hosed down when dirty, and that it has a latex backing ensuring it will stay in place. 
$90 at Target
Target
We're calling it: Tiny drink tables are going to be a big 2023 trend. Solving a lifelong problem — where to place your drink when the coffee table is more than an arm's reach away — drink tables are popping up at pretty much every home retailer out there because they're handy to have around and they don't take up much space. We're huge fans of the sleek marble-and-brass combo that rings in at under 60 bucks.
$28 at Target
Target
If anyone knows how to set a welcoming table, it's Joanna Gaines. Get in on the tablescape action with this sweet woven tablecloth, which has a crisp and spring-y gingham pattern and, bonus, coordinating napkins.
$15 at Target
Target
Tissues… but make them fashion! Hearth & Hand with Magnolia is doing just that with this genius rattan box that is so pretty you won't mind having tissues front and center in your living space in 2023.
$15 at Target
Target
If zhushing up your kitchen/pantry game is on your New Year's resolution list, consider this a purchase a must. Keep those ghastly oil and vinegar containers behind closed doors and instead opt to store the essentials in these matching ceramic bottles that are as pretty as they are tidy.
$20 at Target
Target
Add some color and texture to a blank wall with this simple rattan basket that is perfect for placing a few flowers (faux or real), hand towels, car keys or whatever else needs a floating home. 
$90 at Target
Target
Overhead lights are nice, but if you want to add some cozy ambiance to your space, consider adding a table lamp like this pretty ceramic option. Standing at 18.5 inches tall, the fluted lamp has a creamy monochromatic look that will blend in with any aesthetic you already have going on in your room. 
$6 at Target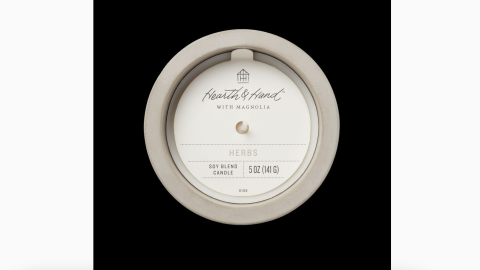 Target
Sometimes a new scent is all it takes to reinvigorate a space, and this soy blend candle will infuse the room with fresh floral and herb aromas. We love the understated cement holder and the industrial engraved "HERBS" text.
$33 at Target
Target
Let's add some drama to our spaces in 2023, shall we? A quick (and cheap!) way to do so is by switching up your current curtains with a new set — and this velvet option with a macrame trim is going to get the job done. Available in three sizes and two hues (green and gold), the panels are also machine washable and have both a rod pocket and back tabs for hanging. 
$25 at Target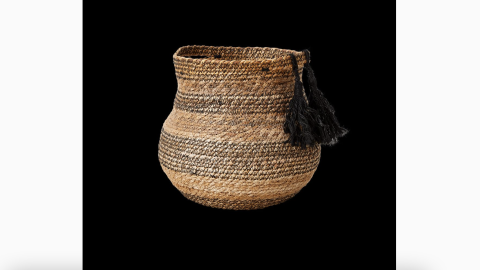 Target
Our love of baskets isn't going anywhere in the new year, and no surprise here, we're smitten with this crazy-affordable option from Jungalow. The pot-shaped basket has light and dark brown hues, a black tassel and cut-out handles. We envision it holding anything from throw blankets to your favorite plant.
$100 at Target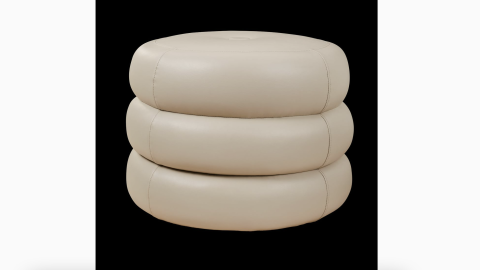 Target
One can never have enough seating — or makeshift ottomans — and the Molise offers both, while also giving major design vibes. The tier-like pouf comes in a creamy-gray faux leather that will seamlessly blend into any space, while also standing on its own thanks to those bulbous curves.
$30 at Target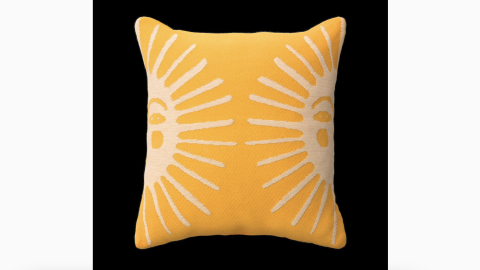 Target
It may be dreary outside right now, but channel the upcoming spring season via this sunny outdoor pillow. Cheerful and bright, the 18-inch, sewn-seam pillow is a quick way to reinvigorate your outdoor seating space.
$20 at Target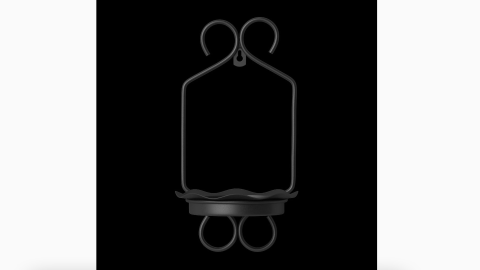 Target
If you live in a small space, the walls are your answer. This iron wall planter, for example, is a sneaky way to bring plants into your outdoor area without taking up precious floor space.