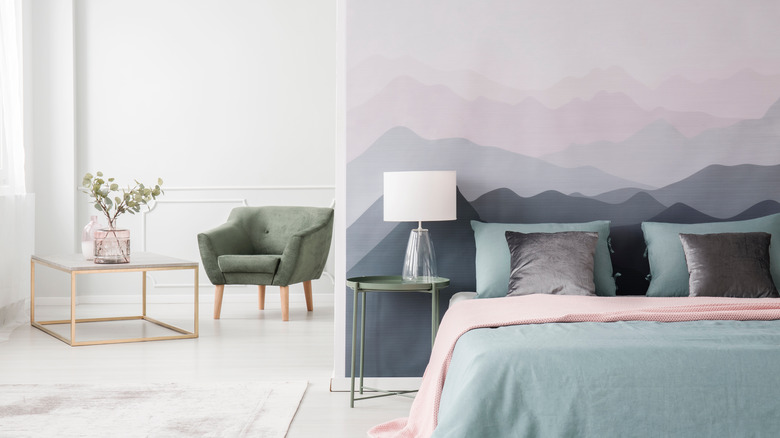 Ground Picture/Shutterstock
We may receive a commission on purchases made from links.
People can sometimes be classified into two categories: those that prefer the beach and others that prefer the mountains. In interior design, it's common to see beach-inspired décor such as seashells, artwork with rolling waves, and anchor decals. But what about mountain-inspired decorations? While less common than coastal pieces, there are plenty of mountain-inspired items, and most provide an outdoorsy look fit for a rustic cabin. If you want to lean into this style, The Cliffs recommends choosing natural colors, using wooden elements, mixing textures, and emphasizing your fireplace. However, even if you prefer a more modern, bohemian, maximalist, or colorful style, there are still summit-inspired pieces that will fit into your aesthetic. For example, the mural in the bedroom above uses pastels and pairs well with modern pieces.
While the most common type of mountain decorations are those that hang on or attach to the wall, there are also some small trinkets on the market as well. Below, you'll find 10 types of mountain-inspired wall art, followed by six interesting knick-knacks and other pieces. 
1. Wooden wall art
To provide a more rustic and textured look, choose wall art that's been carved out of wood. These pieces are sold on Etsy for anywhere from $44.99 to $125.95, depending on the size, color, and number of panels you choose.  
2. Wooden shelf
This floating shelf is a great way to not only bring a mountain element into your space but to also add a place to display small decorative items. Sold on Etsy, this piece retails for $106.08 without the white peaks and for $120.42 with the added detail. 
3. Floating shelves
Unlike the wooden floating shelf that's completely shaped into a mountain range, these shelves will provide a more subtle appearance. They're sold on Amazon in a pack of two that retails for $35.28. 
4. Minimalist metal art
For a minimalist look that still makes a huge statement, look to metal wall art. The above model is sold on Etsy for anywhere from $84.90 to $899.90, depending upon the size. Further, it also comes in three colors: black, gold, and silver. 
5. LED sign
To really make a statement, choose a piece that also lights up, such as this metal wall art with LED lights. Depending on the size, it can cost anywhere from $59.25 to $121.99 on Etsy. You could also choose to purchase without the lights, if desired. 
6. Scenic tapestry
Wall tapestries are an easier alternative to painting a mural on your wall. This large scenic piece that displays Glacier National Park costs either $13.99 or $14.99 on Walmart's website depending upon the size chosen. 
7. Wall decal
Another way to bypass having to paint a mural while still creating a similar look is with a decal, which sticks to the wall like wallpaper. The long piece above costs anywhere from $22 to $72 on Etsy depending upon the size, and it comes in just about any color you can imagine. 
8. Colorful prints
Here's proof that mountain-inspired décor doesn't have to look rustic. This set of four 8×10 pastel and warm-toned prints (unframed), which retails for $30.89 at Walmart, would be perfect for a bohemian or modern room. 
9. Macrame tapestry
For an abstract piece of mountain artwork that doesn't draw too much attention, look to this black and white macrame bohemian tapestry, sold for $16.99 on Amazon. 
10. Abstract clock
Another subtle way to bring a mountain landscape into your space is with a clock such as the above model on Etsy, which retails for anywhere from $52.80 to $264 depending upon the size and color. Color options include black, gold, white, and silver, which would all provide a modern and minimalist look. 
11. Throw pillows
A unique way to display your love for the mountains is through your throw pillows, which could be layered onto your bed or couch. This colorful and bohemian set of four retails for $20.99 on Amazon. 
12. Mini wood decorations
If you're only desiring a small mountain accent, look to these wooden decorations, which come in three sizes on Etsy: small, which retails for $5, medium, which costs $6, and large, which goes for $7. Or, you could choose to purchase a pack of three for $16. 
13. Bookends
To keep your books standing upright in an office, nursery, bedroom, or library, choose these fun bookends. Target sells a set of two for $24.99. 
14. Shower curtain
Mountain décor can even be brought into the bathroom. One way to do this is by choosing a mountain-range shower curtain, such as the above option that's sold at Target for $9 online. Here's further proof that you don't need to succumb to a rustic look if you don't want to. 
15. Painted vases
An extra subtle way to bring the mountains into your home is with painted vases. These handmade creations are sold on Etsy for $19.13. You could also purchase both the vase and dried flowers for $25.50, the vase and diffuser oil for $35.71, or all three for $40.81. 
16. Drinking glass
If you have open shelving in the kitchen or on a bar cart, this drinking glass would be the perfect piece to display, sold on Etsy for $11.10.