When faced with a big blank wall, it can sometimes be daunting knowing where to start with your decoration, so we are here to address the question, what can I put on my living room wall?
The living room wall is one of the main areas in the home where you can really get creative with your wall decor ideas. A multipurpose space used for relaxing, entertaining, and socializing, it is a chance to truly celebrate your style and create a design that fills you with joy every time you step foot into the room.
A key element to consider when planning your living room ideas, your chosen wall decor can help bring a living room scheme to life through eye-catching visual interest and beautiful decoration.
What can I put on my living room wall?
From the power of paint to plants, living room art, mirrors, and more browse our collection of ideas to ensure that you are making the most out of the walls in your living room.
1. Decorate with eye-catching artwork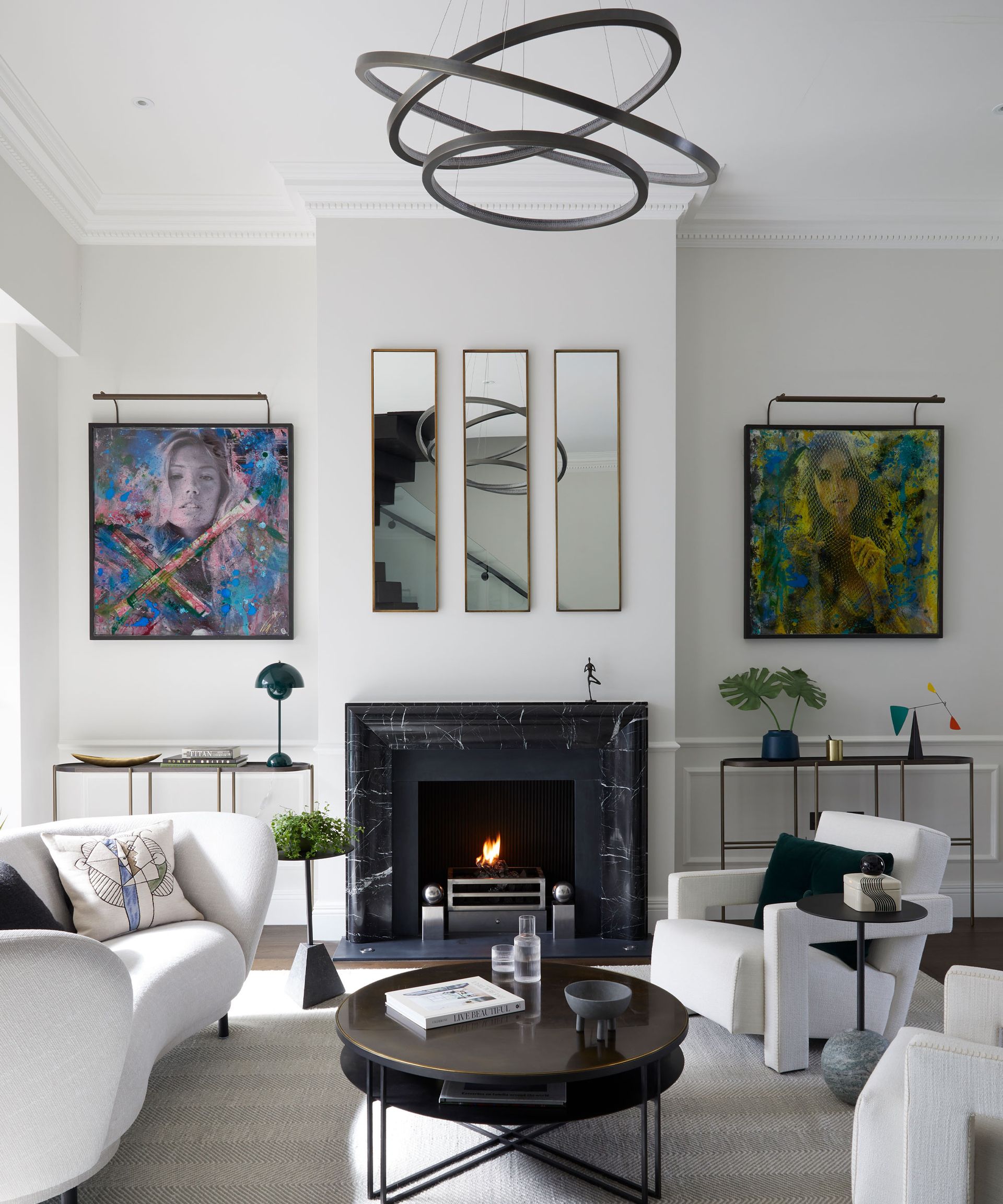 Decorating with art can be a beautiful expression of our style and personality in the home. A piece of art not only evokes conversation and engagement but can also enrich a space with elegant texture, color and unique design.
Artwork is often the final finishing touch that can bring a whole scheme together in a room, however, a favored piece of art can also be a great starting point for a design, as you can let the palette of the painting inspire the overall look for your living room color ideas.
Beautifully shown in this modern living room, we love how the two pieces of art in each alcove have been enhanced by a bespoke frame with an integrated light, giving each piece the recognition and lighting it deserves, just like in a gallery.
This living room is also a great example of how to use symmetry in interior design, which can be a helpful rule to follow when styling not only artwork in your living room, but lighting, furniture and accessories, too.
2. Enhance the space with mirrors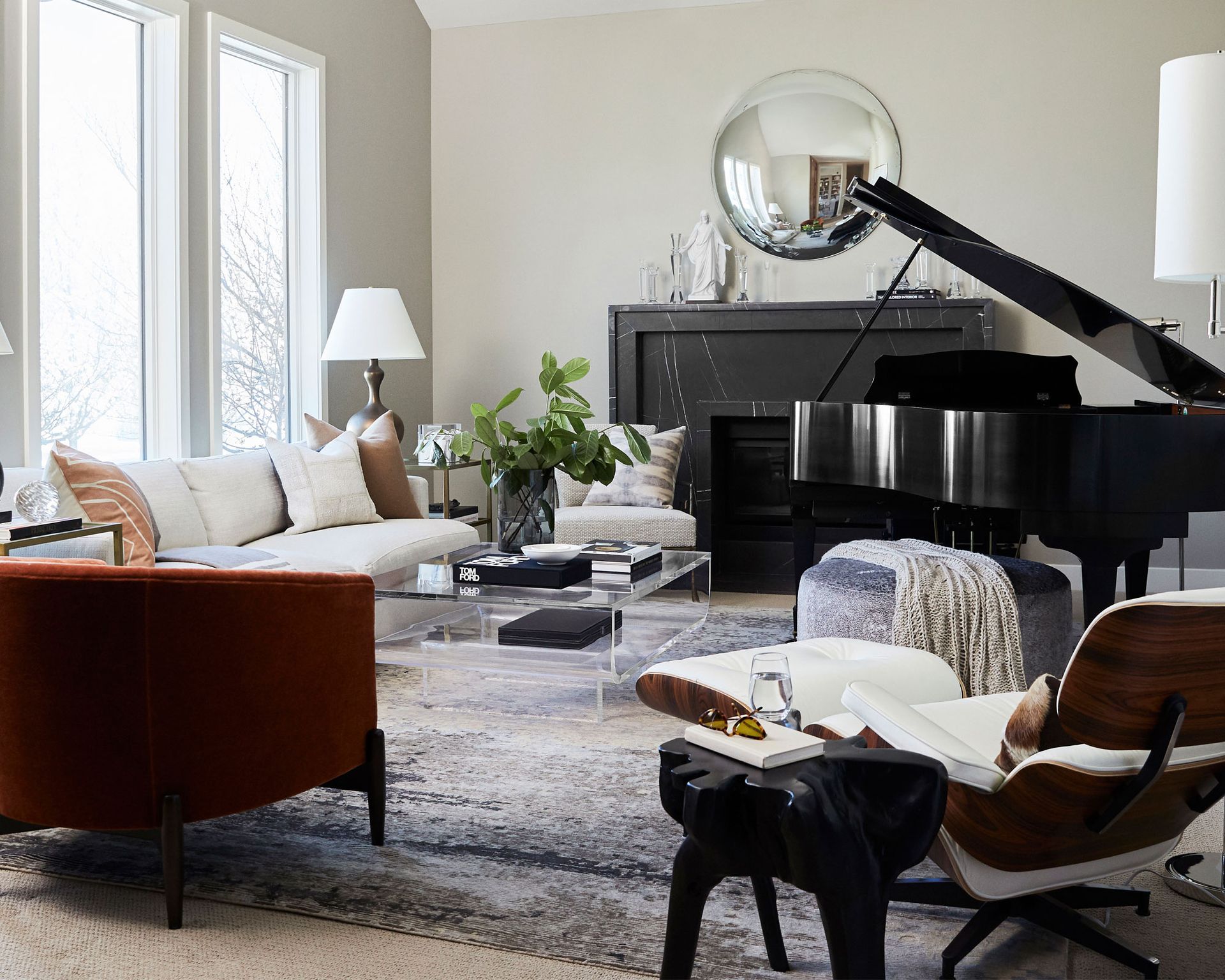 A mirror can not only act as a lovely decoration and focal point in a room but decorating with mirrors can help to make a small living room look bigger and brighter – so what have you go to lose?
Living room mirror ideas can be as small or as grand as you like, and there really are so many different designs to choose from. From eye-catching colored glass to unique geometric shapes and intricately detailed frames, the possibilities are endless. 
This living room, designed by Alice Lane Interior Design (opens in new tab), shows one of the most popular living room fireplace ideas, mounting a mirror on the wall above the mantel. The round, convex mirror adds eye-catching texture and depth to the wall and reflects the entire room upon its surface. A simple and clean design, we love how this modern mirror creates a stylish juxtaposition with the more classic styling present in the rest of the room.
3. Create a colorful feature wall with paint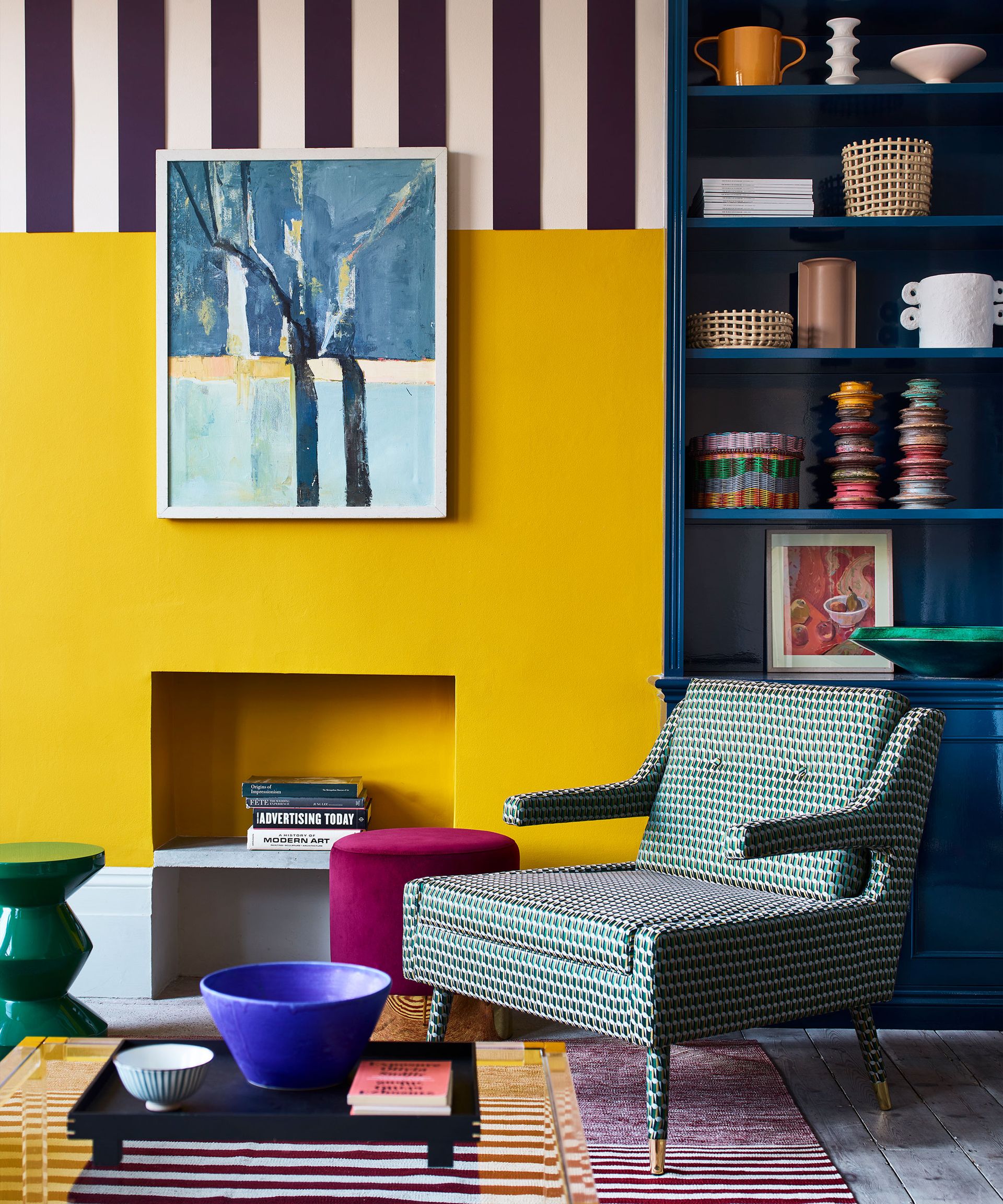 The power of paint will never cease in being able to transform and rejuvenate our homes. Helping a room appear more colorful, vibrant, warm and bright (the list goes on), exploring living room paint ideas can be a great way to liven up your walls.
Emma Bestley, creative director and co-founder of YesColours (opens in new tab), shares her advice when choosing paint colors for the home.
'We all have such different emotional reactions to hues and tones of color. The first question is what colors are you drawn to? This is the color you need to surround yourself with, a color you feel comfortable with and that makes you smile.
For a real boost, it's often a saturated shade of color that will give you that burst of energy. For example, deeper yellow, lush green, oceanic teal, or a warm orange – but you have to be mindful of whether your walls can handle that depth of saturation, maybe tone it down with a lighter or more muted version of that color instead.'
From using paint for living room accent wall ideas to painting a stand-out wall mural, picking up a paintbrush can have a truly transformative effect.
4. Choose both beautiful and practical wall lights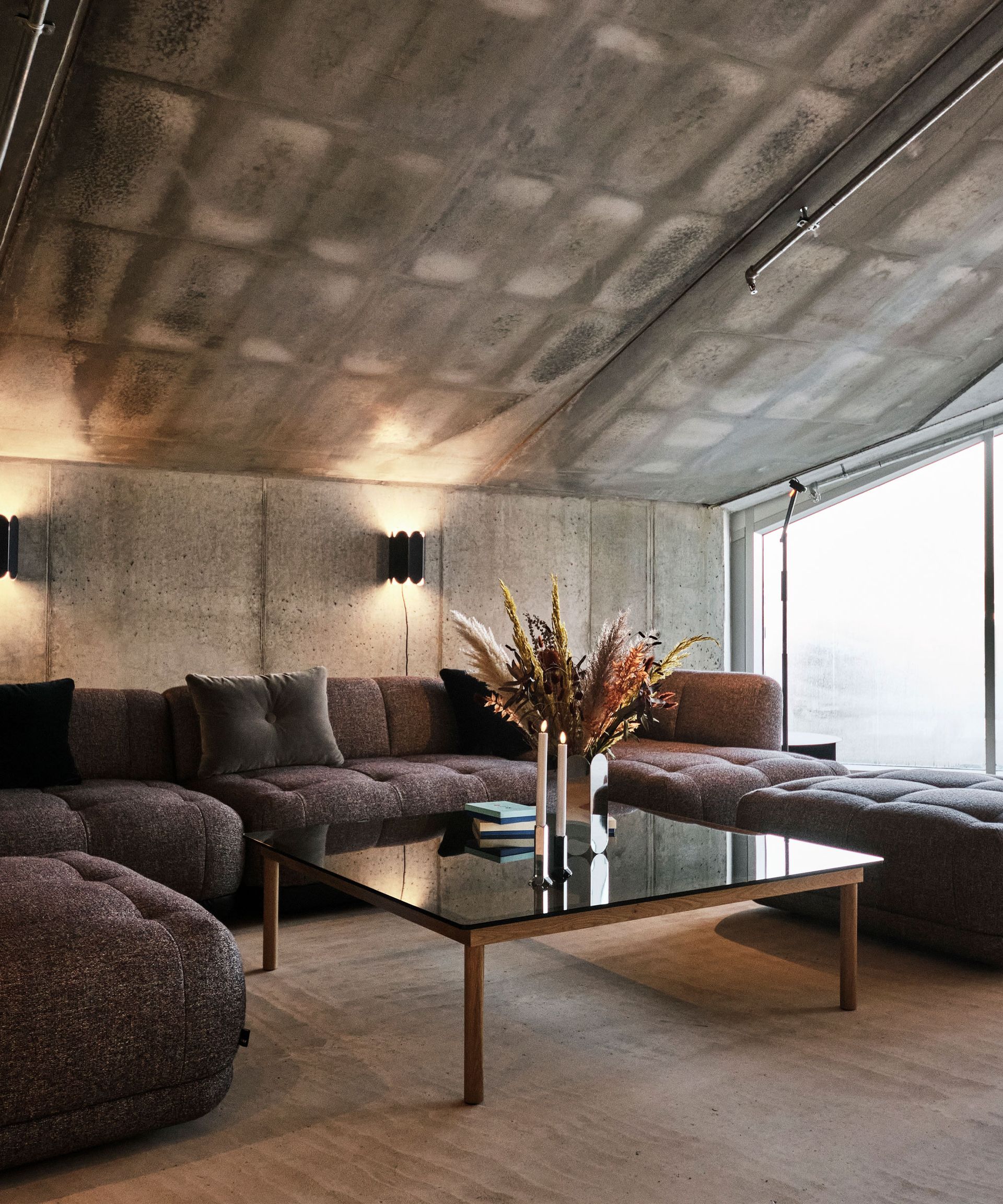 As the living room is such a versatile and multi-functional space, your chosen living room lighting ideas need to be able to cater to a whole host of different functions, moods and scenarios. 
Using layered lighting and establishing welcoming pools of light in different zones of the room is key, along with choosing fixtures that bring style and character to the space; a delicate balance of form and function.
Living room wall lighting can enhance your walls with beautiful decoration and both practical and ambient spots of lighting – what is there not to love? Ideal for positioning above a sofa or armchair to help create a cozy reading nook, or for use in groups beside a fireplace or shelving unit, there are so many artful wall lights to choose from.
Above shows the Arcs Wall Sconce (opens in new tab) from Danish brand HAY, designed by Belgian design duo, Muller Van Severen (opens in new tab).
5. Style your shelves to perfection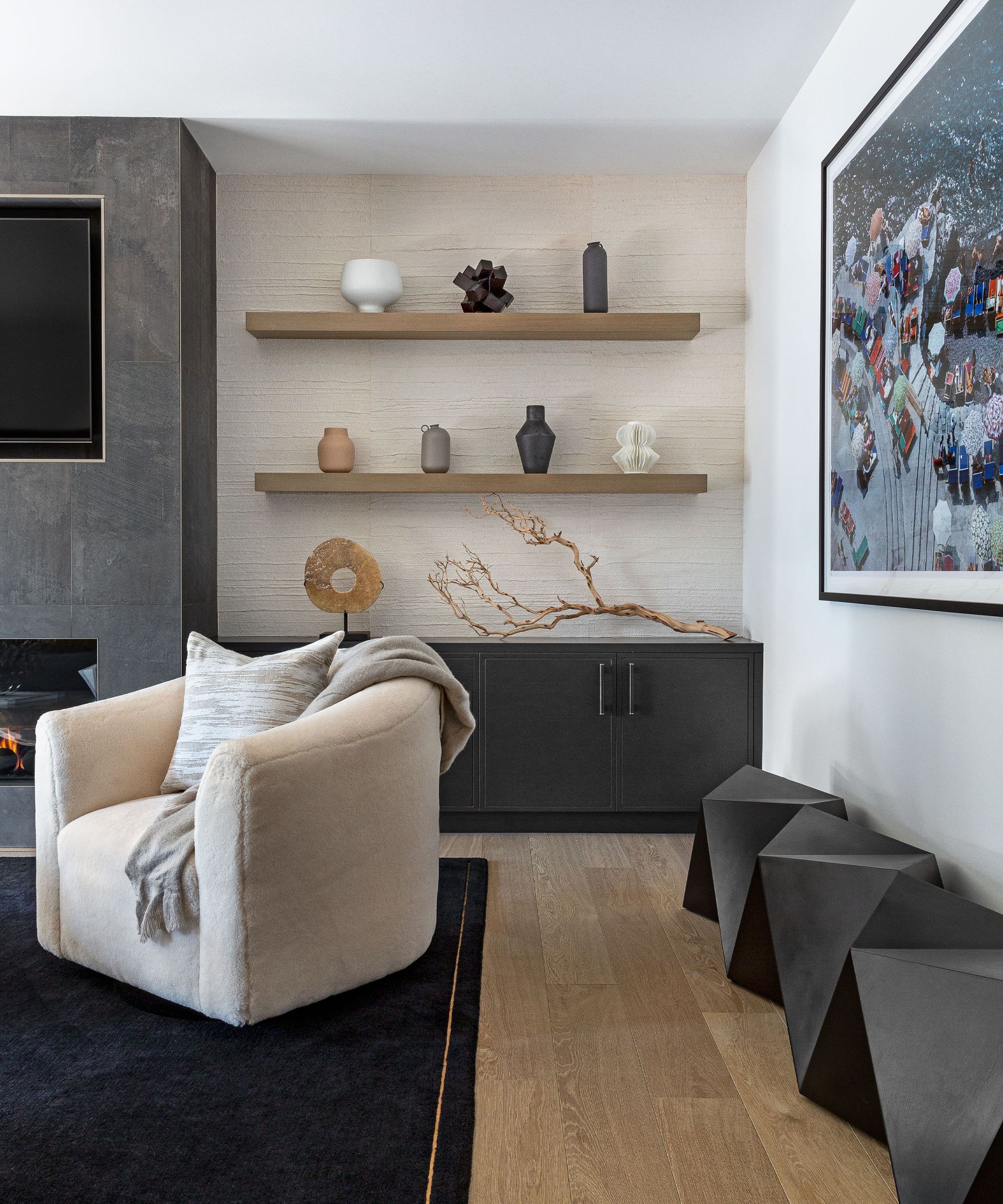 Peter Erlandsson, co-owner at String Furniture (opens in new tab) says, 'we believe that our shelves should be a reflection of our personalities and exhibit the objects that we have collected throughout our lives. When it comes to styling shelves, I have found that selecting just a few beautiful pieces to display can make the most decorative impact and be the most sentimental. 
Coordinating different colors on your shelves is another simple and effortless way of making these pieces stand out and decoratively tie a room together. Many forget that living room storage can be part of the interior design scheme, and by displaying and styling our objects, we can merge function with decoration.'
As Erlandsson explains, shelving is so much more than practical storage. Through objects such as ornaments, books and photographs, a shelf can fill a wall with stories and memories; helping a room feel more personal and unique.
Camilla Clarke, creative director at Albion Nord (opens in new tab), also supports this and says, 'if there is a nook or niche, use it. Make awkward corners a point of interest by adding open shelving and filling them with books and accessories.' 
Ideal for filling a large living room wall, from bookshelf ideas to beautiful displays of ornaments collected from travels around the world, shelving can bring both organization and decoration to your living room.
6. Make an impact with a wallpapered wall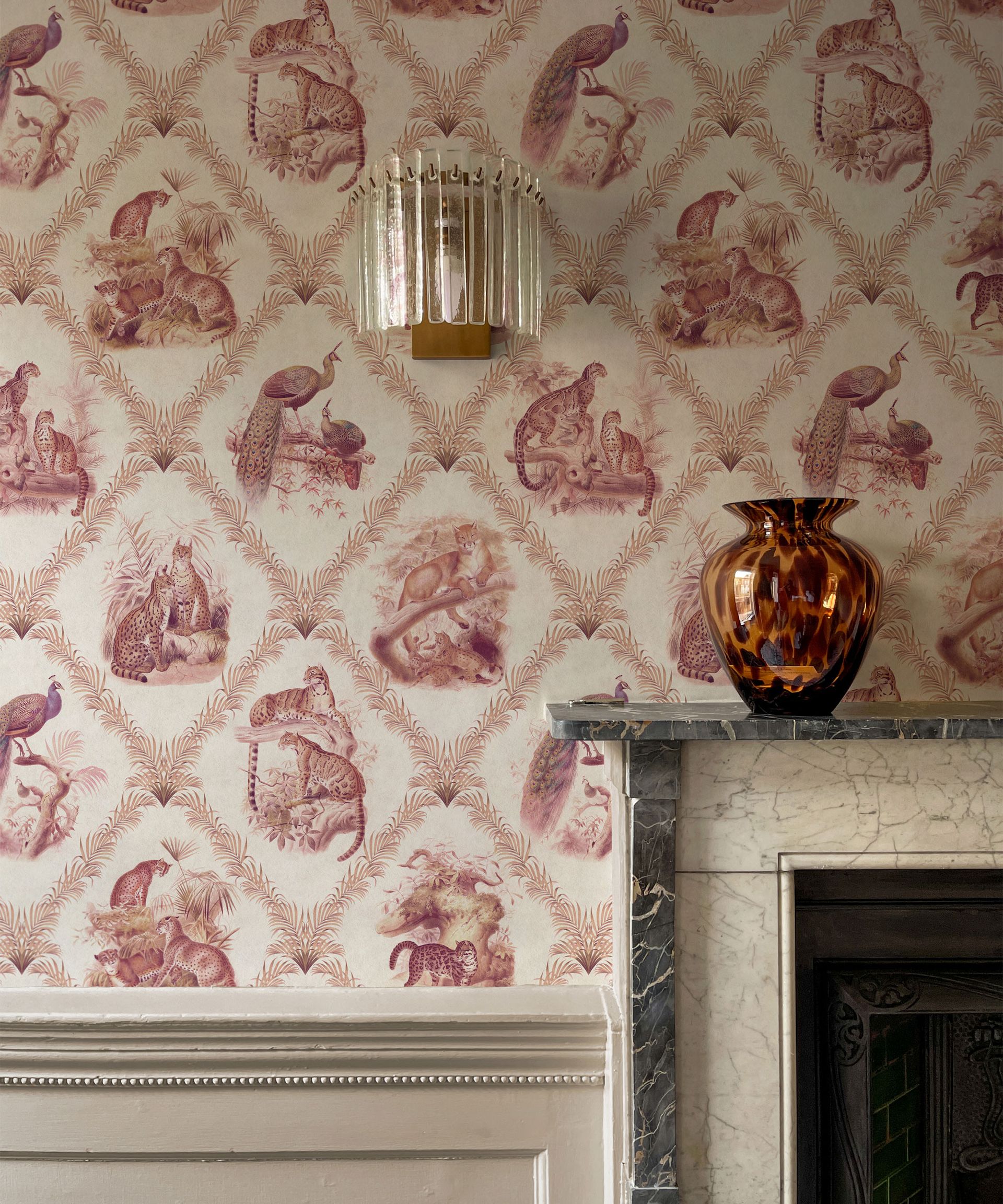 Beautifully chosen living room wallpaper ideas are one of the most popular ways to enhance the room with impactful patterns, color, and texture, 
Whether you choose to wallpaper the whole room (including ceiling wallpaper ideas), or opt for just one wallpapered wall for a living room feature wall, there are so many designs and prints to choose from; from flowers to animals, stars to stripes, wallpaper ideas are constantly evolving, so you will never be short of inspiring designs.
When choosing the right wallpaper for your living room, Tara Miller from The Heartland Interior Design (opens in new tab) shares her advice.
'If your living room has tons of natural light, I believe you can go as dark as you want when choosing a wallpaper color, if it is limited in lighting, stay on the lighter side so as to not draw attention to the lack of light.
Depending on the flooring in the room, I would suggest someone choose a contrasting color for the wallpaper. For example, if you have beige carpet, go for a color, or if you have hardwood flooring with an orange undertone, keep that in mind when you are choosing a color scheme as they will have to live in the same space.'
7. Add classic character with paneling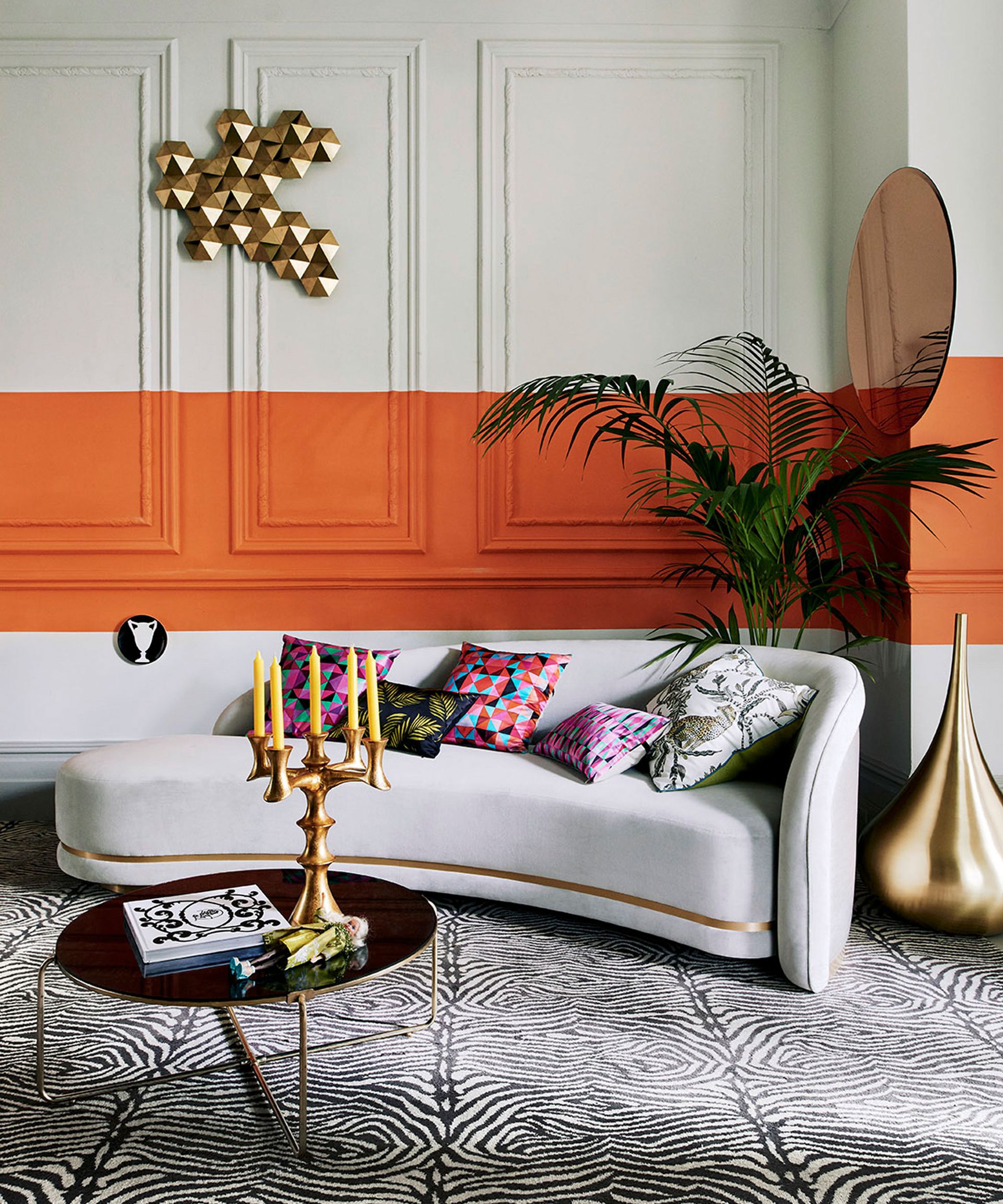 Whether you have a traditional living room that features original paneling or simply want to add a tactile, textural element to the walls in a more modern space, there is something incredibly sophisticated and elegant about paneling. 
Helen Shaw, director at Benjamin Moore (opens in new tab) says, 'an inexpensive way to make a space feel luxurious, wall paneling is a great way to add texture and depth in a room.
Picking the right color to decorate with is key; if you prefer a subtle and elegant aesthetic, consider a tonal scheme by matching the wall color with the panel décor, or for a more impactful finish, pick out a complimentary or feature color to draw the eye.'
Paneling paint ideas can really make an eye-catching feature out of your wall paneling and transform it from the simple to the sublime. As shown in the colorful living room above, the wall paneling and bold painted design unite together as one to establish a unique design that embodies an eclectic mix of the old and the new.
8. Decorate with hanging plants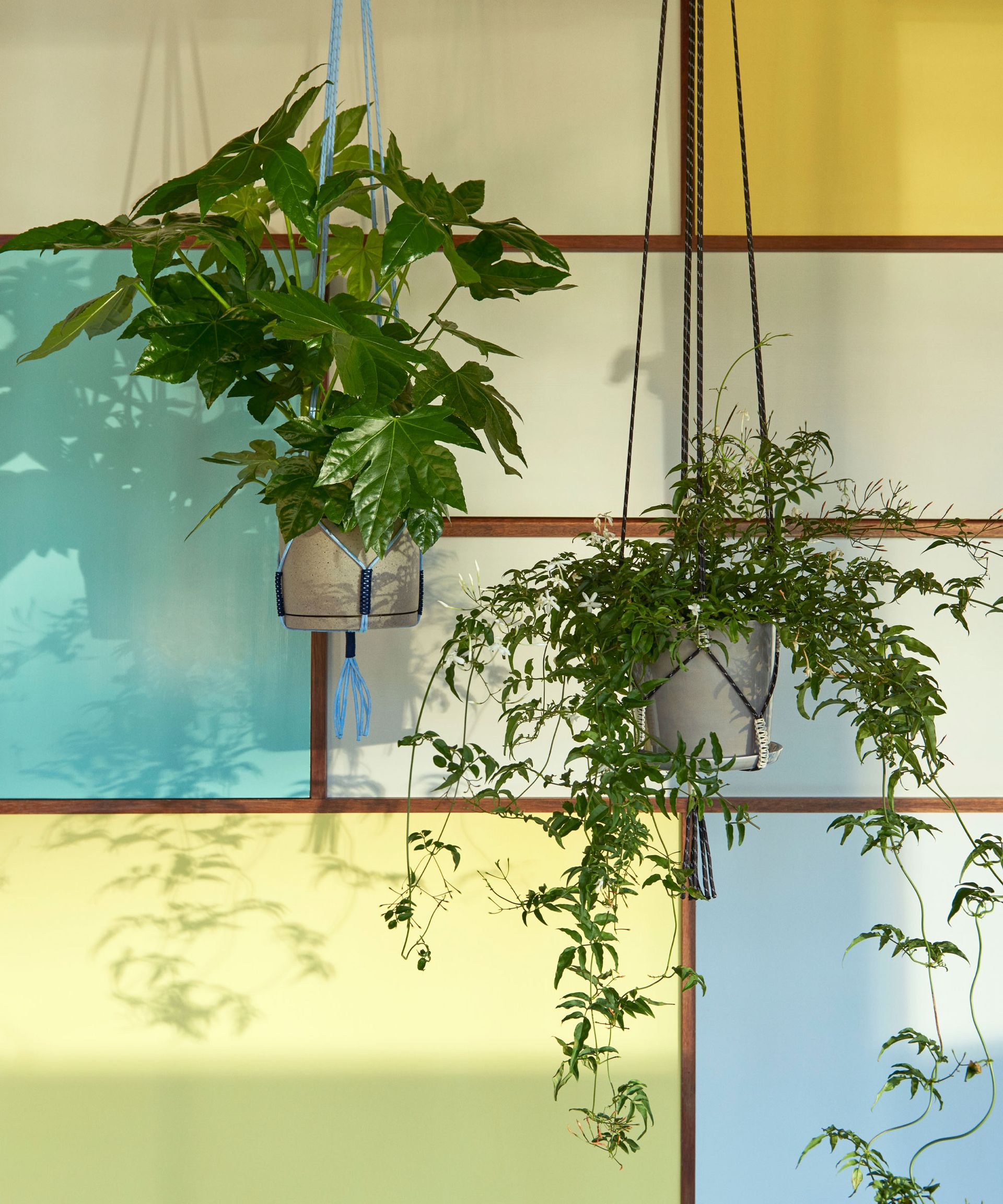 'Over the past few years, we have emerged with a refreshed motivation to connect ourselves more deeply to nature and the world around us. This biophilic shift to rebalance ourselves has seen us create spaces that bring the outside, inside, and dress the spaces around us with life and living things,' says Jo Littlefair, co-founder and director of Goddard Littlefair (opens in new tab). 
Most of us have ever-growing collections of houseplants in our homes, and these natural accents can not only enrich our indoor spaces with the beauty of the natural world but can also be used as stylish decorating tools, too.
Plant hangers, such as these available to buy on Amazon (opens in new tab), can be hung from a hook on a wall or ceiling to create a beautiful, botanical hanging display. A great way to both show off your plants and cover a blank wall, why not take your indoor jungle to the next level with a wonderful wall of greenery?
9. Mount decorative ornaments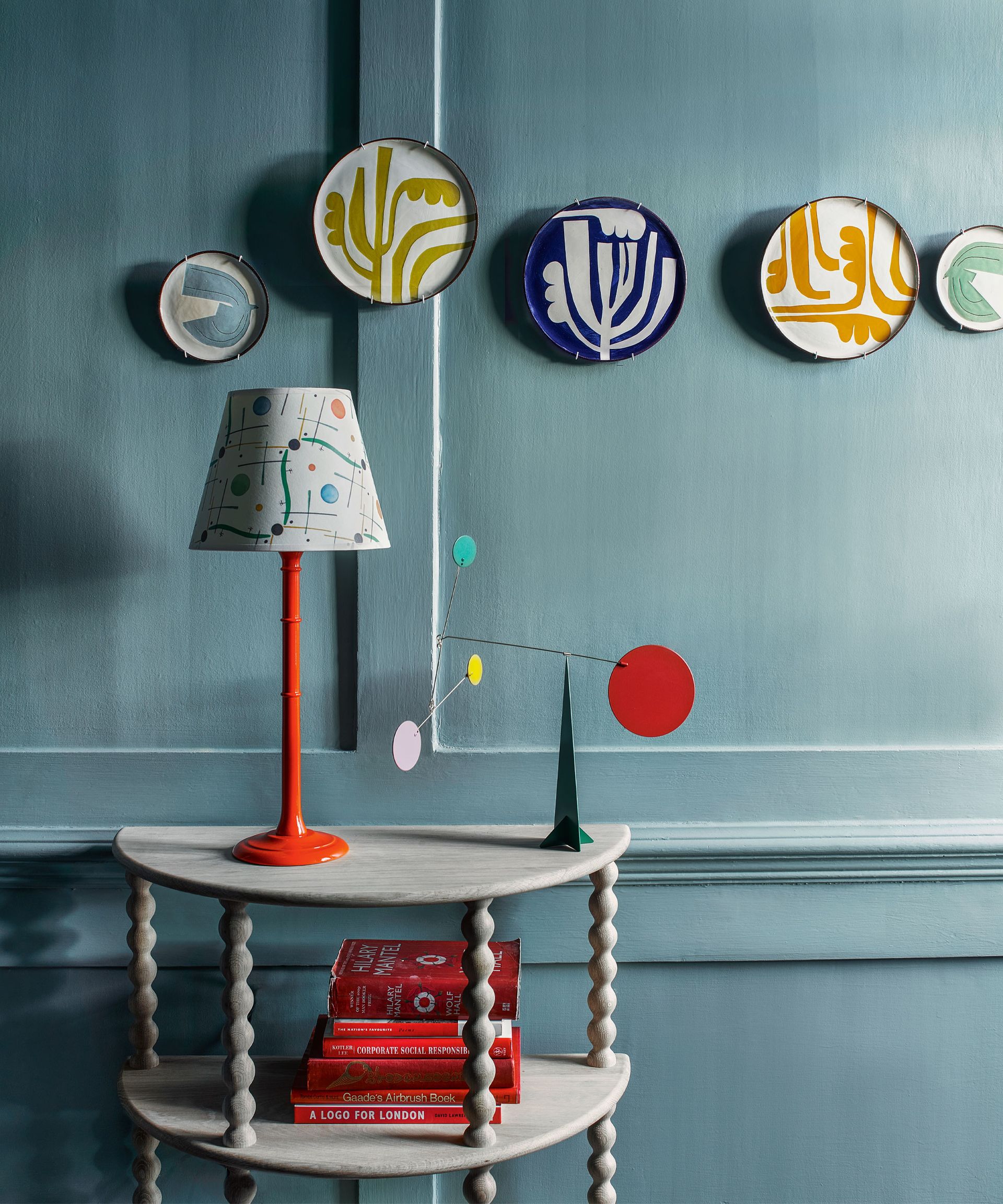 It can be as simple as that! From decorative plates to hanging decorations and even musical instruments, ideal for a wall in a music room also, creating a unique, artistic wall display with objects such as these can make for a stylish design feature in the space.
We think these Burst Round Hanging baskets from Anthropologie (opens in new tab) would work wonderfully on a wall in a blue living room.
10. Make it personal with family photos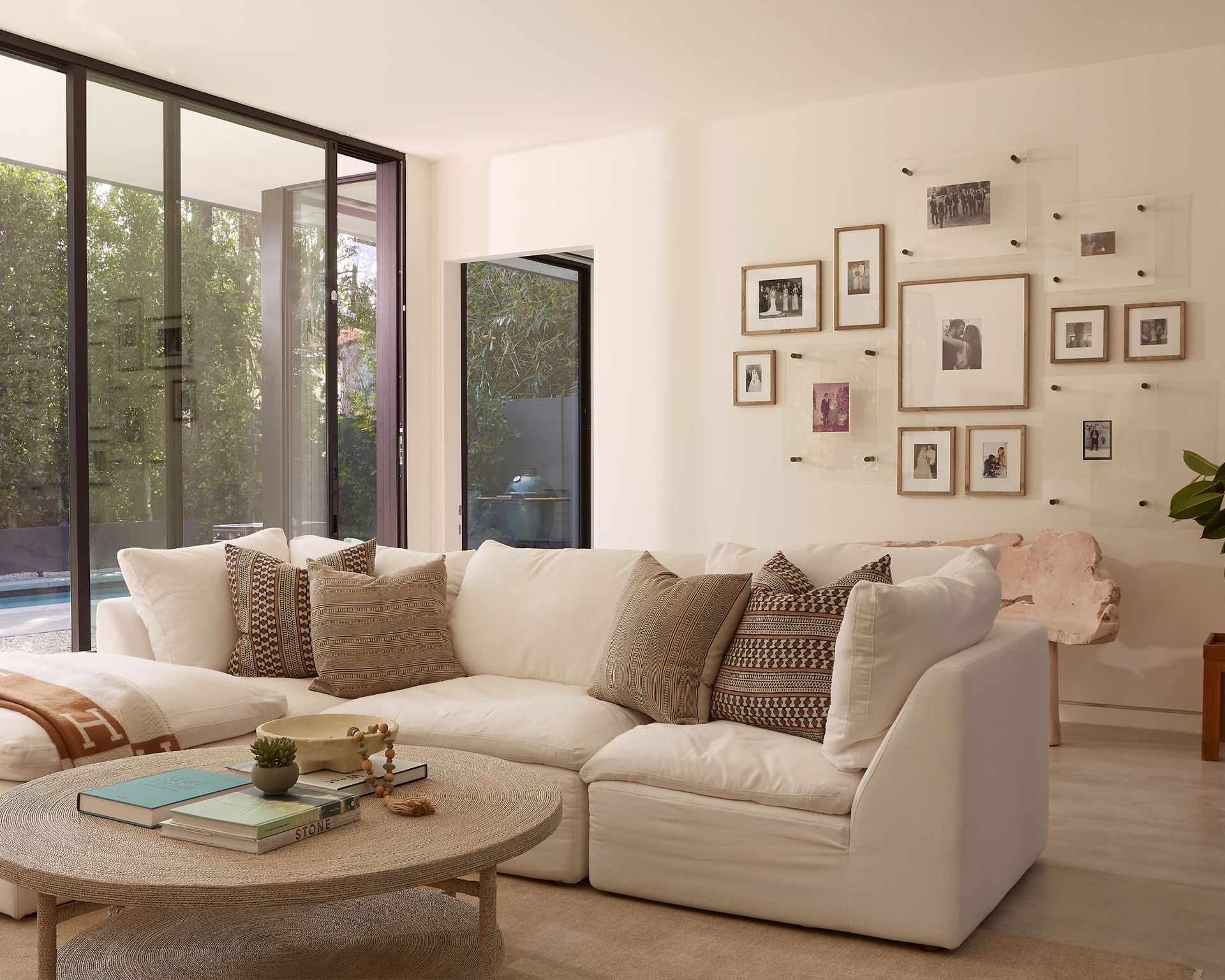 Where better to create a lovely gallery wall of photos than in a living room?
In this minimalist living room (opens in new tab), designed by Lucie Ayres of 22 Interiors (opens in new tab), the family picture wall really takes center stage, with the different styles and shapes of frames making for a welcoming focal point in the space. 
Framed photographs can not only create a talking point when guests arrive in the room, they can make your space feel more homey, inviting, and connected to you.
What kind of art should I hang in living room?
There are no rules when it comes to the art you want to hang in your living room, ultimately, you should choose enduring pieces that will bring you joy for years to come.
Picking artwork that can enhance the overall color palette used in the room can make for a stylish and cohesive look, however, artwork is also a great tool for establishing an accent and sense of contrast in the space – for further insight into color combinations for rooms, explore how to use a color wheel for interior design.
The living room is often one of the biggest rooms in the home, so it is also a chance to go all out with bigger, large-scale art pieces that may not fit elsewhere.
Should every wall have something on it?
This depends on many factors, including the size and layout of a room, window placements and the overall look you want to achieve in a space. 
If simple minimalism is more your style, a mirror or a piece of artwork on one wall may be all you need – or maybe you prefer nothing at all! However, decorating your walls can help to make a room feel more balanced and, ultimately, 'finished'.
As we have explored in this piece, you can be as bold or as subtle as you like with your chosen decorations. Your wall decor ideas should be viewed as an ever-evolving project, from fresh new paint colors to different pieces of artwork and plants, it is always worth freshening things up over time to make your space feel brand new.