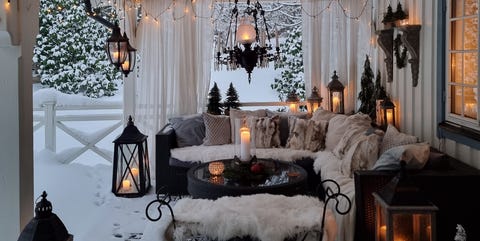 Anna Lena Lindqvist
There's something about distressed barn wood wall art, a cackling fire, and plush knit blankets (yes, multiple) that just screams Christmas perfection. Whether you're honing that rustic feel from your urban flat (we see you, city dwellers) or have the enviable wrap-around porch that knows no end to cozy corners, we're here to say that this timeless holiday look can make any home a winter wonderland. Here are our 15 top picks that show you just how versatile the farmhouse look can be.
Advertisement – Continue Reading Below
Take a cue from Stef Turner, owner of this festive 1910 fixer-upper. Adding plaid blankets to the rocking chairs of your porch will transform the entrance of your home into the coziest place to cuddle up on—with a mug of hot chocolate in hand, of course. "I find so much joy in giving each space a sense of nostalgia and staying true to the character and time period of our home," Turner says.
Carley Page Summer's former residence, a 100-year-old home in a historic neighborhood in Greenville, North Carolina, is proof that farmhouse style can be mixed with eclectic textiles for a look that has character in excess. "This room is one of my favorites that I've ever designed," Summers says. "We knew we wanted a whimsy French factor, and we included our custom chaise from our Max collection with River and Bord. We chose a more sparse tree and decorated the mantel with an asymmetrical garland, one of my favorite Christmas scenes ever!" Top tip: Get creative and add metallic ribbons at the tips of your tree for added dimension and glitz.
Nothing says Christmas like muted sage-green furniture and wooden woodland creatures. This cocktail table decor has the best of both. Topping it off with a modest wreath can elevate any space during the holiday season. "I live in an old house built in 1890, so my style, basically vintage cottage, reflects that," says designer Margy Richter. "I love the coziness and warmth that it brings, with layers of texture and subtle color."
This front porch is a Christmas curl-up cozy dream. In Anna-Lena Lindqvist's 1876 Swedish home, floor lamps, faux fur rugs and pillows, and Christmas lanterns (can there be too many?) make this the loveliest place to watch the snow fall.
In Jodie Kammerer's holiday wonderland (aka her home), the possibilities for living room decoration are endless. Mix ribbons with plaid pillows and a festive table runner to achieve this look. Oh, and add way more pillows.
Adding Christmas lights to the windows, as Katrina Morris did in her charming farmhouse style kitchen, gives a warm and welcoming feel. Don't forget the cherry on top: a mid-size wreath for added measure. "Decorating for the holidays with fresh greens and neutral tones is a classic and timeless way to add extra layers of coziness without your home feeling overly cluttered," says Morris.
Haven't you heard? Gold is the new red. When it comes to farmhouse style, a touch of metallic hues creates a look that is as traditional as it is chic. Erin Francois styled a fresh garland above the fireplace mantel beside gold candles and decor. Some of François's favorite greenery to use is "cedar, white pine, and berried juniper, plus a few dried orange slices tucked in for contrast." Bling bling!
Decorator Kandas Tedesco knows how to make it jolly! In her orange-accented living room, Tedesco has achieved the perfect balance of mixed styles: Bohemian stockings abut gold-lined candlesticks beside a brilliant metallic tufted ribbon and orange-toned ornaments. It's proof that farmhouse can be whatever it wants to be.
In Elin Stadokken's home, mixing the old and new creates a refreshing look with a nod to the past. "This is an old window from my grandparents' house and an old wooden sled that was used on snow to transport children," she explains, proving that some things needn't just sit around and collect dust.
Who said buckets belong outside? Take a note from Chloe Mackintosh's stunning tree vignette, and repurpose everyday objects in unexpected ways. "I turn to things that I already own, but I think of creative ways to add a festive touch to them," Mackintosh says—"for example, baskets filled with pine cones, fresh greenery clippings from pine trees placed in decorative vases, or ribbons wherever possible."
Ken Fulk has done it again, with a simple yet timeless green flourish across these wooden bunk beds. Add patterned pillows for a standout welcome for any guest.
12
A Sophisticated Holiday
What about indoors? Take advantage of your neutral color palette by pairing it with light wooden accents, like designer Sabrina Vroeg has. "Incorporating florals and lots of baby's breath was a significant part of the overall aesthetic, so that the tree felt a bit whimsical while still maintaining some classic elements," she says.
Who said the Christmas tree has to stay in the living room? Follow Naella McLaughlin's inspiration and take your decorated tree outside! Adorn it with baskets and matching wrapping paper to extend all the rustic revelry we need each winter.
Fill the corners of your home with holiday cheer with this simple basket idea, inspired by Karin Usipuik. Greens and wood always make the perfect match!
If you're more of a white-on-white enthusiast (which, let's be honest, farmhouse style is screaming for), consider adding a pop of color with a wreath, like here at this Portland, Oregon, Hood River A-frame, for a look that is both minimal and chic.
Advertisement – Continue Reading Below