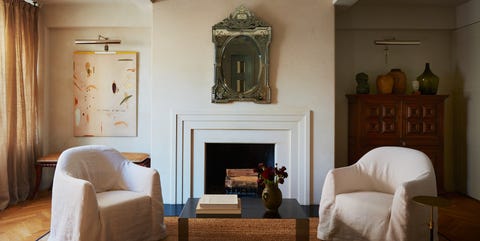 Tim Lenz
While color experts are predicting that a surge of saturated hues will dominate our homes in the year ahead, nothing quite beats the quiet beauty of a soothing, neutral-hued room. Not only does an understated palette soothe the eye (who needs wall-to-wall patterns after a day squinting at your computer screen?) and signify easy elegance, but it also promises—blessedly!—to never go out of style. Living rooms, in particular, are the perfect venue to perfect a neutral color scheme through elegant furnishings, plush carpets, and effortless accessories. But even though the "vanilla girl" aesthetic is trending across TikTok these days, a neutral look does run the risk of looking, well, too vanilla, or, worse still, just plain boring.
New York designer Augusta Hoffman is well aware of the pitfalls of a neutral decor scheme but embraces the challenge in her sophisticated projects. The key to keeping things from looking too monotone? Embrace luxe materials and sculptural forms. "Working with subdued tones actually gives the freedom to be more exploratory with materiality and texture," she tells us. "To add warmth and comfort to neutral spaces, I love to layer a variety of ivory-toned textile techniques with rich leather, patinaed metal, organic stone, and antique wood accents."
And you don't have to stick with a white or cream-colored paint job, either. According to the experts, the year ahead will welcome a bevy of "new neutrals" that allow subtle base colors—think pink, beige, and sage green—to peep through the pigment. But don't take our word for it: These 26 neutral living room ideas in our archive demonstrate that it is indeed possible to go beyond the pale.
Advertisement – Continue Reading Below
This serene space, in a New York City home designed by Alyssa Kapito, is a masterclass in artful all-white layers. Multiple seating areas—in soft whites, of course—create a perfect environment for entertaining, while a plaster chandelier by Eric Schmitt "gives this lovely glow and a sense of architecture," per Kapito.
As an alternative to flat or glossy paint, give lime wash a try. The trending texture lends a sense of cavelike warmth, or in the case of this Brooklyn apartment by Office of Tangible Space, the feeling of living "in an acorn."
This refined living room, the handiwork of Augusta Hoffman, shows off the designer's easy mix of contemporary silhouettes and weightier wood antiques. "We decided to embrace [timber's] materiality and use it as a contrast to the surrounding spaces," Hoffman says. "With that, we had to make cognizant choices to make the rest of the space feel bright and open so that the dark wood tone didn't overpower everything."
If you crave patterns in your neutral space, go for it! Just make sure they're in a complementary tone and motif. David Netto protégé Lily Dierkes used a Namay Samay fabric in this Nashville residence. The scalloped wicker ottoman adds texture.
Traditional gets a twist in Reese Witherspoon's Ojai, California, ranch. Designer and friend Kristen Buckingham, who had experience designing other Spanish-style homes, created a living room that felt "fresh and youthful" with linen slip covers, leather and wood furnishings, and a soft white-washed paint job.
Just because you seek a neutral look doesn't mean you have to abandon regional flourishes—or your taste for fun furnishings. We love this renovated Austin ranch home designed by architect Paul Lamb, with its adobe walls and modern sofa and chairs.
This Sonoma, California, estate might be a new build (the previous house was destroyed by a wildfire), but designer Ken Fulk incorporated plenty of cozy, old-world touches—including the 19th-century stone mantel, which was imported from Italy. Unconventional shapes and outsize silhouettes, as with the Jane Hallworth cocktail table, bring the look back into the present day.
Balance out your neutral living room with deeper tones. Designer Tim Godbold grounded this room with a deep blue carpet, a move that draws the towering stone fireplace into the scheme.
Think outside the box when it comes to the neutral living room of your dreams. Here, in a Manhattan model unit, ELLE DECOR A-List designer Rodney Lawrence specified a sunriselike gradient wallpaper to create a mood that soothes.
To keep your neutral scheme from catching a case of the blahs, play with shapes. Here, in a Brooklyn apartment by Ishka Designs, circular silhouettes are repeated in the rug, cocktail table, lamp, and fireplace. "We love the principle of a circle," says firm partner Niya Bascom. "There's no beginning, no middle, no end—only constant growth."
Don't be afraid to treat green like a neutral. After all, as Pantone's Leatrice Eiseman tells us, "Mother Nature uses it ubiquitously in plants and foliage." The designers at Ashe Leandro seemed to have taken that advice to heart, as shown in this Manhattan living room where the curvaceous olive-green sofa is a seductive inflection point in an otherwise neutral room.
Recently, we've seen an army of new neutrals come to the fore in home designs, ones that reveal just the teeniest tinges of color. Here, in her first ever interiors project, fashion designer Carly Cushnie selected pink-tinted Dimity by Farrow & Ball. "It's not overwhelmingly pink but just enough to give the space some dimension and depth," she explains. Mauve chandeliers and chairs tie it all together in this combined living and dining area.
Meet the future of neutral in this ultracurated Parisian apartment designed by Hugo Toro. Soft, sand-colored walls surround travertine screens, a light mint carpet, and a suite of arresting curved furniture.
Paint colors and furnishings contribute to a perfectly neutral scheme, sure, but don't forget about raw materials. Here, in this breathtaking Malibu, California, retreat, white oak ceilings, concrete floors, and a black plaster fireplace surround are a handsome trifecta.
If you can't stray away from color, never fear. Try enlivening your neutral room with pops of it with artworks and accessories. We love this example in an art-filled San Francisco home designed by Nicole Hollis, where a vivid glass cocktail table and paintings by Josef Albers and Larry Bell add pizzazz.
It's been millennia since mankind emerged from the cave, but we'd gladly stay there if it meant inhabiting one as chic as this! In the historic French farmhouse of Patrick and Lorraine Frey, the sitting room showcases an original stone vaulted ceiling and custom furnishings all upholstered in Pierre Frey fabrics, of course.
If your home is blessed with historic architecture, like this Pittsburgh Tudor owned by designer Ramsey Lyons, don't feel pressured to replicate the style inside. In fact, in her living room, Lyons completely transformed the once-heavy timber wall panels using lime wash and tinted wax. Furnishings in soft patterns and a zippy blue artwork by Donald Martiny add even more levity to the formerly serious space.
"I've never met a leopard print I didn't like," Diana Vreeland once quipped. The same goes for virtually any other animal print, which, when combined with the right colors, makes for the perfect neutral look. Here, designer Jessie Schuster reupholstered a pair of vintage chairs in a Clarence House tiger pattern for one fabulous, yet complementary, scheme.
Whatever you collect—books, antiques, tchotchkes—a neutral living room provides the perfect blank canvas to display them. Cliff Fong collects (in addition to some 400 rare orchid species) art and 20th-century design masterworks, all artfully displayed in his largely black and white Los Angeles living room.
This Lake Tahoe cabin used to be a dark-and-dated '80s-era ski chalet. No longer, thanks to Sara Oswalt of Purveyor Designs. A light-and-bright palette of cream upholstery and honey-colored timber brought the home into this decade.
Parquet floors and millwork are the perfect basis for a neutral living room scheme. Here, in a New York City apartment overhauled by Cochineal, the designers struck a careful balance between dark, light, and mid tones. "These are unifying factors but still allow us to have variety and creativity and open-mindedness," says firm cofounder Sarah Mendel.
If you have a view this wild, flaunt it. Here on a windswept coastal site in the U.K., designer Sally Mackereth transformed an all-white lighthouse into a restful family vacation home.
Jazz up an otherwise neutral living room with lively zips of pattern, as with the Manhattan home of Carlos Garciavelez and interior designer David Lawrence. The graphic lines of the rug, cocktail table, and Barcelona give the space an artful edge.
Embracing doesn't even begin to describe this warm library in a California home designed by Workshop/APD. Here, the designers leaned into the room's tawny stone palette with the travertine cocktail table and fireplace surround.
Expanses of glossy concrete and tan-tinged furniture make this California desert retreat a showstopper, without detracting from the cinematic views framed by the building.
Instead of going completely monochrome, opt for a variety of fellow neutrals like gray, cream, black, and white. We love George Kolasa's Hamptons farmhouse, whose mix of comfortable upholstered furnishings (plus a vintage pommel horse) creates a perfectly worn-in, unfussy feel.
Advertisement – Continue Reading Below