December 02, 2022
|
Spirit Newsletter | Dale Goodwin ('86 M.A.T.)
Gonzaga business major Thomas Gonzalez ('24) stands near the door and
anxiously awaits.
Then, the moment of encounter comes when a hospitalized child enters their
hospital room to find color and joy spread all over it like their favorite frosting
on a cake.
Gonzalez is a vital member of the Once Upon A Room board of directors, a
nonprofit that decorates hospital rooms for pediatric patients facing long-term
stays. Founded in Los Angeles, where Gonzalez grew up and became involved,
Once Upon a Room has grown to 25 hospitals across the country, and
Gonzalez has been involved in recruiting 10 of those within the past year.
He began when he was 16, attending Jesuit Loyola High School in downtown
LA. "You decorate one room and you're committed," he says. Gonzalez has
since decorated hundreds of hospital rooms. To see those kids who are
undergoing months of chemotherapy or serious surgical procedures, and to get
to feel an aspect of their homes in their hospital rooms, is extraordinary. To
see their names on a pillow, themed sheets and bedspreads, their favorite toys,
pictures on their walls; it really lightens up their souls."
Adult leadership teams organize and oversee room decorations in every city
that hosts a Once Upon A Room program.
"This is an unbelievable experience for volunteers decorating a room for the first time and feeling the patients' and their family's responses. They always leave in tears," Gonzalez says.
Many of the decorations are for infants' rooms, and the real benefit is seen in
the faces of their parents, who are trying to find joy in an otherwise fretful
situation.
In some of the cities a Junior Room Crew of high school-age students create
in- and out-patient bags for the patients when they leave the hospital. COVID
restrictions have limited the work teens can do inside the hospitals.
So how did this all begin for Gonzalez?
"I was in high school and looking for a service opportunity," Gonzalez says. "I
went to a meeting of Once Upon A Room with a friend, got drawn in and loved
the people I was working with. Then, to see the impact on the patients and
their families sealed my commitment to the project."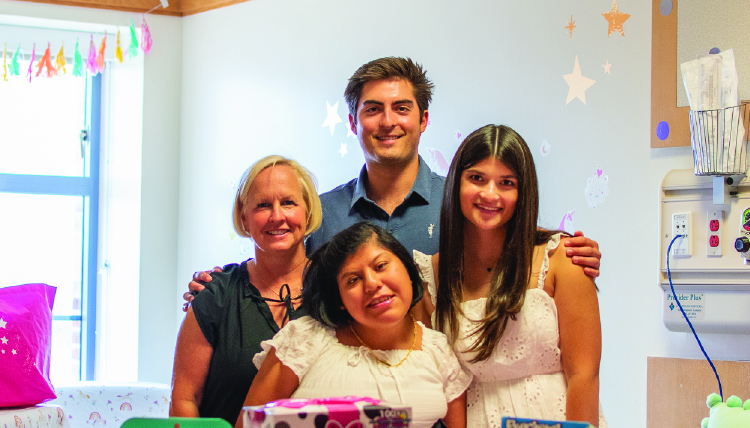 He has since become close friends with organization founder Josie Hull, 21,
who was separated from her conjoined twin Teresa at 1 year old. "Her
resiliency, to see how hard she has fought to make a regular life for herself, it
makes you want to do more for people who don't have the luxury of good
health," Gonzalez says.
He now serves as assistant treasurer and a member of the board of Once
Upon A Room, helping to facilitate board meetings and coordinating a men's
group in Los Angeles that raises funds to help purchase supplies for the room
decorations and expand to new hospitals.
And he travels all over the country to recruit new hospitals and to participate
in room decoration events.
"It's the type of work that doesn't come around very often," Gonzalez says.
"But it makes you want to keep coming back, giving more."
Gonzalez has concentrations in both finance and economics and plans to
pursue a career in investment banking and private equity.
He has found Gonzaga to be a perfect fit for him.
"I went to another Christian college for two years after high school, but found I
was losing a lot of what I had found at Loyola High School. It was the Jesuit
experience that I was missing," Gonzalez says. "I found that here at Gonzaga.
Everyone here is a community servant.
"
Want to join Once Upon a Room?