Known for their fabulous health benefits, living room house plant ideas add vitality and life to a room as well as helping us to 'bring the outside in' – a cliche yes, but one that is nourishing and positive in our daily lives. 
Living room ideas are one of the key spaces to utilise the wonderful properties that houseplants give us. But where to start? There are numerous living room houseplant ideas to inspire your journey into being a plant owner – from how to display them to what varieties look best depending on the size of space you have. 
With the botanical living room trend still going strong too, there's no better time to start your collection and the beauty of them is, even if you have a small living room there's a houseplant that will fit in perfectly. 
'If you don't get enough time outdoors or live in an urban area, adding plants throughout your home is a great way to feel connected with nature. To awaken your inner horticulturist, creating a dedicated nook for your plants will make cultivating your indoor garden easy and manageable,' says Francesca Morris, senior buyer at Garden Trading.
Living room houseplant ideas
One of the main benefits of including houseplant ideas is that they purify the air, they can also be a mindfulness aid when it comes to looking after them. Though some are low maintenance they still need a touch of care to keep them in tip-top condition. 
Different varieties have different needs – some like shade with little watering whilst others prefer a sunny spot and are thirsty. If you're not the best plant parent there are some houseplants that are hard to kill so they're an excellent place to start. 
1. Use them to add texture to your scheme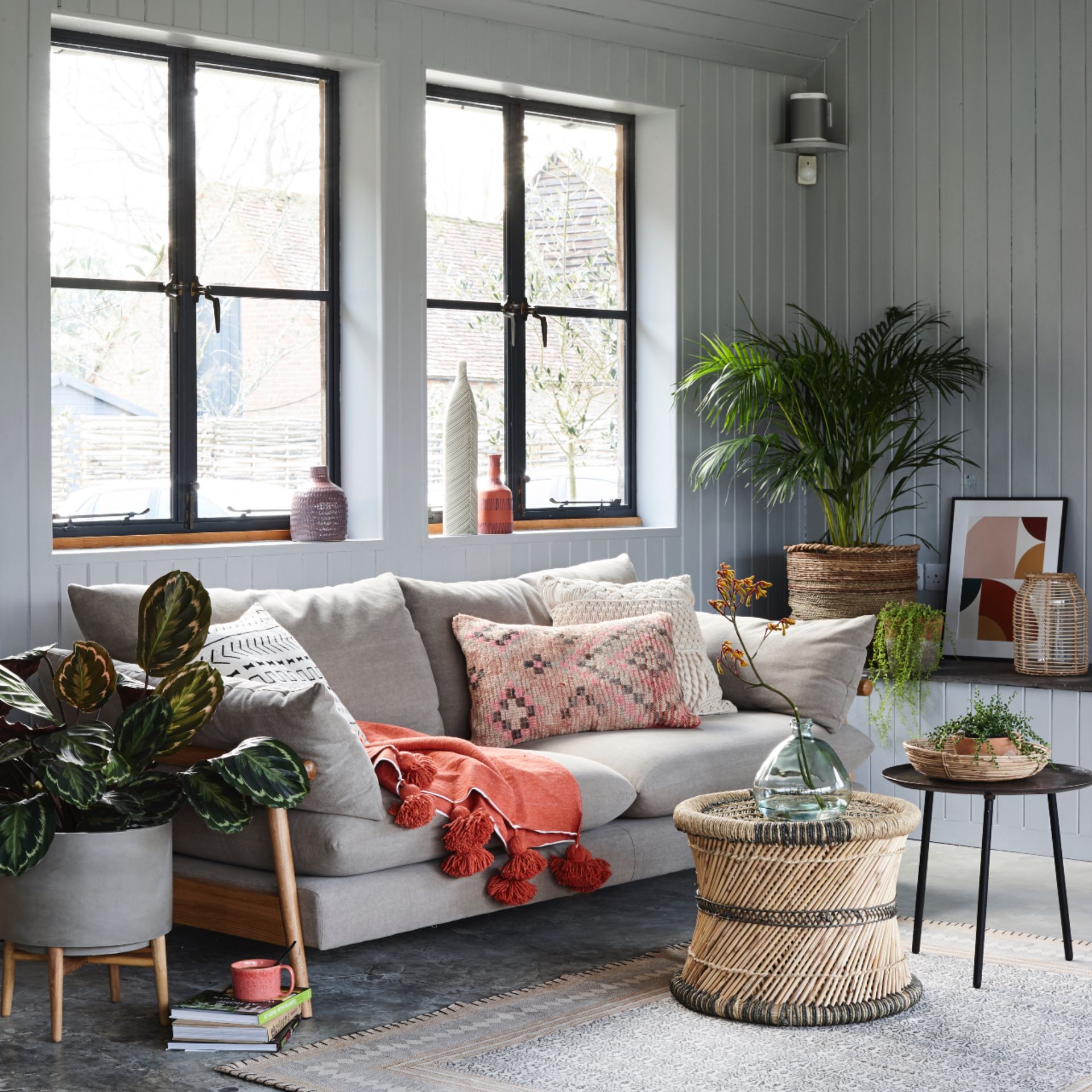 Extremely versatile, plants can really add texture to your living room. Choose varieties that have different shaped leaves – from chunky and variegated to thin and wispy, from tiny leaves to large plate sized ones, you can layer the look with a mixture of plants in the same way you would with accessories – by choosing multiple textures, shapes and sizes. 
Pots and planters will add wonderful texture too, think rattan baskets, concrete style containers and weathered terracotta pots, they all add an earthy feel to a space. 
2. Give them a dedicated space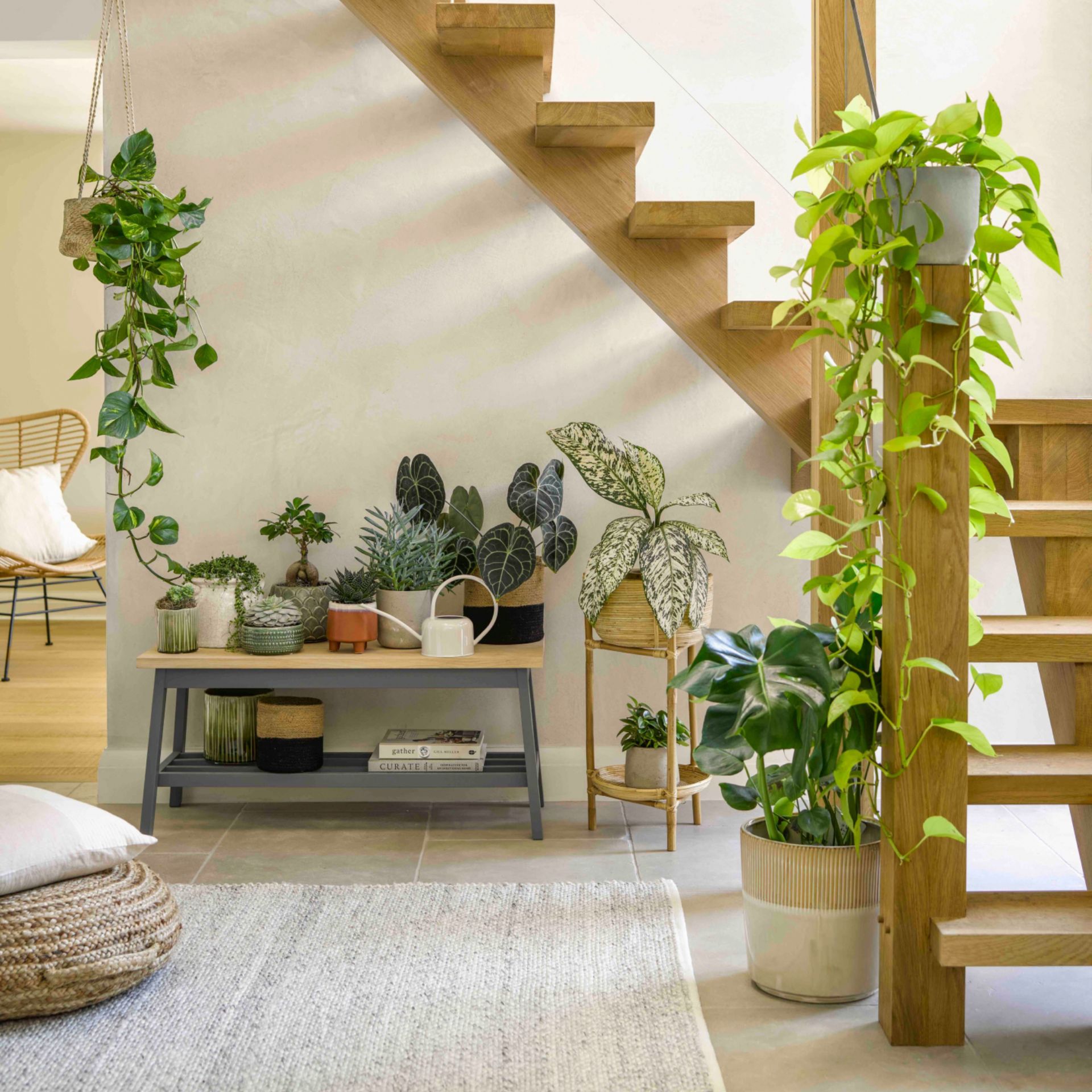 Having a bench or console table that's simply for your beloved houseplants is a great idea. You can group them together on top and store your favourite green-fingered books underneath.
'Elevate your nook by adding pops of colour and different textures, mixing a variety of pots; woven baskets with colourful rustic glazing works wonderfully to create a visually pleasing display. Houseplants are so much more than a pretty, visual addition to your home, they have been proven to improve health and wellbeing by purifying the air and lifting your mood,' says Francesca Morris, senior buyer, Garden Trading (opens in new tab).
3. Transform your living room into a botanical haven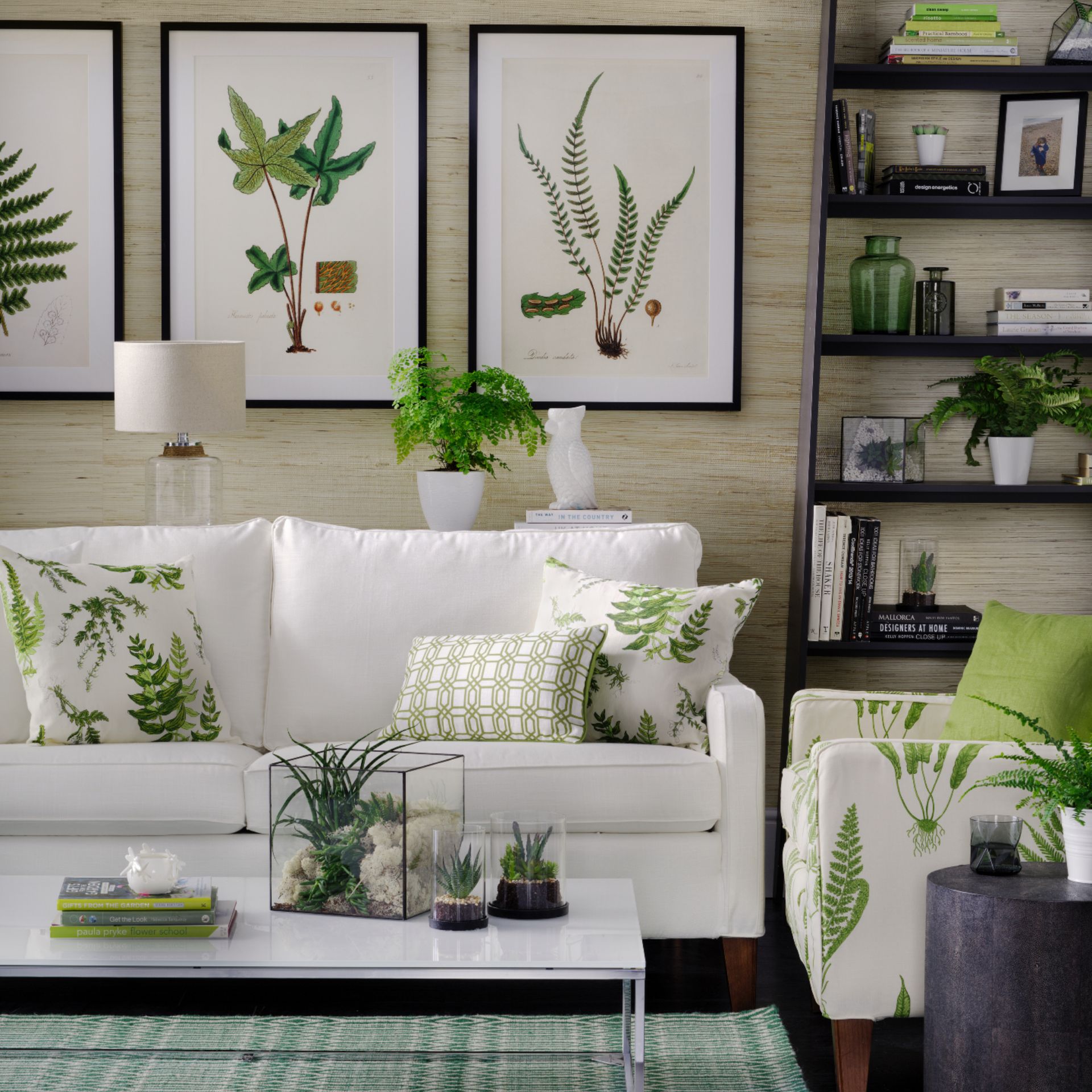 If houseplants have become your new hobby – and let's face it, why not – then embrace the botanical theme in every way. Beautiful art work showing delicate designs, cushions with leafy prints and a green textured rug will give your living room a great starting point for you to then add in your houseplants. 
In a modern living room consider display your plants in a more contemporary way. Terrariums are a great way to start, you could use a clear vase to start with, adding in pebbles and soil. Pop in your plant – but do check it's terrarium friendly first – and add sphagnum moss as a decorative element to finish the look. 
4. Add trailing plants to a storage unit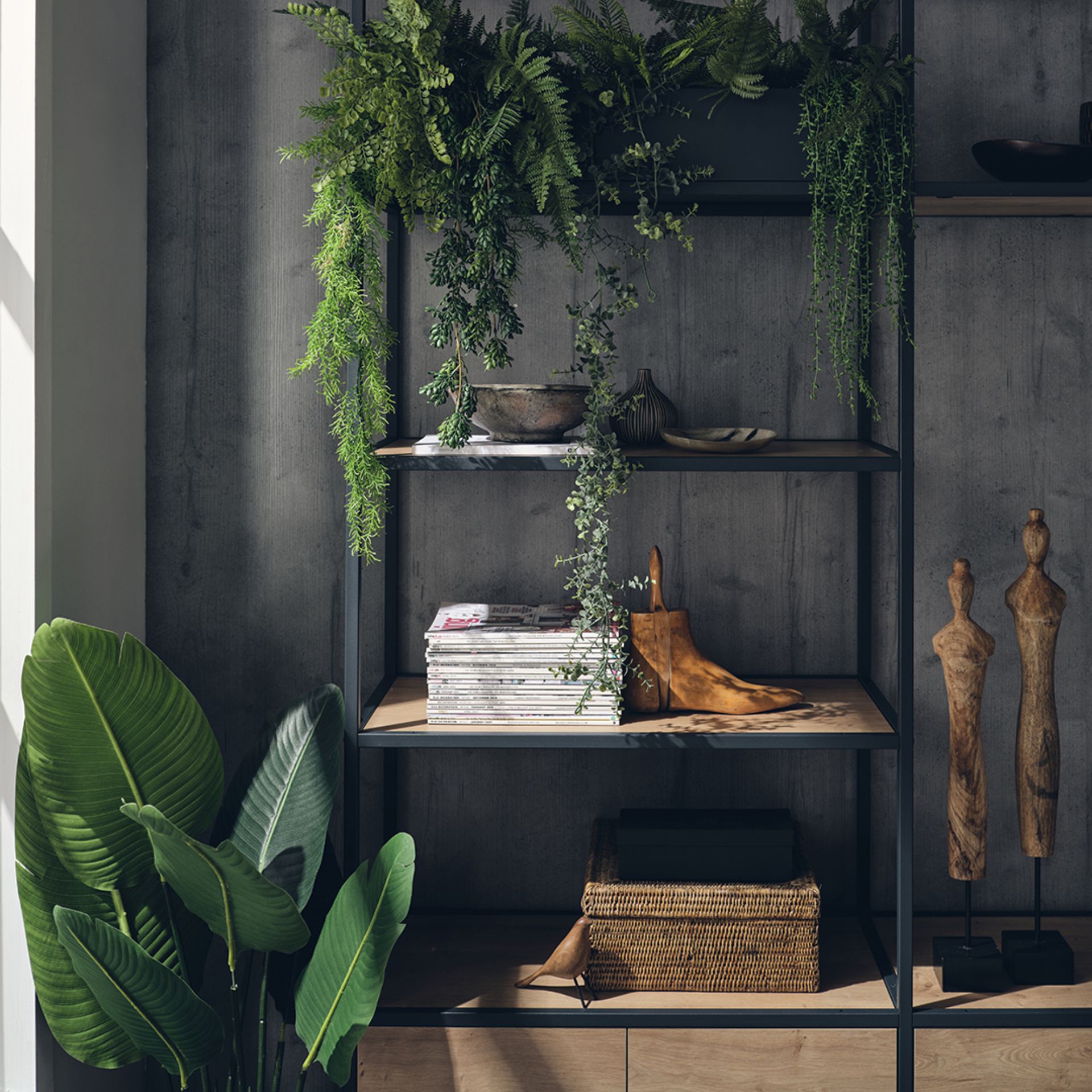 We all need storage especially in living rooms, and naturally they have angular lines that can feel hard compared to the curviness of armchairs and sofas. One way to combat this is to place a planter on the top shelf and to use trailing plants to soften the look.
'When it comes to styling plants in the living room, especially those in more compact homes, opting for a modular storage unit with a built-in planter box is an ideal solution. Not only will the unit allow you to display personal belongings, but it provides the perfect place to house your plants without dominating the entire room,' says Jonathan Clark, creative director, Shelved (opens in new tab).
'To add interest, I would suggest adding a few different plants of varying size to create levels, this will add drama and texture to the living space.'
5. Display your succulents in unusual vessels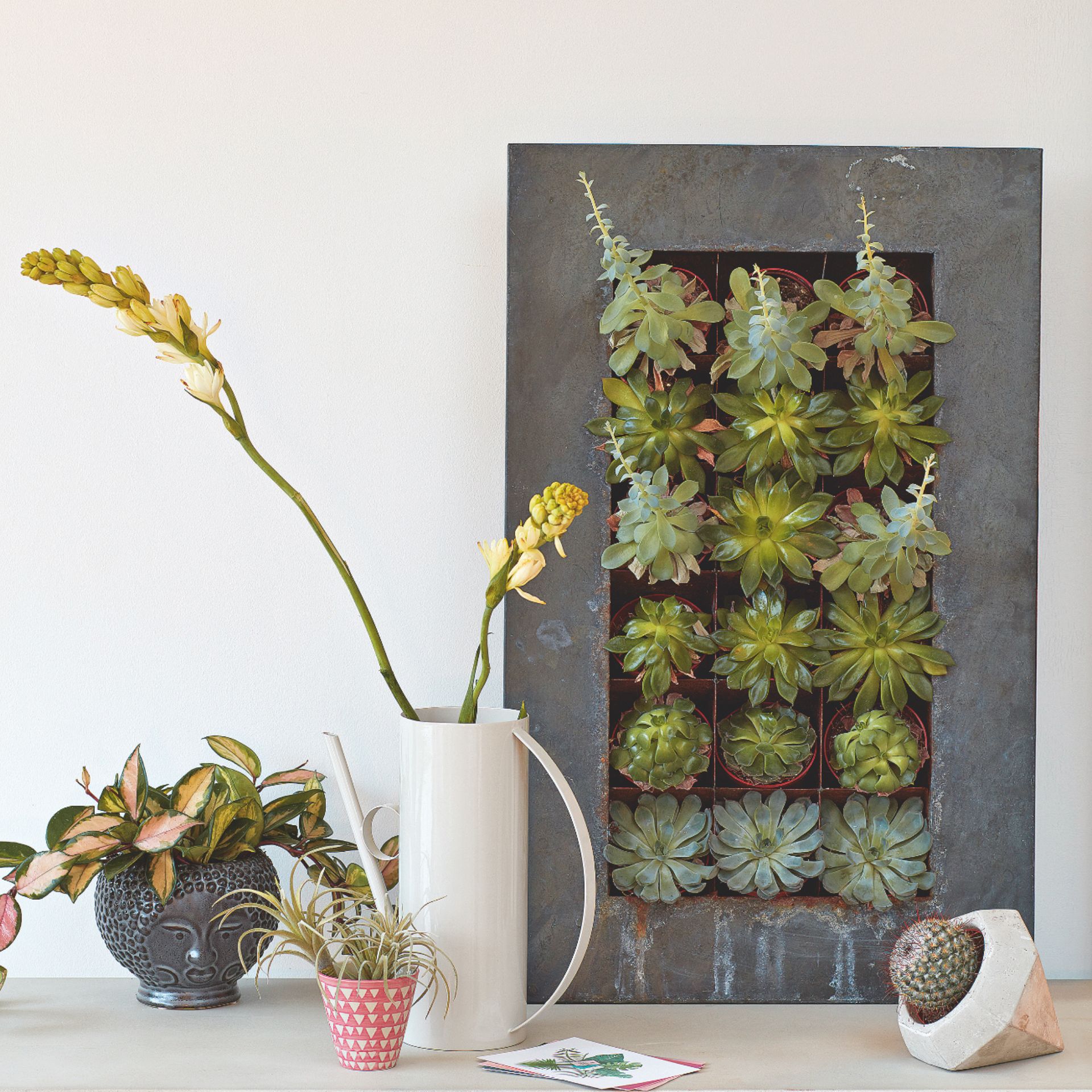 Some houseplant have amazing sculptural qualities – take succulents and cacti for example. This means you can house them in interesting vessels that will enhance their wonderful shapes. 
Look for unusual pots and containers that are three dimensional too, or perhaps a bespoke made container that can be placed on a console that will hold numerous pots of succulents – it will make them look like a piece of art you can proudly display. 
6. Match your plants to your scheme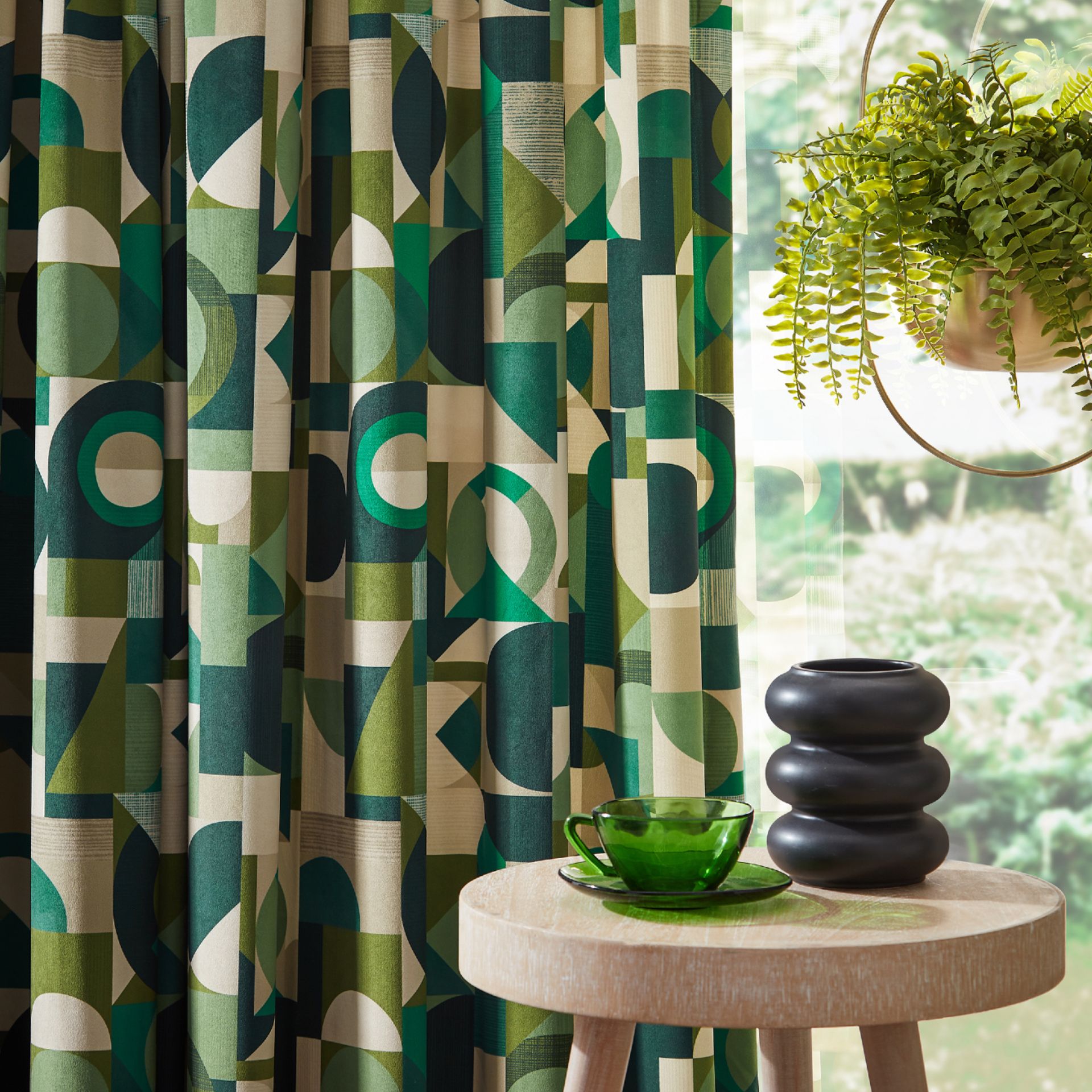 Ensure your whole living room scheme works perfectly together by choosing prints and patterns in shades of green, that way any plant you buy will match one of the colours, there's nothing like a touch of cohesion to create a room that flows from a design point of view. 
'Decorating with plants has become increasingly popular over the past few years with the biophilic interiors trend creating a sense of harmony between our home and the outside world,' says Debbie Leigh, design manager, ILIV (opens in new tab).
'Taking inspiration from nature's palette within your décor scheme doesn't have to mean leaf prints and ditsy florals – try modern geometric designs for a contemporary approach. Strong simple shapes in a palette of green, taupe and browns are perfect for a living room and will complement house plants beautifully.' 
7. Go high and low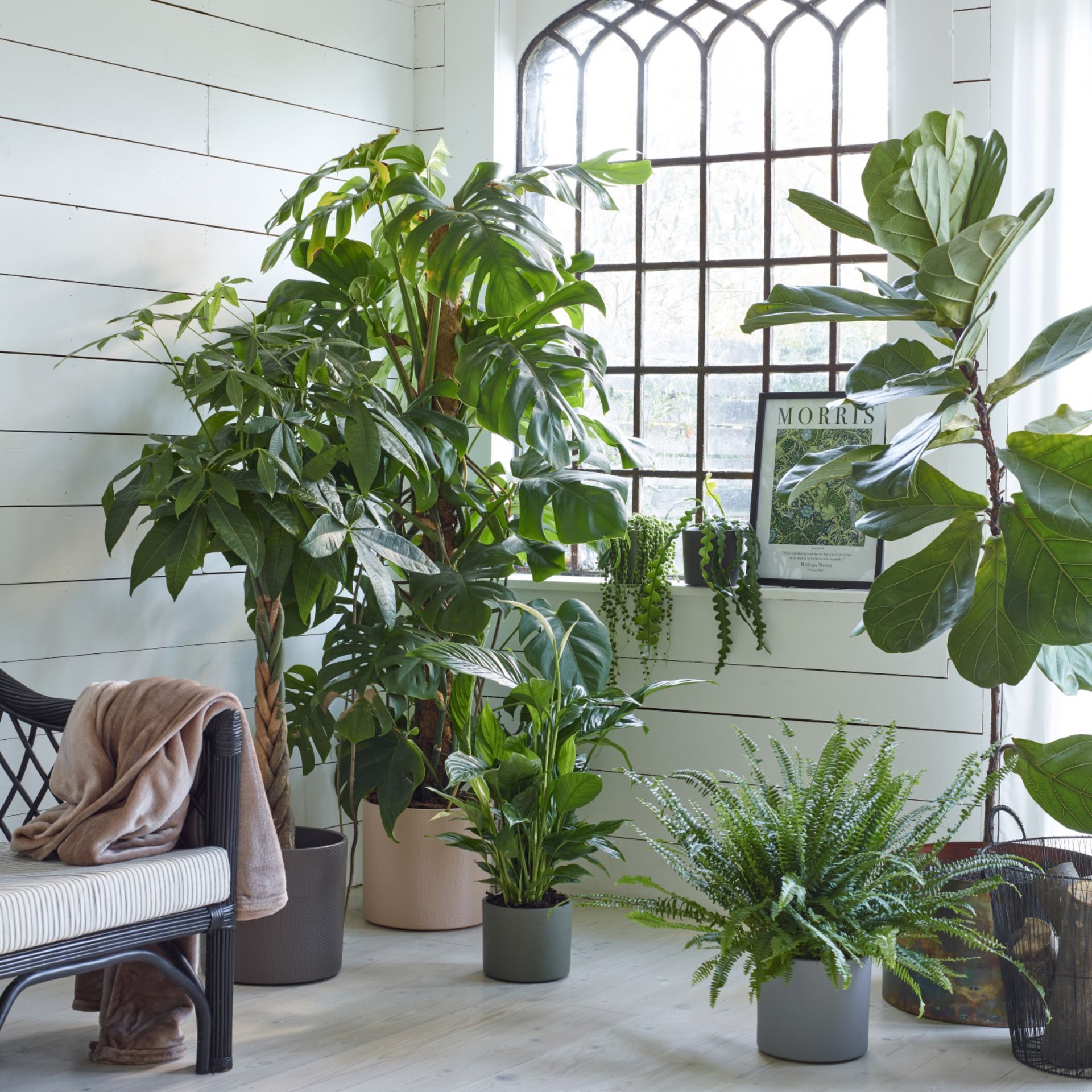 There are two ways to display plants in your living room, firstly to dot them about in various spare spots – next to the sofa on the floor, on a mantle or a mini trio placed on the coffee table. Or, you can go big with a display and group them together. 
'To really make an impact and bring some spring positivity indoors, cluster houseplants of varying sizes together and style in a bright and airy spot. Ideal for filling any empty corners, a houseplant cluster will instantly brighten any room and you can mix and match your favourite plants to create a unique display. 
By layering different textures and heights with plants like Monsteras, Peace lilies and Ferns, you can create a show stopping effect that will elevate your interiors and purify the air,' says Claire Bishop, senior houseplant buyer, Dobbies (opens in new tab). 
8. Place plants next to your sofa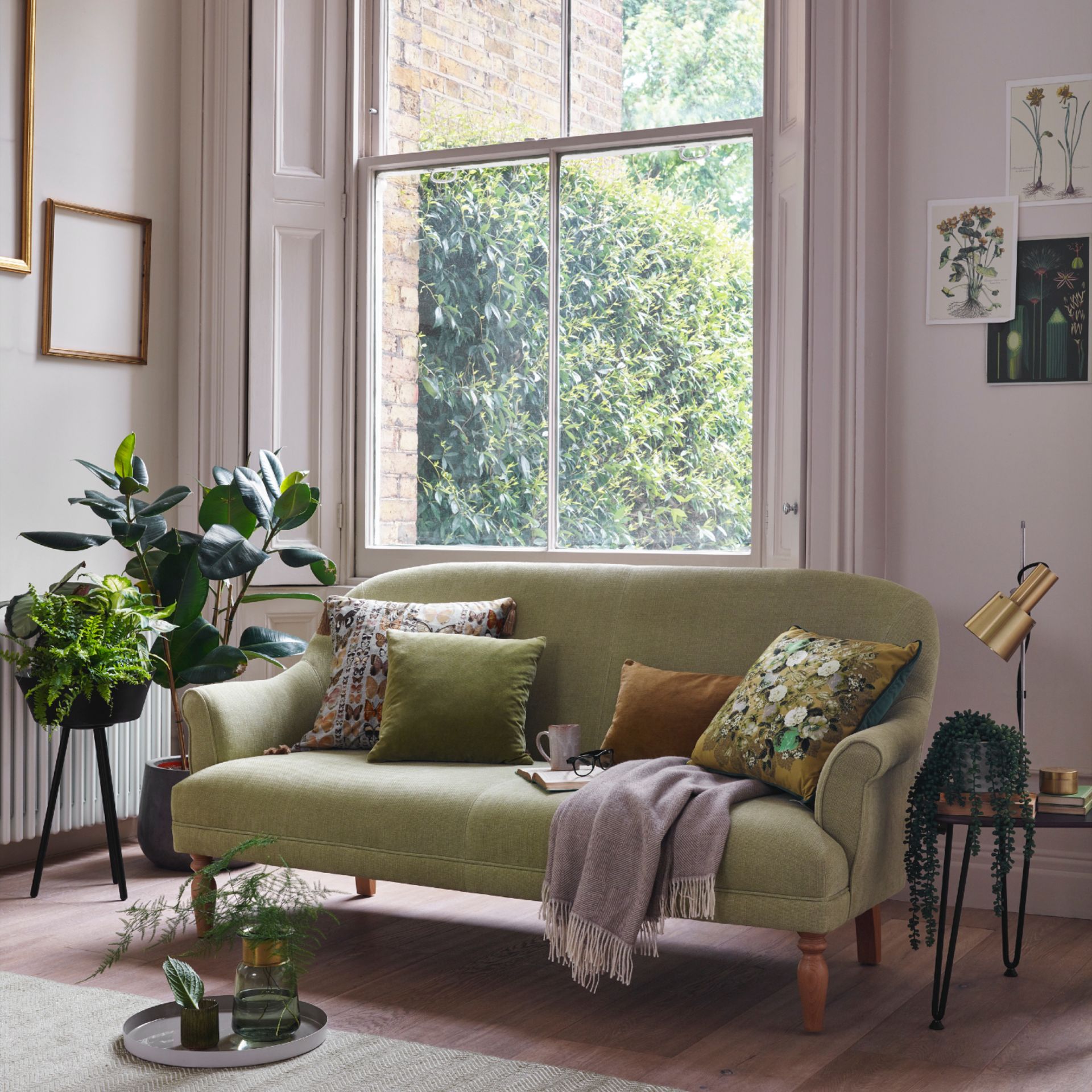 Make the most of those spaces next to the sofa for displaying your plants. You can pop one on a side table and have the other side as a plant display area – stands are a great option for placing them up higher. Then, they can be more integrated into your scheme better than if they were on a shelf. 
'Using houseplants to bring the outdoors in is a great way to add a touch of nature to your living space. We like to go one step further and include furniture in a nature-inspired shade (we have a huge range of beautiful greens to choose from) and add a pops of colour and pattern with cushions and throws to really complement a collection of plants,' says Sarah Massouh, founder, Willow & Hall (opens in new tab).
9. Create impact with wall mounted planters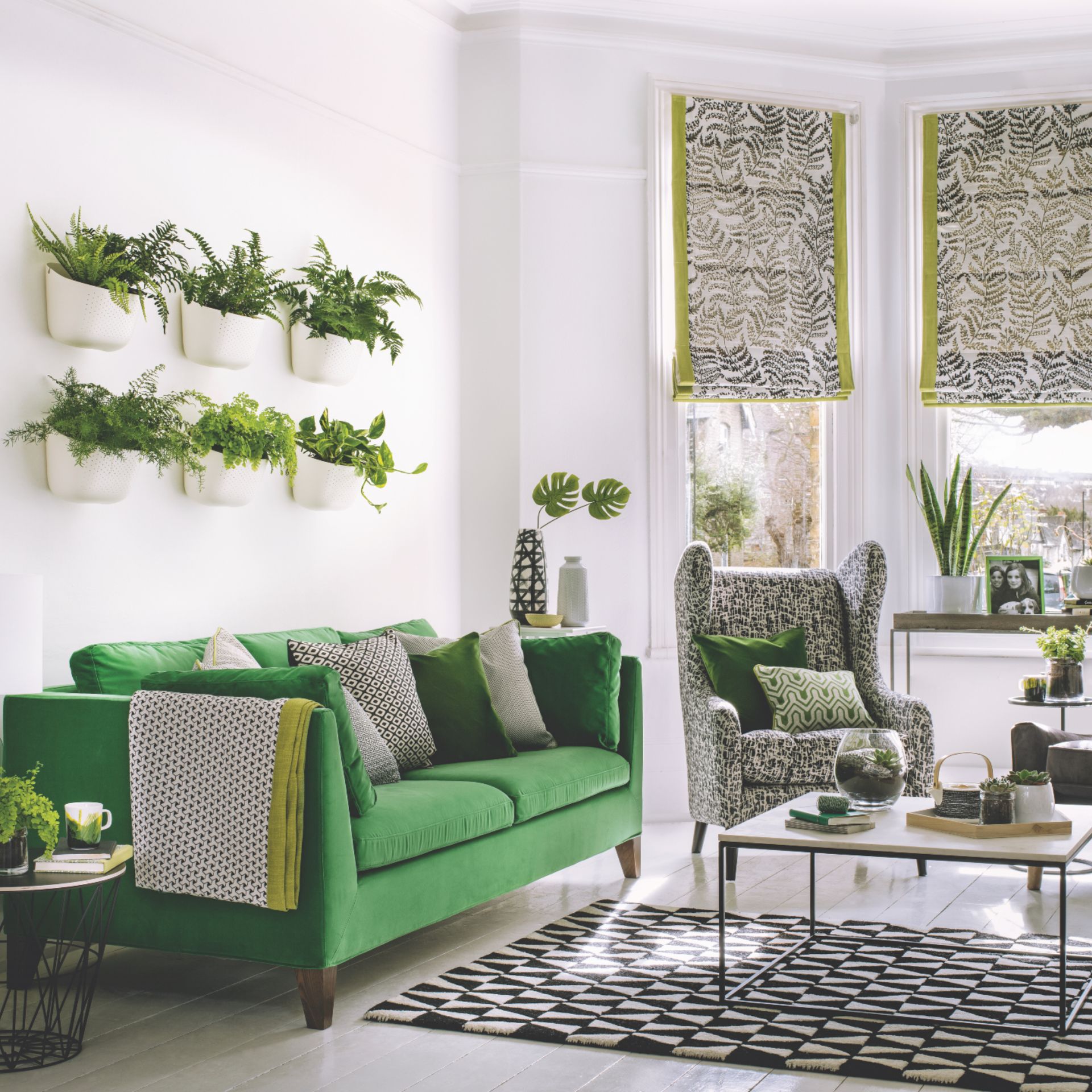 Give a green and white living room scheme life by hanging wall mounted plant containers above the sofa. Fill them full of green ferns – ideal for removing airborne pollutants, Boston ferns in particular. Their texture and bright green shade really lift a room and look striking against a white wall. 
Mix up the rest of the space with a section of mini and midi sized plants in a good selection of pots – variety is the spice of life after all!
10. Mix plants with a tree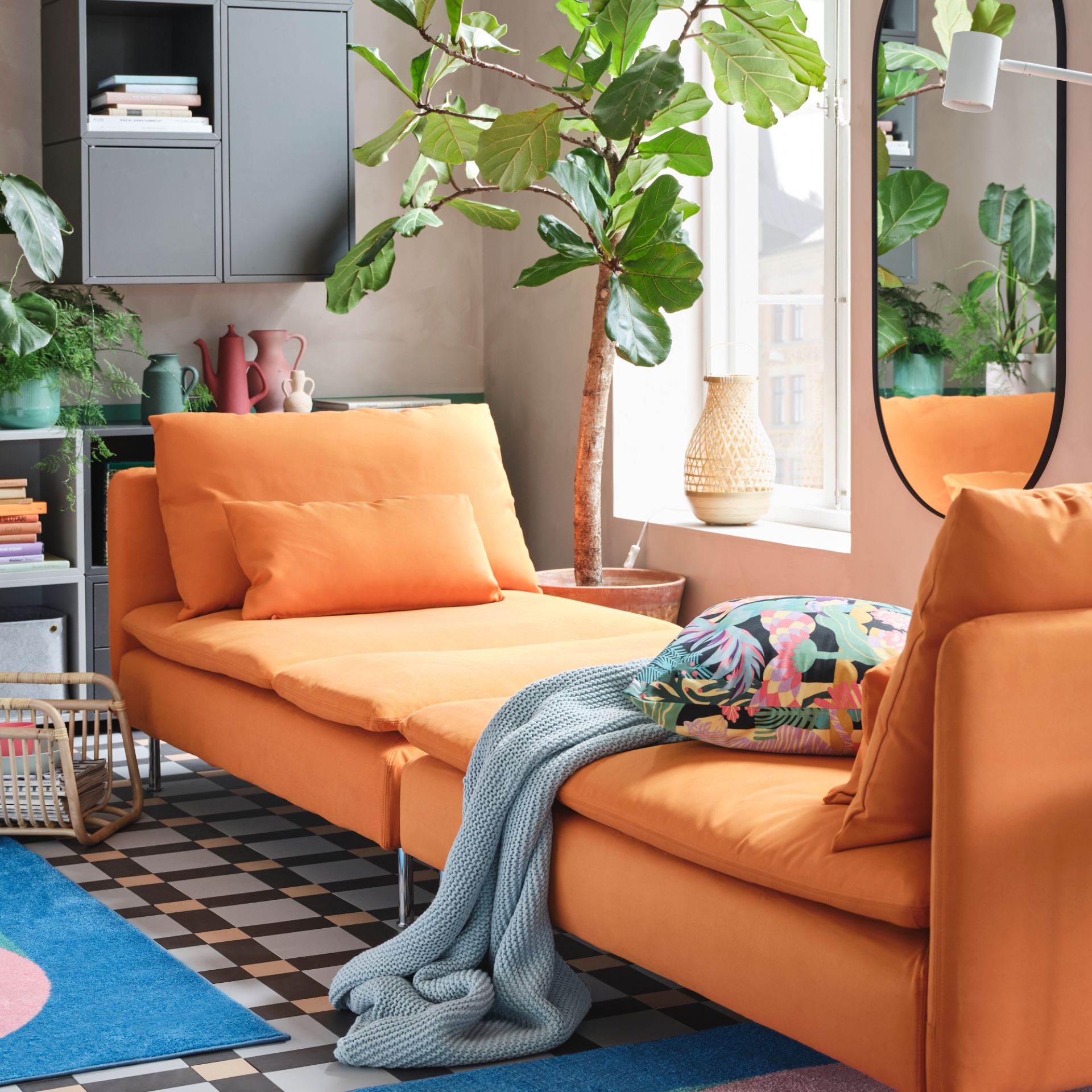 Play with scale and choose a tree to create a statement in your living room. Ever since Gwyneth Paltrow's home with a massive black olive tree inside, indoor trees have been having a moment. 
The fiddle-leaf fig has been a popular choice and its lush green leaves will add vitality to your space instantly. An olive tree is another great alternative for a more rustic Mediterranean look. 
'Embrace the changing seasons and welcome the calming force of nature into your home through simple, affordable and sustainable updates. There's nothing quite like feeling tranquil and at one with nature in the comfort of your own home, and there are many easy ways to achieve this,' says Clotilde Passalacqua, interior design leader, IKEA UK and Ireland (opens in new tab).
If you're still not confident in your abilities to keep a tree alive, an insider secret at the moment is to invest in a faux tree instead. Amazon (opens in new tab) has a lovely range of faux eucalyptus and olive trees starting at £40. We've also recently seen Instagram swooning over The Range's Ficus Liana Tree, £39.99 (opens in new tab).
What is the best indoor plant for a living room?
Living room plant ideas are numerous as there's such a wide choice, but you can narrow it down depending on how much light your room gets. 
Snake plants like minimal light and are low maintenance – in that they will forgive you if you forget to water them. Cascading Pathos are a bushy option that look great on shelves or mantles, Kentia Palms are tall and like space around them and can deal with a South-facing living room. 
You can add colour too with plants, the Golden Petra has striking pops of red and yellow on their leaves. There really is something for everyone and every sized living room, just make sure you can meet the needs of your plants before you buy. 
What plants should I put in my living room?
This really depends on personal choice, we are all drawn to certain shapes, sizes and colours and that includes plants. It might be you love small ditsy trailing plants like string of pearls, or the lush green leaves of a yucca. 
'If you're just beginning your houseplant journey, consider starting off with smaller plants and low maintenance succulents and use them to bring different areas of your home to life,' advises Claire Bishop, senior houseplant buyer, Dobbies (opens in new tab).
'Shelves and compact spaces can be upgraded with trailing plants, which are both cost-effective and striking, giving you maximum impact for less. Mix and match different varieties to add drama and interest to your display, and create an Instagram-worthy 'shelfie' that's guaranteed to put a smile on your face and set you up for a positive 2023.'
How do I decorate my living room with live plants?
As with our interiors we play with colour and scale, choosing prints and patterns that work together and displaying our accessories in groups of three. Decorating your living room with live plants is similar. 
'Our value houseplant range can be grouped together with different flowering varieties in complementing pots for a put-together look and feel. Smaller plants can be raised up on tables for a more impactful display, ensuring you don't need to spend a fortune to create a mini jungle in your home. 
'Alternatively, you could use a Phalaenopsis orchid as your centrepiece and style it with smaller plants and Succulents for an eye-catching effect. Orchids are also easy to care for, simply keep your plant at a minimum of 15 degrees in a bright spot out of direct sunlight and water once a week, misting regularly,' adds Claire.