What are the most important home style trends we can expect during 2023? We get some answers from Paris-based Atelier Alain Ellouz, with only a few days before the opening of Maison&Objet.
When the pandemic began, the interior design industry skyrocketed in certain countries around the world with a growth in sales of products for home decoration and remodeling. This magnified interest in home interiors gave way to new trends and led to a thriving home design business with an increase in projects and ventures. As we now enter 2023, we realize the need for comfort within the home will remain, but many experts speculate whether or not certain decoration styles, initiated when people were home-bound, will continue trending, such as cottagecore, cluttercore and goblincore—terms created after the appearance of Covid. According to the Interior Trends 2022 Report by Living Cozy, cottagecore earned first place for interior design trends, with 1,862,000 Google searches in the past year alone. Still, it's not a given whether these trends are staying long-term.
Either way, we can expect homeowners to pay more attention to the meaning behind the products they choose for their interiors, according to designer Alain Ellouz. Working alongside designers, they will target more authentic and individually selected pieces.
This modern interior design trend for 2023 is significant. While environmental concerns have been making people cherish craftsmanship and more subtle and natural forms of luxury, the idea of giving greater character and individual expression to a home has been identified as the frontrunner for this year's design trends. It includes the "de-coordination" of spaces previously decorated in a very formulaic and "matched" way. It's the moment for "mixed eras", where designers are mixing pieces from the past and present, where consumers are incorporating unique pieces, heirlooms or vintage furniture as well as original art into their spaces.
READ: Wonder why some designers and trend hunters are ready to abandon new trends from the Covid era like cottagecore?
QUICK FIX: Here are the main interior design trends to keep in mind for 2023:
Mixed eras, combining past and present
Curved shapes for a soft look
Bold, unexpected colors
Larger kitchen islands
Earth tones and organic shapes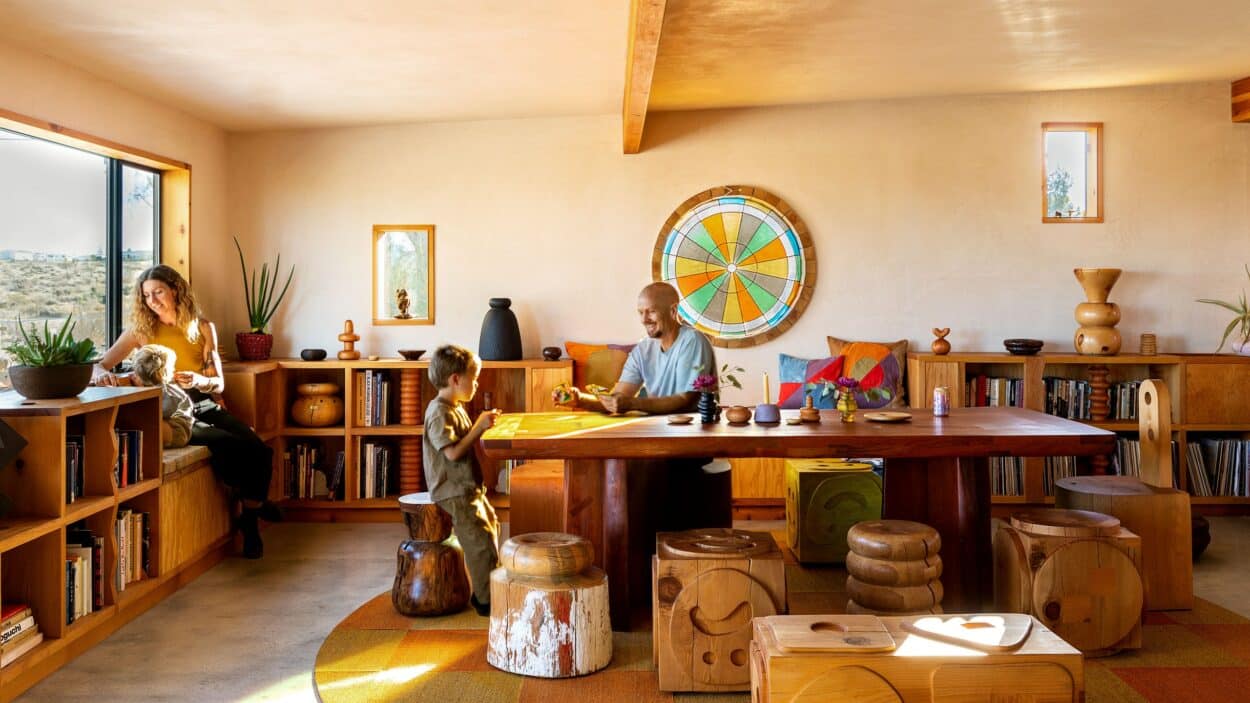 "In my opinion, the main current trend in the interior design field is real uniqueness. Each product must become a specific, particular and identifiable work of art which has its own personality," designer Alain Ellouz told ArchiExpo e-Magazine. 
He pointed to alabaster as a great material to achieve this uniqueness, considering each block of the material has an exclusive look with different vein patterns. As seen in the case of the most recent alabaster lighting fixtures by Atelier Alain Ellouz—Infinity 12, Infinity 16 and Infinity Illusion—, the light reveals the objects' singularity as encapsulated for eternity in the material. Through the studio's new artistic establishment, Fondation Alain Ellouz for Alabaster, consumers and interior designers have the opportunity of selecting objects which will add an enhanced uniqueness to their homes. 
"We are now inviting artists to explore the infinite facets of alabaster stone and to create alongside us unique pieces of art during 2023," Alain said.
With lightweight, vibrant shapes, the Infinity collection contributes to the "mixed eras" trend as well as the modernist curves trend, a concept described by designer Rudolph Diesel in an interview with Insider. In line with "mixing and matching", the love of curves recalls design tendencies from the 1970s. While the concept of curves isn't new, the love for them has returned. Curves resemble much of what we see in nature, linking such style to biophilic design and establishing a softness to a space. It's quite similar to the chubby design trend we mentioned at the beginning of 2020.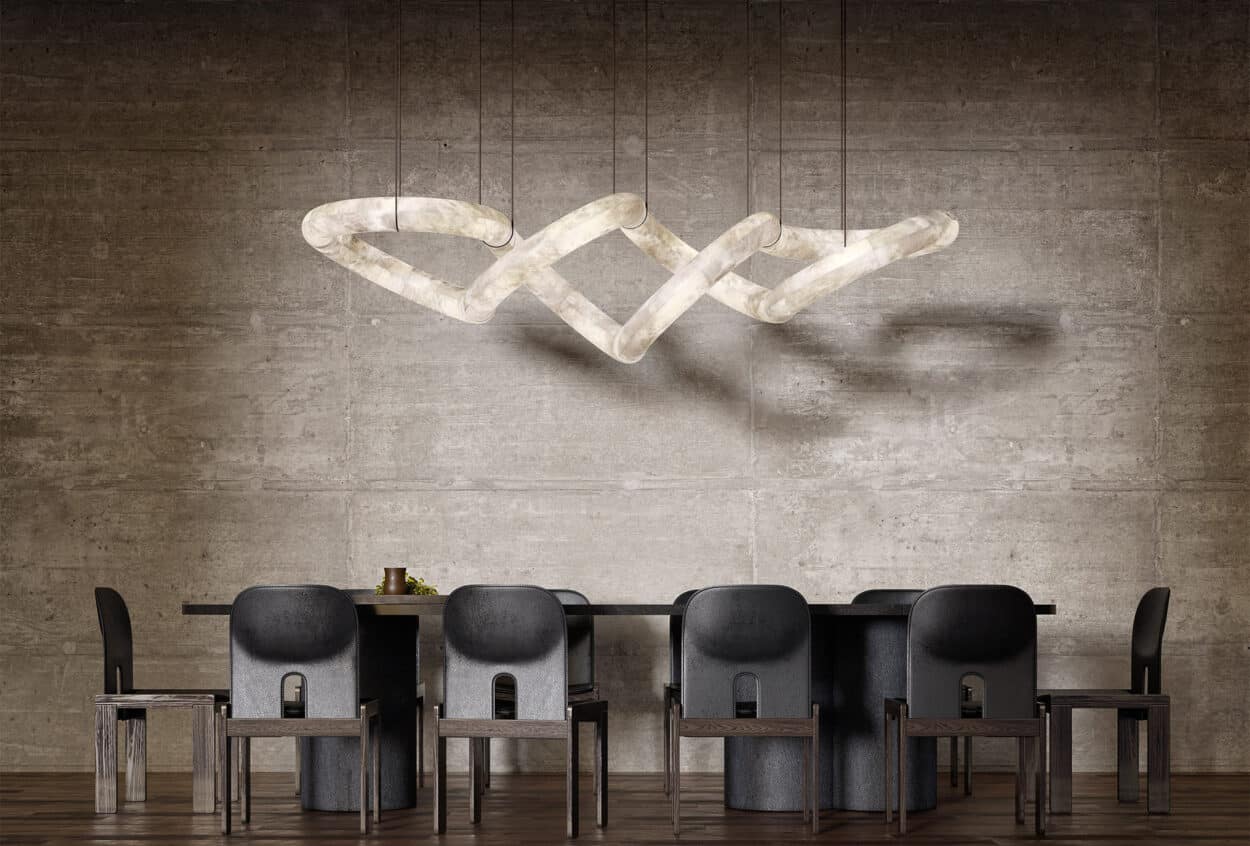 With their rounded corners, soft edges, and arched shapes, the Parati armchair and the Calypso rug by Pinto Design are good examples of the modernist curves' comeback in living room interior design trends for 2023. The armchair has a 360° swiveling seat, a beech frame, a solid oak frame and is available in two different sizes. Made on request only, the rug is hand tufted in wool and bamboo.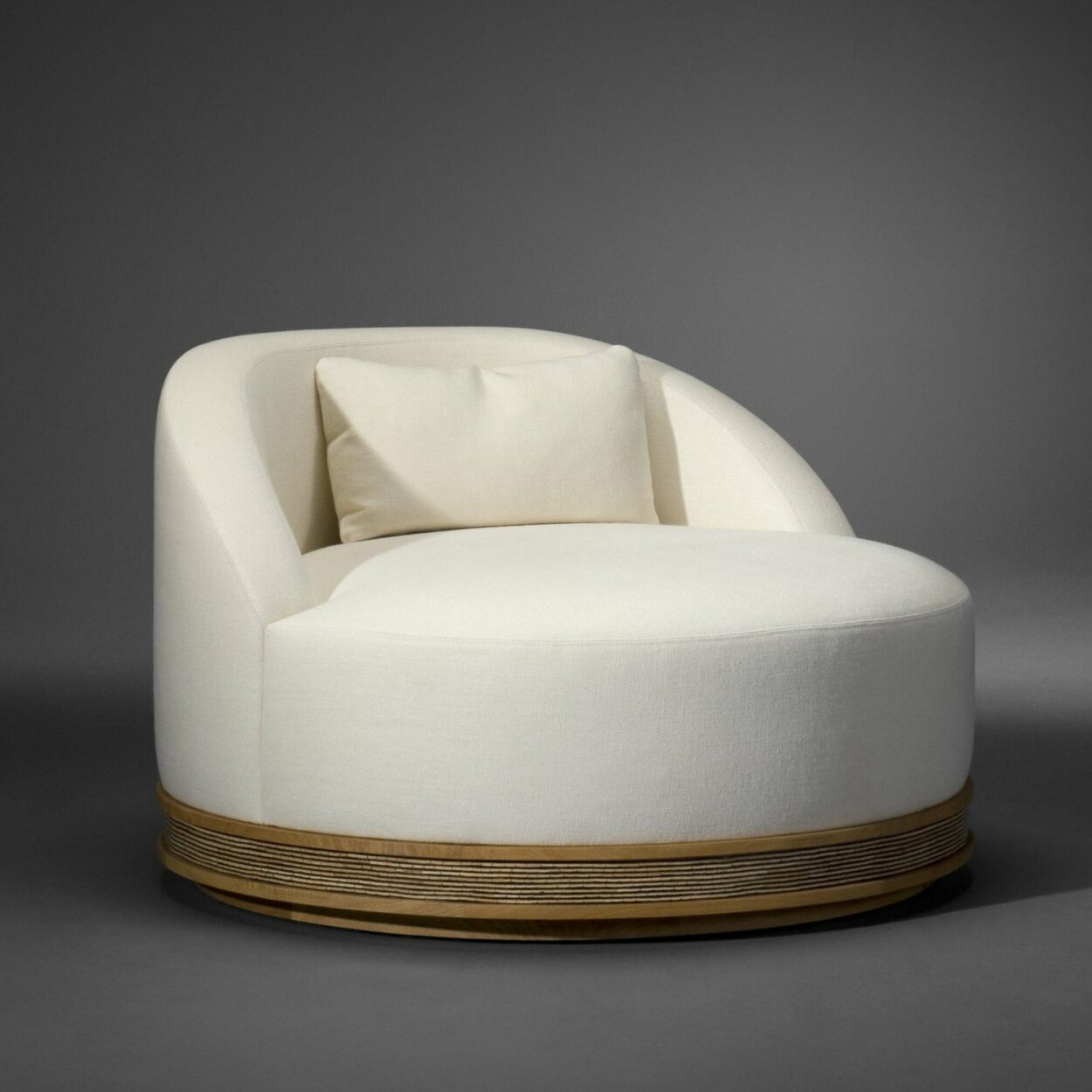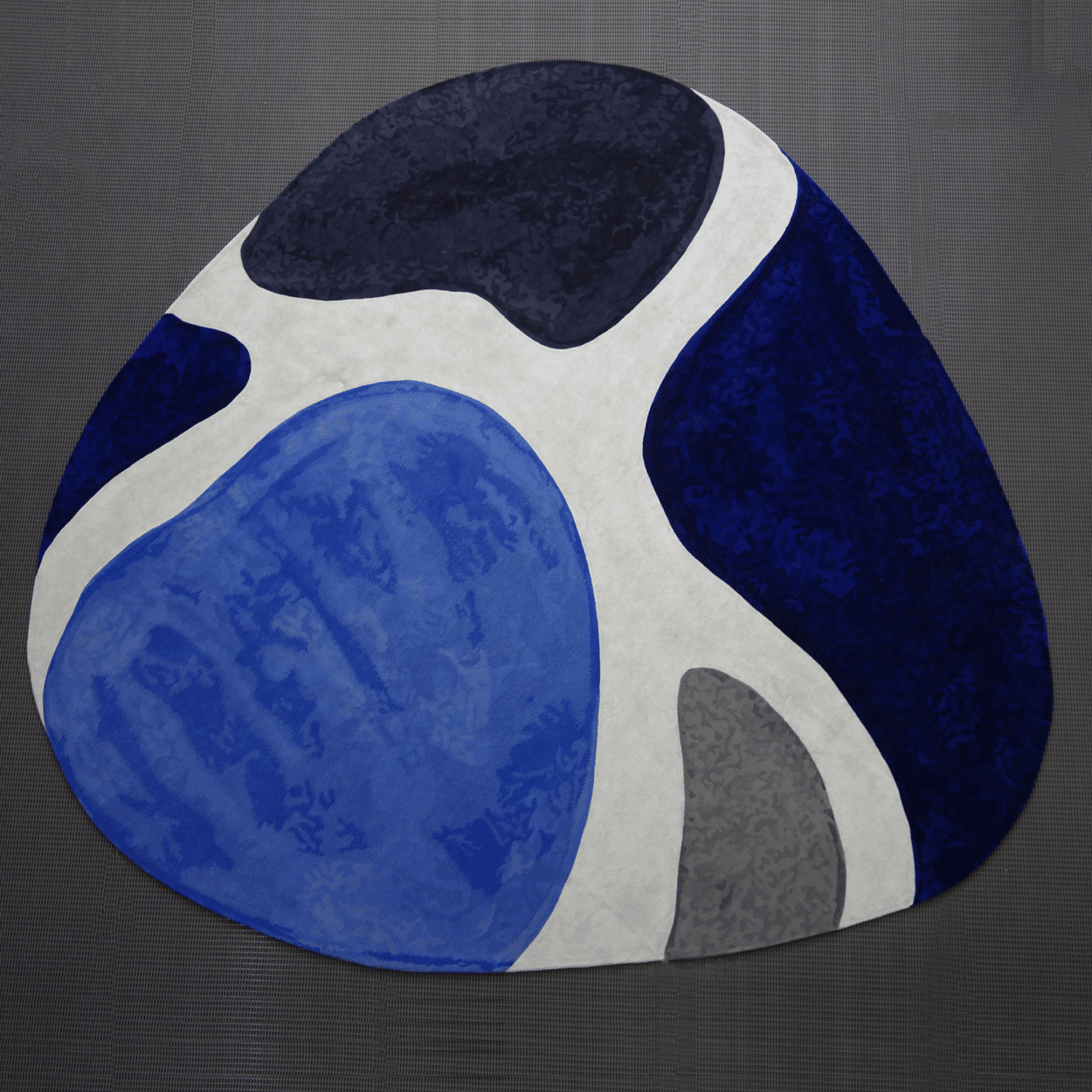 Professionals also anticipate the switch to unexpected, deeper, richer colors. According to interviews conducted by Architectural Digest, interior trends of Spring/Summer 2023 should include less white and neutral interiors and more color in interior spaces, especially walls, but also in furniture and accessories. Such foresight has support from experts at trend-forecasting agency Springboard Futures, ESP Trendlab and Patti Carpenter of Carpenter + Company. Bold, unexpected colors have the power to immediately create a very different atmosphere in an ambient space. However, people who might have tired or feel weary of  "moody" tones can also take advantage of this trend in a more subtle way through, for example, pale and more discreet and nuanced versions of colors such as blue, green or red. 
Kitchens as the social hub of a home has been an ongoing trend for some time, but as people celebrate rediscovering the pleasure of having friends over for meals post-confinement, kitchens regain the center of attention. The desire to create openness in the kitchen continues to increase in popularity. And that is where island spaces enter the scene, as a means to not only accommodate family members or guests but also as a way of integrating the kitchen and living room or the kitchen and dining room, for example. Alice Lane's most recent projects are particularly illustrative of the importance and benefits of this trend.
"Traditional kitchens are evolving and extending into other parts of the home," Matt says. "In the coming year, I predict larger—and even double—kitchen islands will be integrated to accommodate for larger entertaining and gathering space in the kitchen," Hilary Matt said in an interview with House Beautiful, which features Alice Lane's work.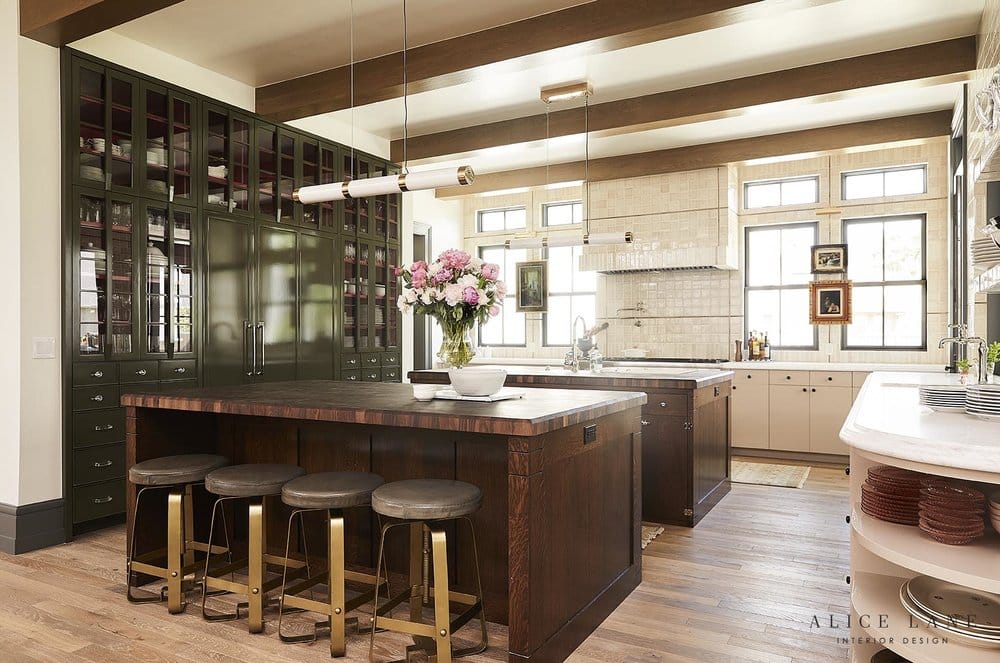 Earth tones and organic shapes can be used in combination as a way of making an ambiance appear rugged and yet also sophisticated. In this trend, materials such as exposed bricks, rocks, metal, harder textures and natural elements like plants are employed to create a sense of comfort while also providing some visual complexity that brings more personality to people's homes.
Architects and interior designers often suggest that it is easier to achieve this kind of look by combining more unusual shapes and textures with more conventional colors, and vice-versa. Also, interior designer Rudolph Diesel believes the first wall one sees when entering a room should offer the most striking visual impact.