Disney Dreamlight Valley players booted up their game today and discovered a new tab in their menu with some shop items in them. Scanning the items, players might be excited over how cool they look, until they see the prices.
Because Disney Dreamlight Valley is set to be a free-to-play game, players expected microtransactions, but these transactions are anything but small. The community is seething over the cost of the items, which in the first round of offerings includes a Palace which resembles Cinderella's Castle and can be applied to your house once it's fully upgraded, a Royal Deco Bedroom set, a Royal Deco Living Room set, and an Art Deco Lifestyle set.
That sounds great, until they compare the prices with how much it costs to buy Moonstones. Prior to the Feb. 16 content update, players could only buy Moonstones by purchasing the game, and there was no way to get more. Today, the Moonstones became purchasable through the game, but the prices have players absolutely outraged.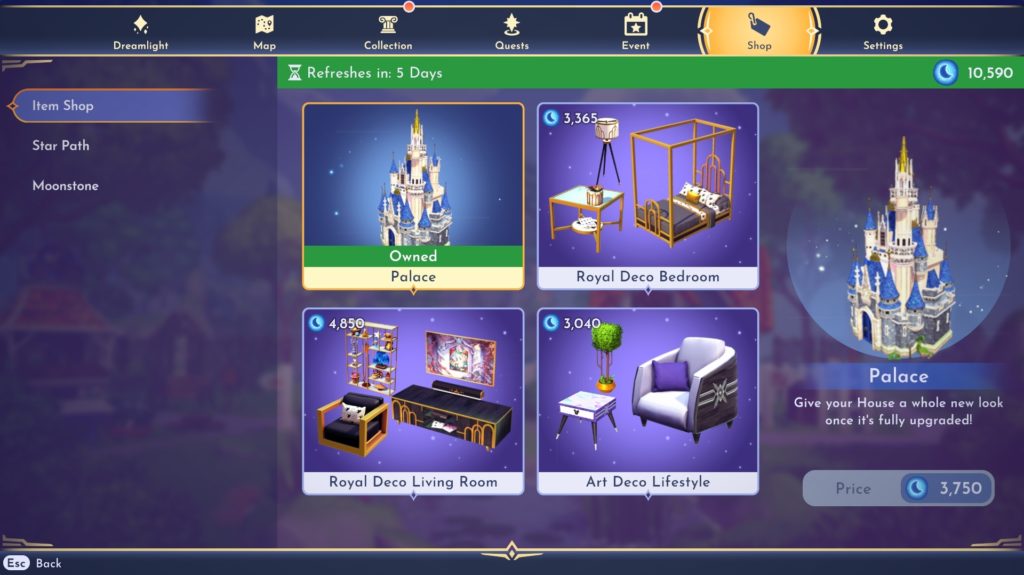 One Redditor did the math on what these items cost in Canadian currency. The breakdown is as follows:
| | | | |
| --- | --- | --- | --- |
| Item | Moonstone Cost | Actual cost (CAD) | Actual cost (USD) |
| Palace | 3,750 | $18.10 | $13.48 |
| Royal Deco Bedroom | 3,365 | $16.24 | $12.09 |
| Royal Deco Living Room | 4,850 | $23.41 | $17.43 |
| Art Deco Lifestyle | 3,040 | $14.67 | $10.93 |
Each of the furniture packs all contain three items, but each one has a different price point. Players are most angry about the priciest item on the list, the Royal Deco Living Room, which comes out to over $15 in Moonstones, forcing players that want it to buy the $20 pack. This means that they'll either have Moonstones left over to use for the Star Path, or they might need to buy more in order to get another item that the leftover Moonstones don't cover.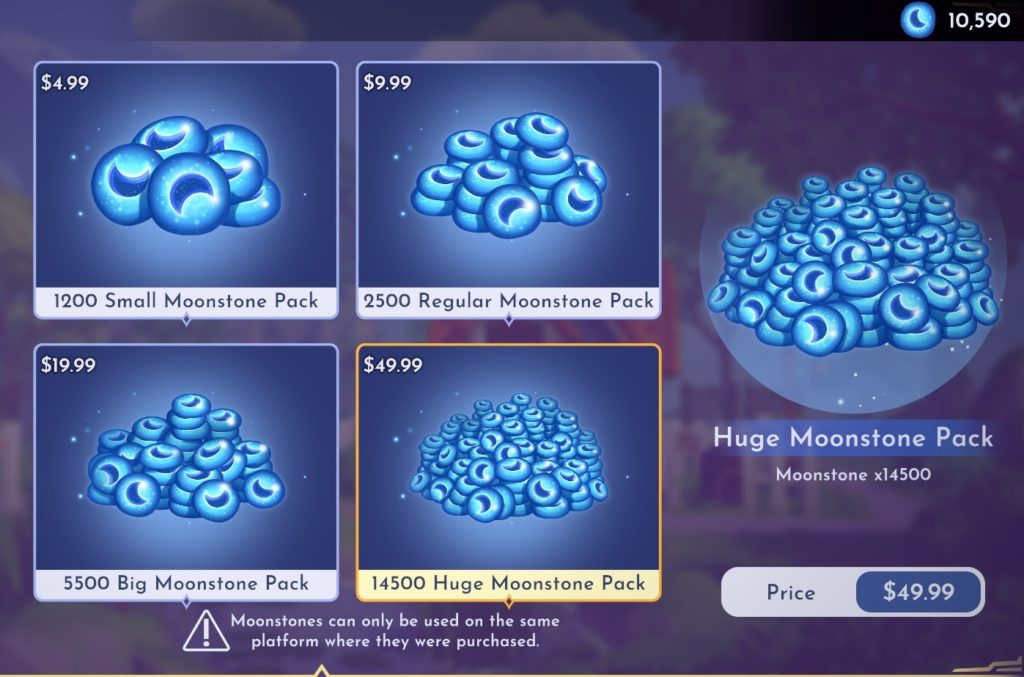 While these prices are on-par with other highly priced cosmetics from other video games such as Fall Guys and Overwatch 2, the gamers who play those titles also frequently complain about the high prices of optional items. Disney Dreamlight Valley players feel this is exceptionally egregious since the whole point of the game is decoration and customization, so having prices this high is a slap in the face to those who expected microtransactions and got cosmetic items that cost well over $10 per pack.
Some are hoping that Gameloft sees the outrage and alters the prices, but many aren't hopeful that any meaningful change will come from it and will instead vote with their wallets and not purchase any of the items. Others have said that they'll use the Moonstones they have if they want an item but won't purchase anything else in the future.