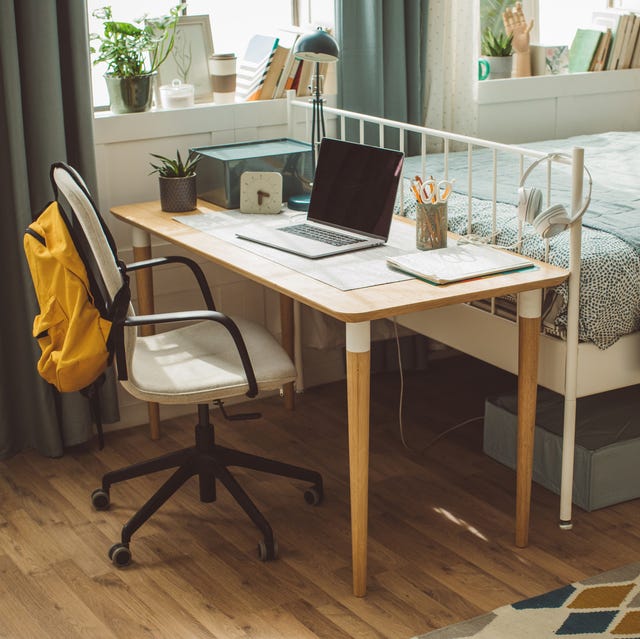 Getty Images
Post-pandemic, many of us have taken up hybrid working, with research revealing that one in five of us work from home at least one day a week.
If you're carrying out work from home or spending lots of time sitting at a laptop, it's important to have your space set up properly to allow you to work in a productive and healthy way. While a home office is the ideal solution, many people don't have the space for an office in their homes, so rely on working from their living rooms, kitchens or bedrooms.
If you're working from your bedroom, it's important to make sure you have a designated space to work. In a small bedroom, this can be difficult. Whilst small bedrooms are great for feeling warm and cosy at night, they can be difficult to work from.
To avoid working from bed, it's important to make sure you have a desk to work from, even if you're putting this in a small bedroom. The great news is, there are loads of desks available on the market now that will fit perfectly in even the smallest bedrooms. The desks in this round-up start from just 65cm wide, allowing you to take up minimal floor space with your desk. What's more, we've found clever desks that use wall space rather than floor space and have options with plenty of storage, too.
Here, we've rounded-up our favourite desk ideas for small bedrooms, to allow for a comfortable and productive working experience.
Advertisement – Continue Reading Below
1
LOFT
marksandspencer.com
Compact Desk
2
ANYDAY
johnlewis.com
John Lewis ANYDAY Spindle Desk
3
Quick Delivery
dunelm.com
Evelyn Oak Effect Folding Desk
4
Urban Outfitters
urbanoutfitters.com
Percy Desk, £202
5
Argos Home
argos.co.uk
Argos Home Ladder Office Desk – White
7
Alphason
dunelm.com
Penzance Desk
8
John Lewis
johnlewis.com
John Lewis & Partners Abacus Small Desk, FSC-Certified, Oak
9
Dunelm
dunelm.com
Murphy Ergonomic Sit to Standing Desk
10
Habitat
argos.co.uk
Habitat Turner 2 Shelf Office Desk – Black
Advertisement – Continue Reading Below