Decorating living rooms with high ceilings can be quite an intimidating task. With all that wall space, you're at risk of creating a living area that can feel cold and stark. But interior designers are on hand to offer up their top tips for filling out all that wall space or embracing it in its entirety and inviting visitors to stop in their tracks and look up. 
For Houston-based interior designer, Nina Magon, the obvious solution is to draw the eye and go big and bold. 'A great way to design a balanced high-ceiling interior is to incorporate larger more eye-catching pieces like furniture, art, and decor vs many small items that can clutter your space,' she says. 
From wall art to clever crown molding, and statement lights to beautiful shelving, these interior design ideas can easily transform the space.
1. Get creative with shelving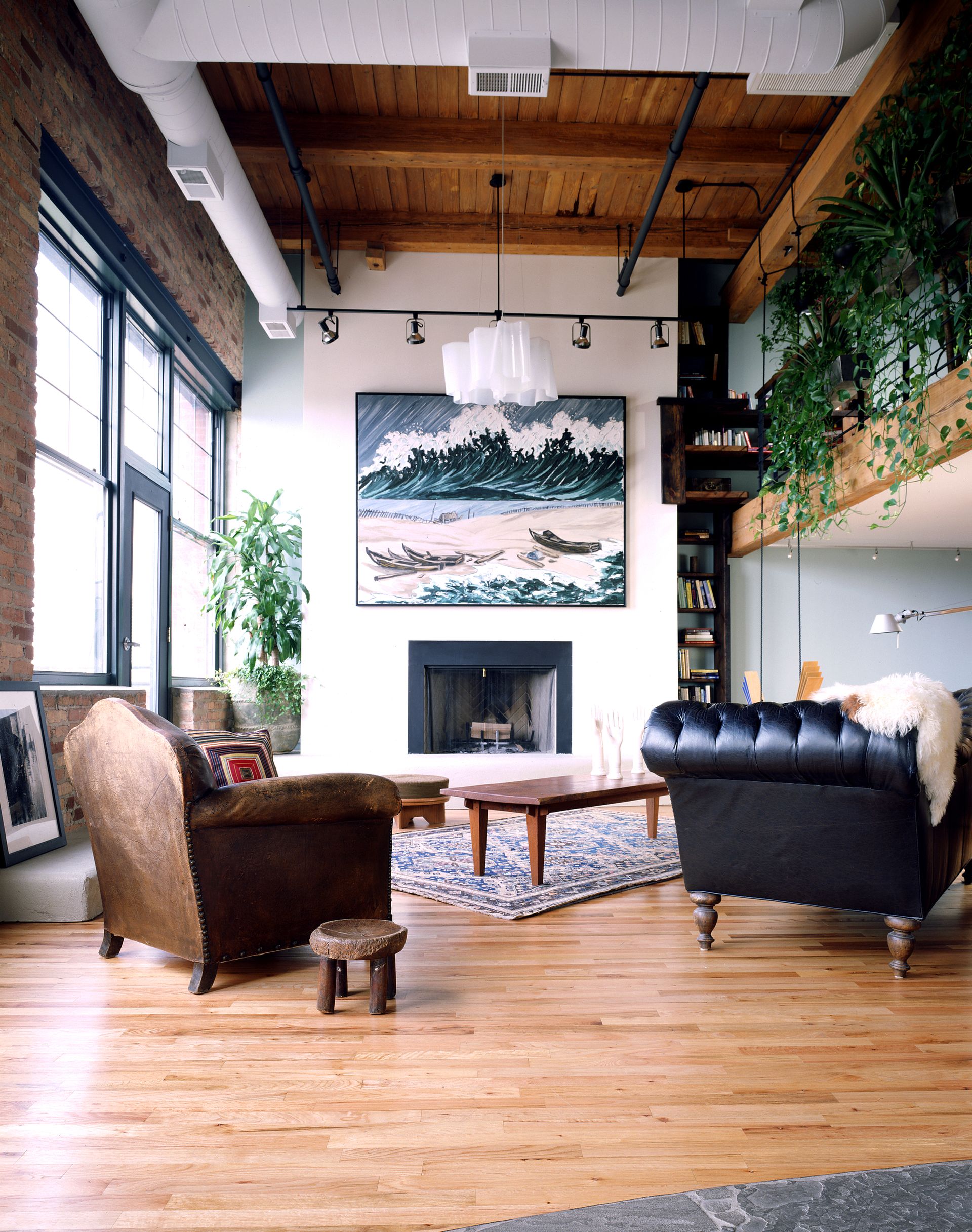 If your living room has high ceilings and you're looking to break up that wall space with decor, one clever way is to install living room shelves. Play around with the architectural features of your room – if you have a chimney breast, shelving that flanks either side of the breast will reliably look great. 
Keep things symmetrical where possible, and don't be afraid to go high, you can fill the space with decorative pieces that bring interest to your walls, keep the space full of character and personality, and draw the eye upwards. 
Think about creating your very own vignette – go for ceramics, sculpture, hanging indoor plants, and stylishly and purposefully placed coffee table books, but resist the urge to overfill and embrace the negative space. Too much clutter can just look untidy. Light your shelves from above if you want to make even more of a spotlight on the shelving. In this example from Scrafano Architects (opens in new tab), the shelves go all the way from the living room up to the ceiling for a stylish storage solution.
2. Embrace the architectural features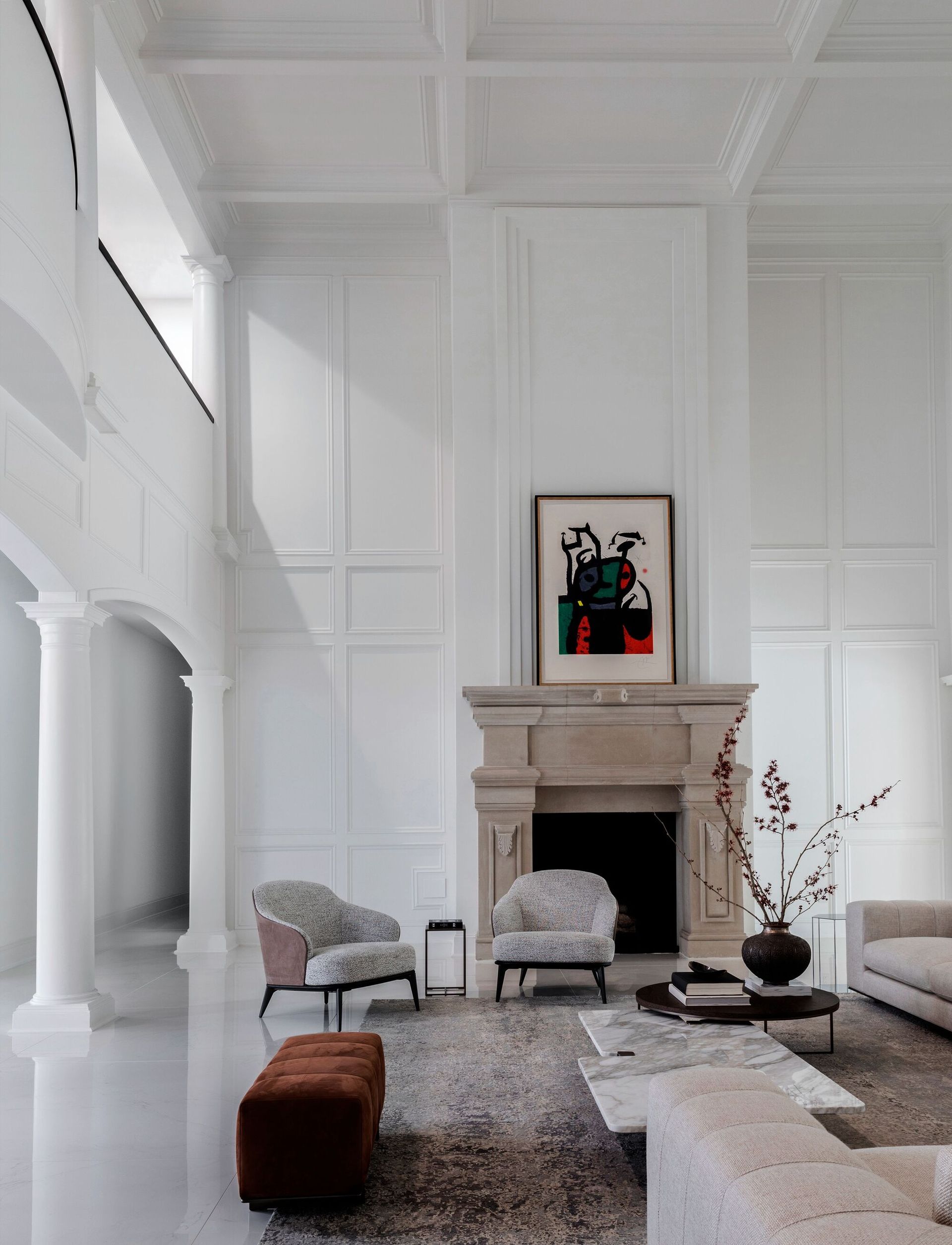 Instead of trying to desperately fill the white space, embrace it and make a feature out of it with crown molding and cornicing details. This stops the space from appearing two-dimensional, gives some texture and brings interest to the walls, with vertical lines drawing the eye upwards.
'When designing a high-ceiling interior, I like to always think about balance,' says Nina, who designed this living room in a residential neighborhood of Piney Point, Houston, Texas. 'One way to add a nice balance to the high ceilings is to add architectural details, such as trim, to the walls and ceiling. This allows you to add depth and interest to the walls without over-cluttering.' 
Crown molding is the embellishment on the wall, typically where it junctions with the ceiling. It comes in a range of styles and hailing from different periods, meaning it's not so straightforward when deciding to add crown molding to your home. If you're working with a period home, look to architectural history to decide how you might want to embellish your wall – some are more decorative than others, including crown roses and floral motifs, whereas plain molding is seen in more modern spaces. 
3. Go bold with statement lighting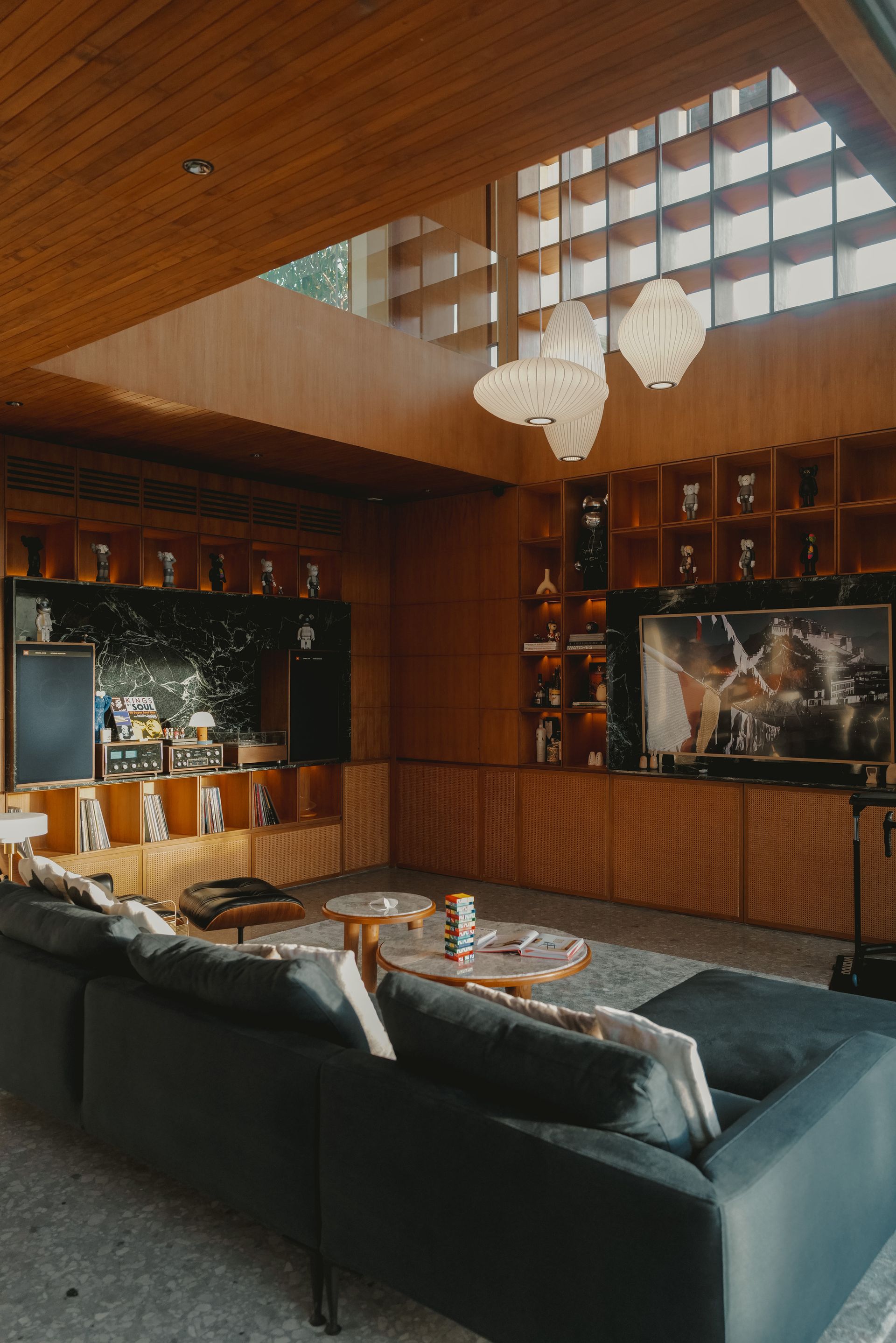 Sometimes, it's about filling the void of space that exists between the ground and the ceiling, and for high-ceilinged rooms, this can create a room that feels far too airy and not conducive to relaxation. A great living room statement lighting fixture can do the trick and help fill the space. 
'For this living room, we wanted to make it more spacious and connected to the top level by creating a big void. It also allows the air circulation and natural light to get inside the space,' explains Agatha Carolina of Jakarta-based firm, Bitte Design Studio (opens in new tab). The lighting helps create a destination to focus the eye. 'We placed pendants light to create a scale of intimacy,' says Agatha.
4. Use natural light to your advantage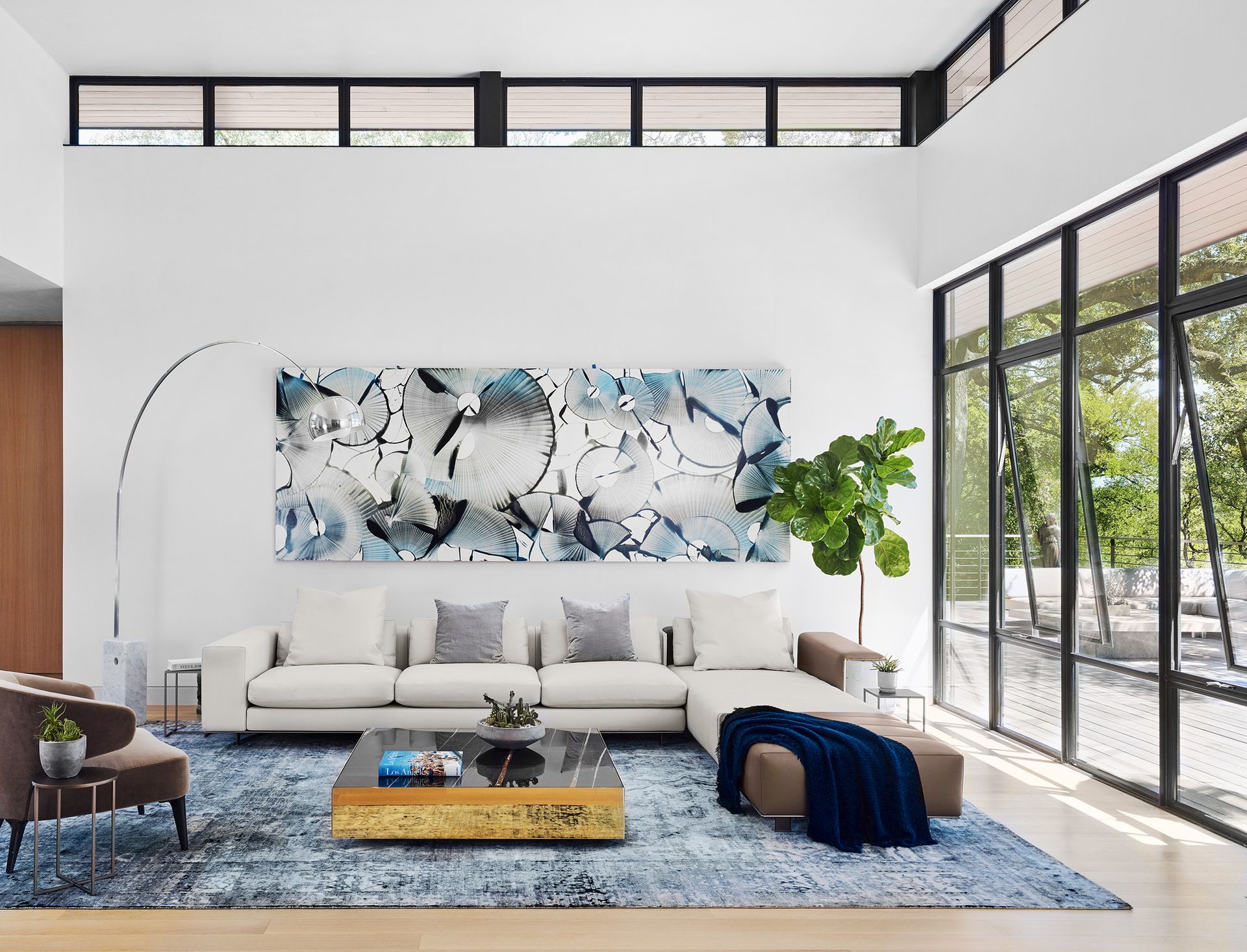 Natural light is your best friend when working with tall ceilings and white walls. Even in the airiest of spaces, if there are no windows, even if there is ample space, a room can feel cavernous. Try and eliminate this by allowing light in where possible, looking to your living room windows, and working with daylight as seen here where a slither of light comes in through the clerestory windows. 'This living room is the first space you walk into from the entry,' says Matt Garcia, architect and designer at modernist residential design firm, Matt Garcia Design (opens in new tab). 'The clients wanted it to be dramatic and full of natural light.'
'The clerestory windows do two wonderful things. They bring in light from two sides and the horizontal break keeps the art wall from feeling too tall. You get peeks of the tree tops and sky from different viewpoints which draws the eye up. We wanted to showcase the natural lighting on the wall surfaces as much as possible.'
5. Go bold with color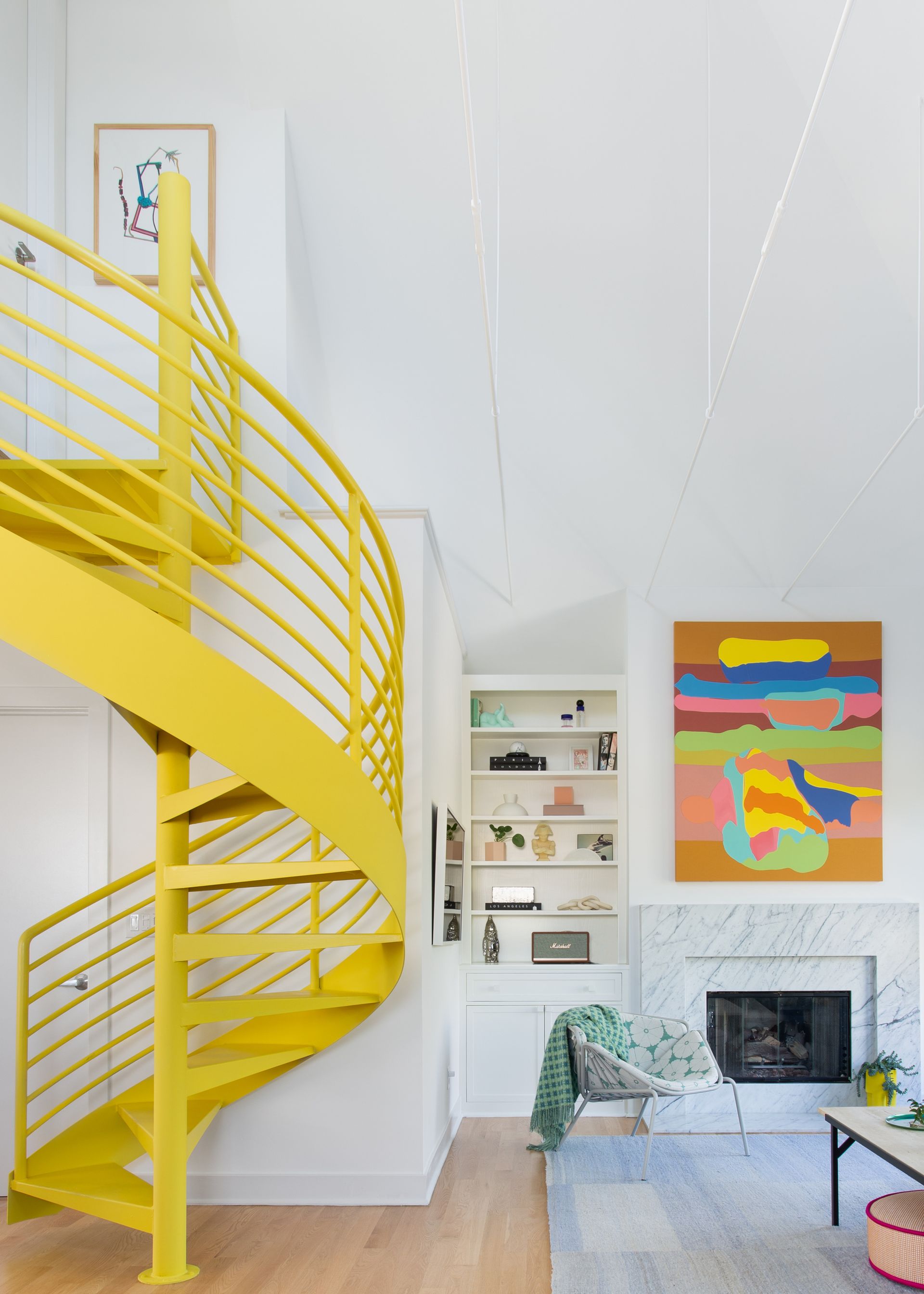 Think big and don't shy away from bold colors that will help you fill the space with ease. Decorate the wall with one large piece of artwork, or perhaps a gallery wall. This living area by San Fransisco-based Regan Baker Designs (opens in new tab) prioritizes decorating a white wall with bursts of color. Wall art over the fireplace is a kaleidoscope of color and that sunshine-yellow staircase is a joyful addition to the room. 
6. Try a log fire with flu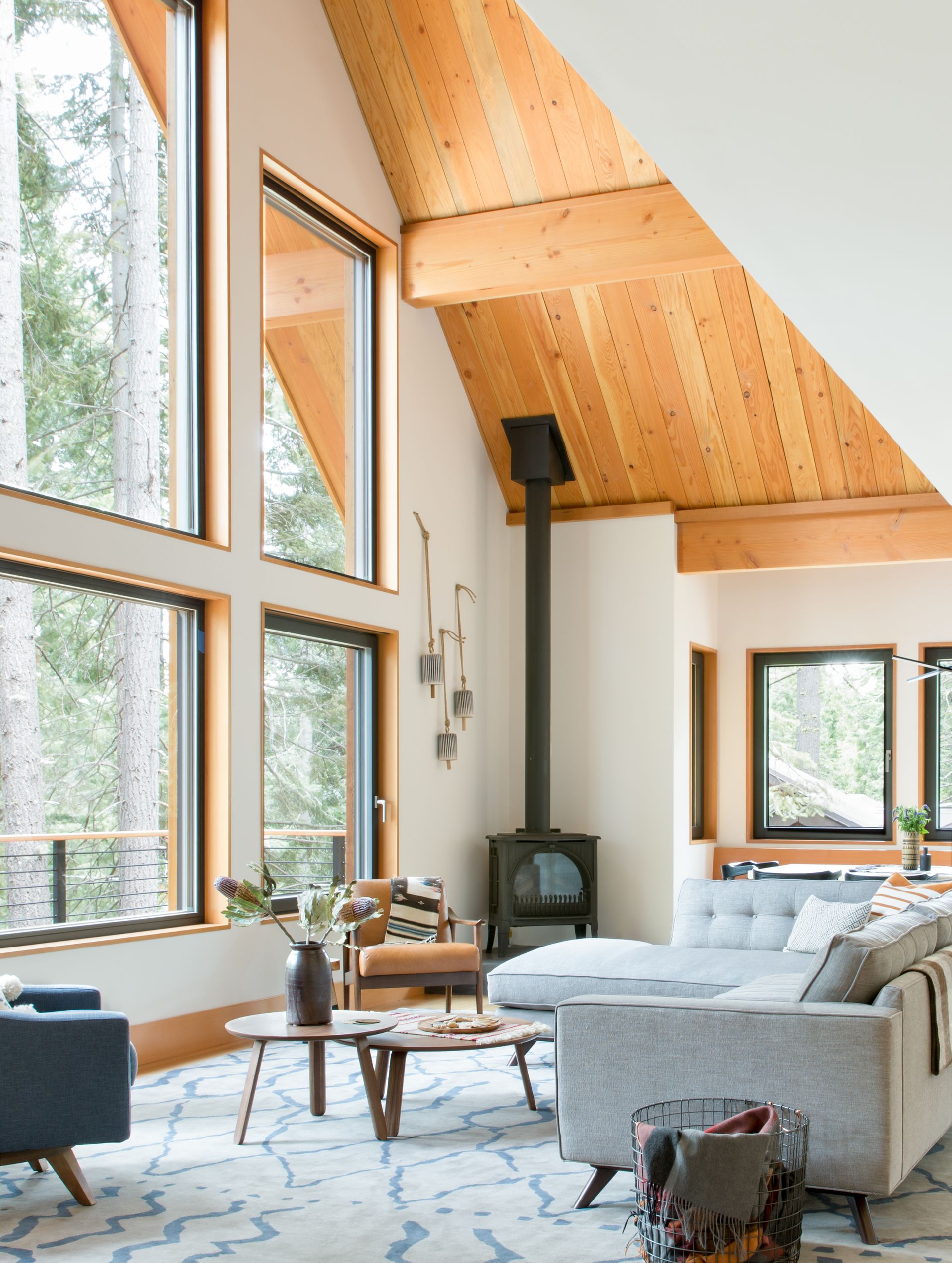 Draw the eye upwards by making a feature out of a log fire and its flue. This design from Regan Baker Design in Tahoe leads the eye all the way to the ceiling and directs the eye towards the beautiful wooden ceiling and emphasizes the rustic farmhouse style. a real feature of the beautiful wooden ceiling. The result is a pleasing blend of contemporary and cabin-style, the perfect modern rustic living room. 
7. Paint the ceiling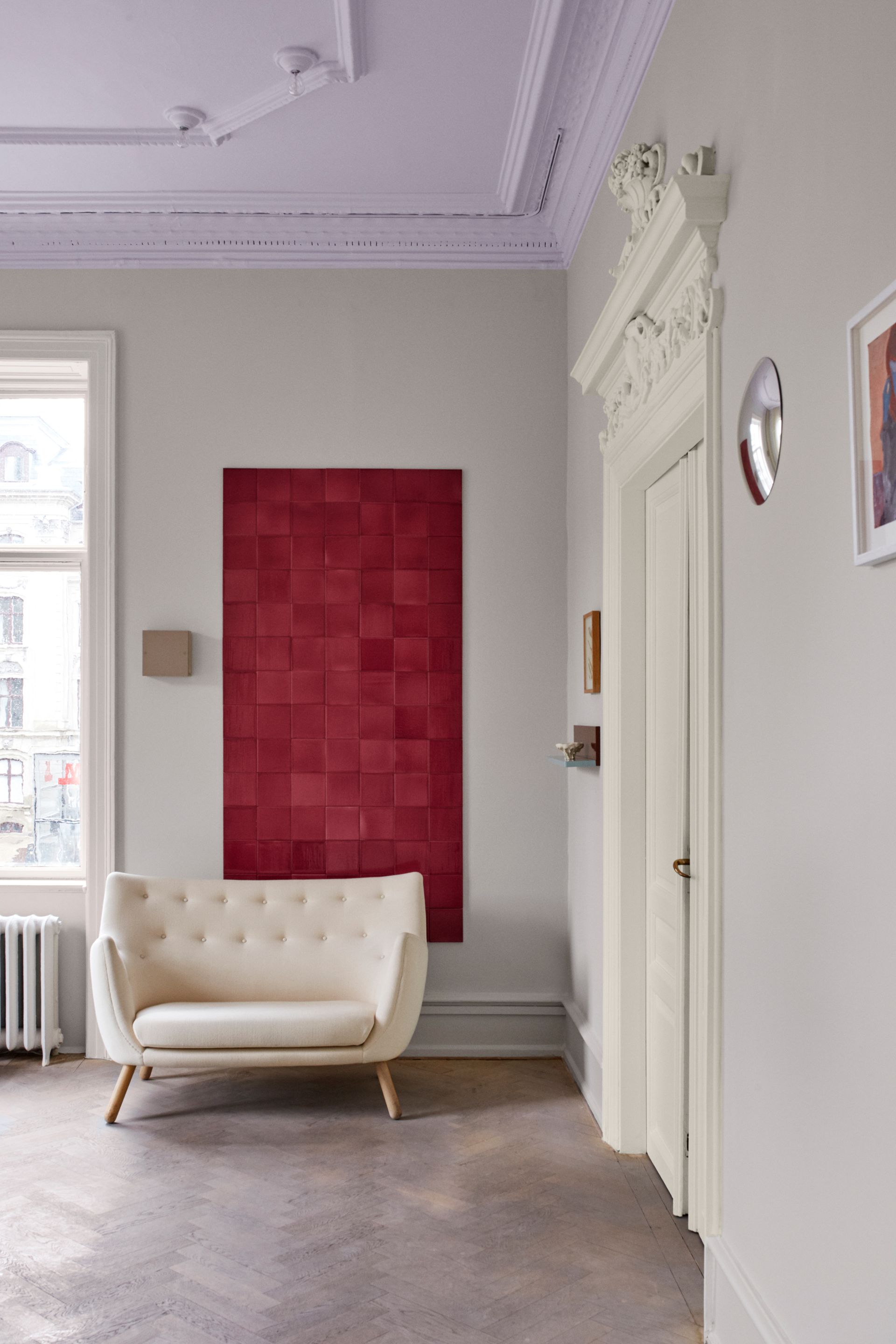 Referred to as the 'fifth wall' by designers, the living room ceiling so often gets overlooked. But there are endless paint options that can help you create a feature of the living room ceiling instead of going for same white paint you always do. the ceiling to draw the eye upwards. If you're working with a high ceiling and looking to make the space feel more cozy, giving yourself a dark ceiling creates a cocooning roof-like feel in the room. Think carefully about the color you go for. 'Dark ceilings can be bold statements, especially with contrasting white walls,' says Jennifer Morris of JMorris Design (opens in new tab). 'It can add unexpected drama to an area in the room that is often underrated.' Alternatively, go for a tone from the same family as your wall paint to create harmony in the space. 
8. Create a feature wall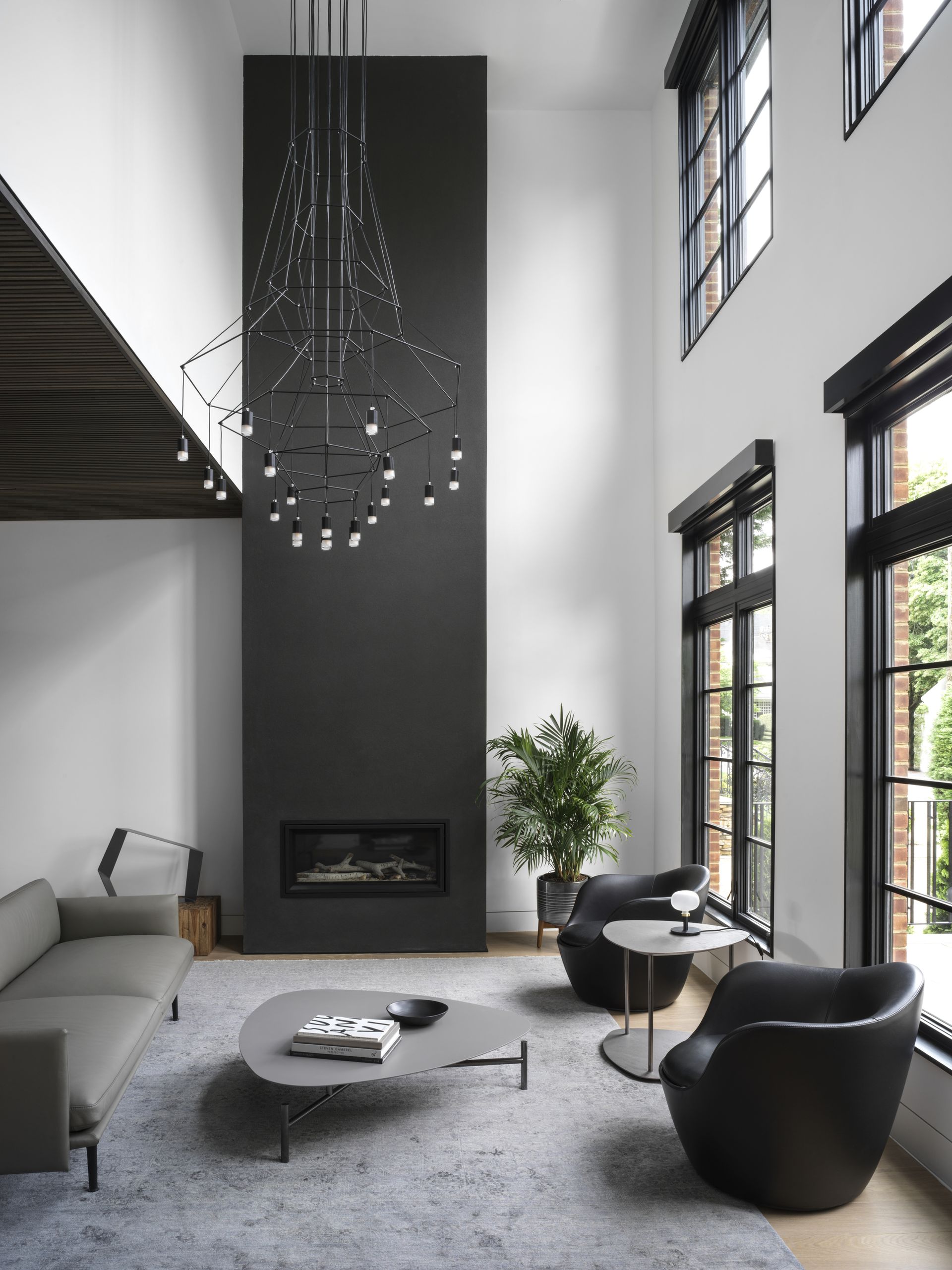 Go for a bold lick of paint to create a living room accent wall. A dark accent wall may even make a room look bigger and feel wider, even if it is a narrow space. This is all down to the way the eye perceives color and light. Dark colors recede from the viewer, so the accent wall visually enlarges the space and creates contrast which makes a room seem brighter. 
In this example from OAD Interiors, a black wall was used to make the room seem larger. 'We wanted to emphasize the height of the space so we chose to have the fireplace in black to provide contrast and a wow factor,' says Melissa Anderson of Brooklyn-based OAD Interiors (opens in new tab).