Beige couch living room ideas have endured across the decades, and it's easy to see why.
A couch is often the largest and most expensive piece of furniture you'll buy for the living room, so it's important to consider longevity. Opting for a couch in a warm, neutral color like beige or cream is guaranteed to stand the test of time as it can be paired with a multitude of colors and materials plus will seamlessly integrate with a wide range of interior looks.
A light shade with a warm undertone, beige is perfect for a bright, laid-back scheme and, plus a beige couch can easily be updated with different cushions and throws from season to season.
Whether you're looking for a sofa for your beige living room ideas or a timeless focal point for a room layered with color and pattern, then you're in the right place as we've rounded up an array of beautiful beige couch ideas to get you inspired. 
Beige couch living room ideas – 11 neutral designs
Decorating with beige may seem like a safe and straightforward choice, but when it comes to deciding on living room sofa ideas there's so much to consider, from shape and cushion style, to fabrics and fillings.
Comfort is of course a key when choosing living room seating, but it's also important to think about shape and material, as these will have a big impact on the look and feel of the space. 
Depending on the design, fabric and accent colors you pair it with, a beige sofa can make the perfect focal point for a country scheme yet can also work wonderfully in a cool minimalist space. 
1. Try a slouchy beige couch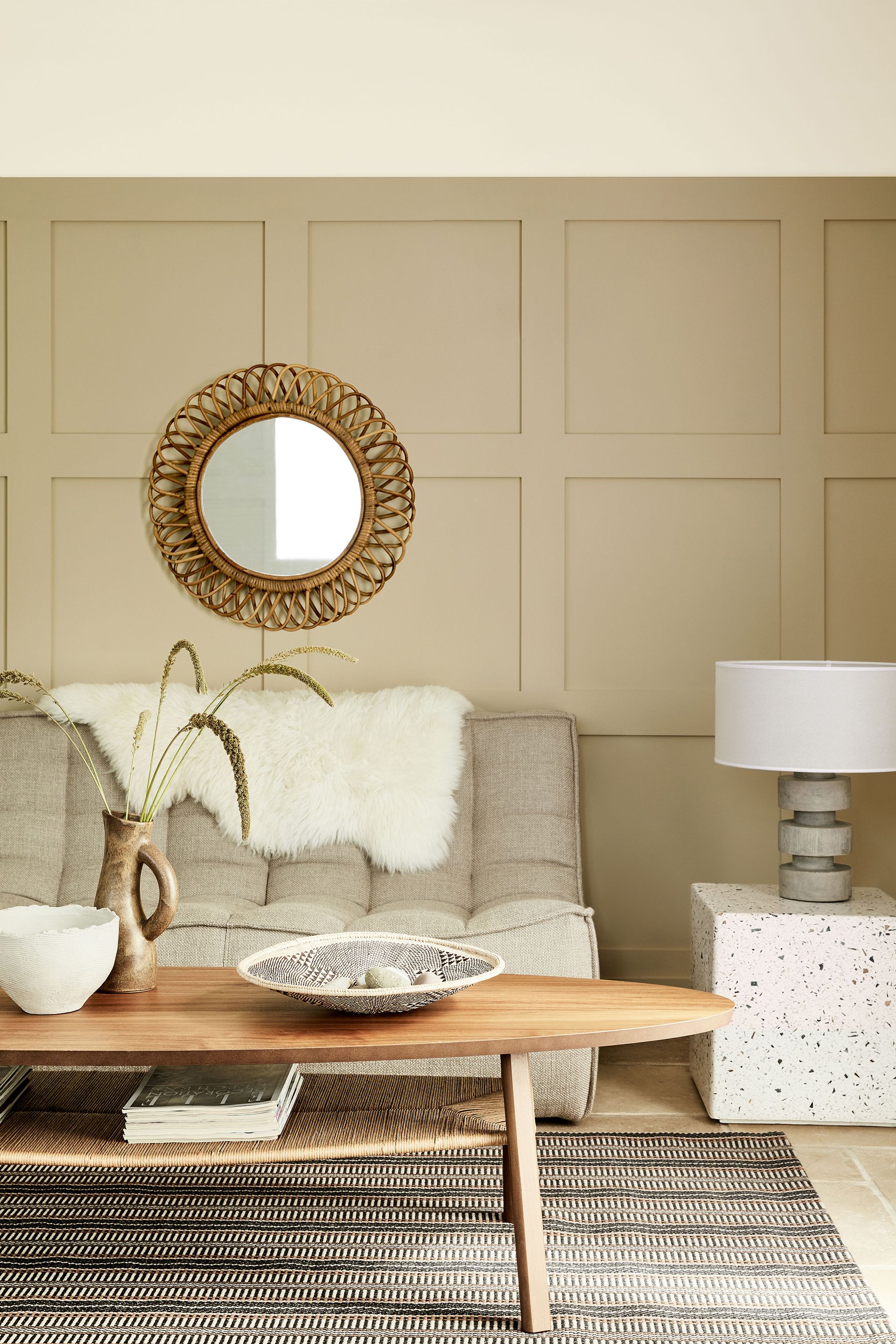 Warm neutrals such as beige, stone and oaty hues are becoming increasingly popular for living room color schemes as more of us seek relaxing yet cozy and inviting spaces say the experts. 
'We've seen that there is a greater need to surround ourselves with comforting, soothing colors that are not only easy to live with but provide warmth and serenity within our homes,' says Ruth Mottershead, creative director of Little Greene (opens in new tab). 'This has been reflected in the increasing popularity of warmer neutrals, in a clear shift away from the cooler, blue-toned greys that have been so popular in recent years.'
Here a contemporary but slouchy sofa in a textural beige fabric beautifully blends with panelling in Little Greene's Travertine to create a relaxed and welcoming space.
2. Choose textural fabrics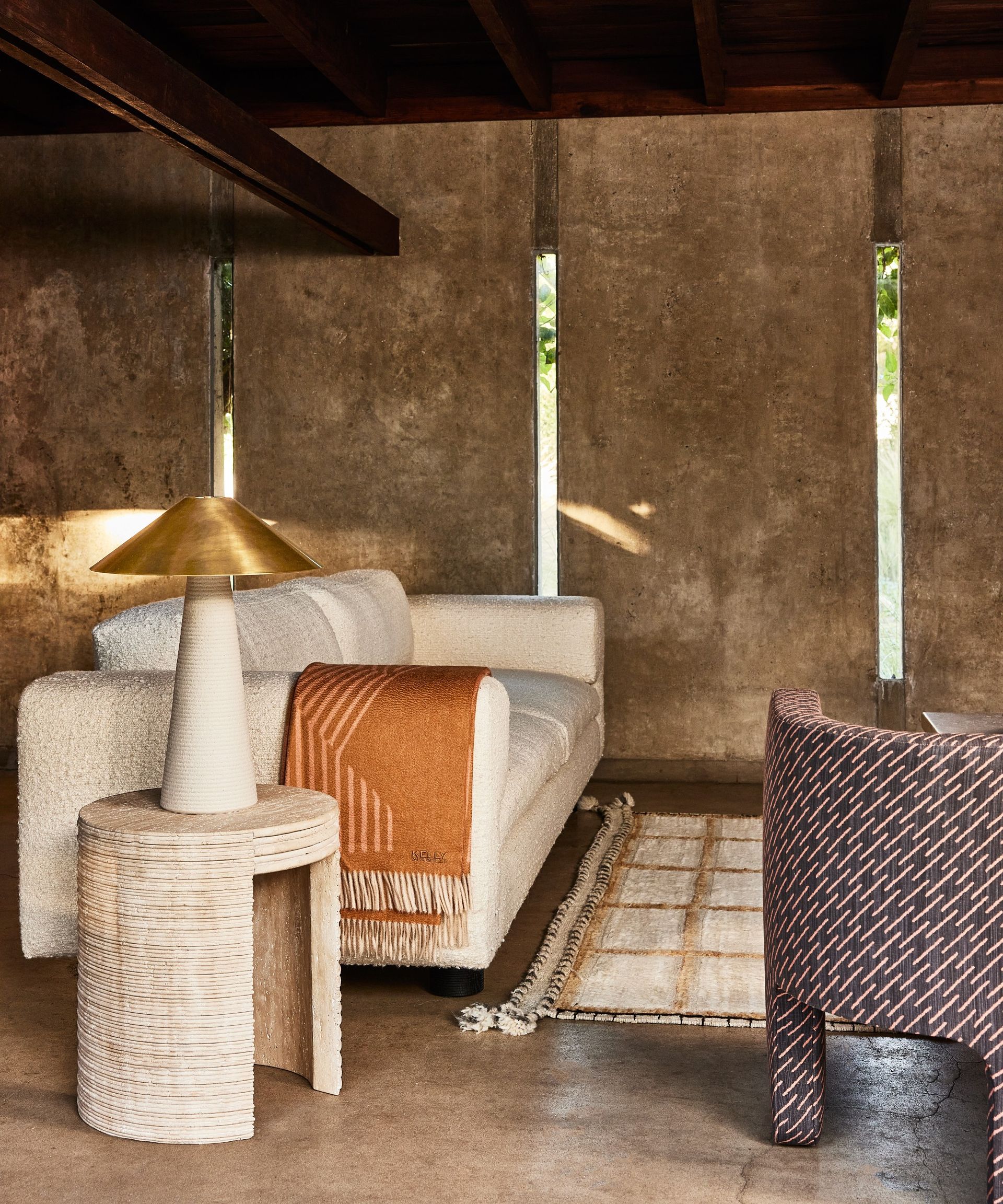 Beige room ideas are tricky to get right and can run the risk of feeling flat and lifeless without careful planning. If you're thinking of having a beige couch as part of a neutral living room then think about choosing a textural fabric such as velvet, linen or a thick chunky weave to help bring depth.
When decorating with neutrals, 'it's important to consider texture, whether it's a pattern, such as a jacquard fabric, or through mixing finishes, like a matt wall with gloss paint on the ceiling,' says Kelly Wearstler (opens in new tab). 'These elements create interest that will make the monochromatic neutral room sing.'
In this stylish space the sofa has been covered in a fleecy fabric to bring essential coziness while the terracotta throw brings welcome warmth and color.
'If someone wants a room that's very calming, I would say stay completely in the neutral world with a more monochromatic look. However, if you want a splash of energy, then include one incredible piece of art or a colorful rug to create interest and personality,' adds Kelly Wearstler.
3. Embrace contemporary curves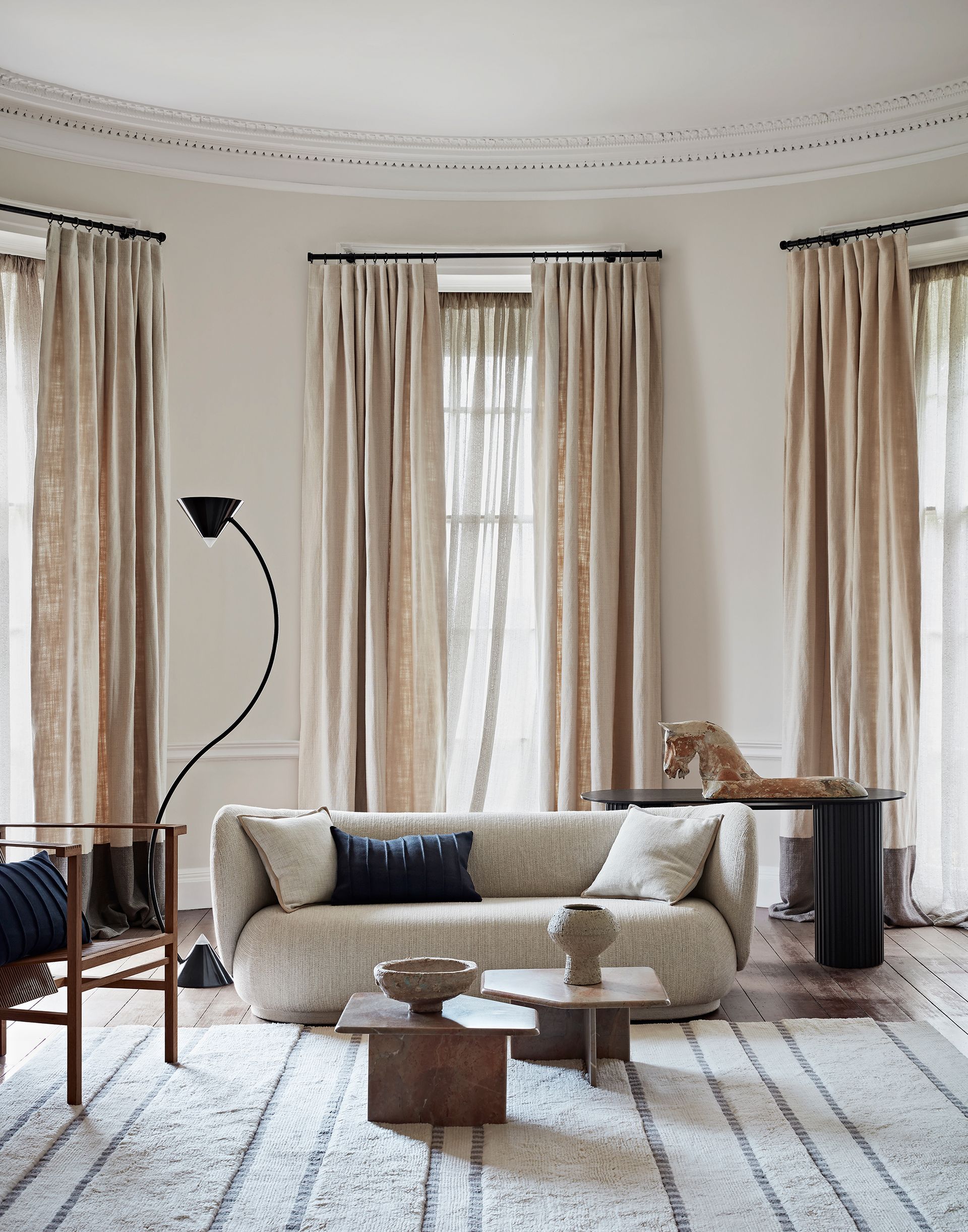 Opting for statement furniture and accessories in sculptural shapes is a great way to create a focal point in a neutral scheme.
Boasting a sleek, curvaceous silhouette, this sofa brings a cool, contemporary feel to this living room. It is upholstered in de La Cuona (opens in new tab)'s Shore fabric, a dense linen with handwoven look which brings essential depth and texture to the space. 
4. Choose linen and loose cushions for a farmhouse feel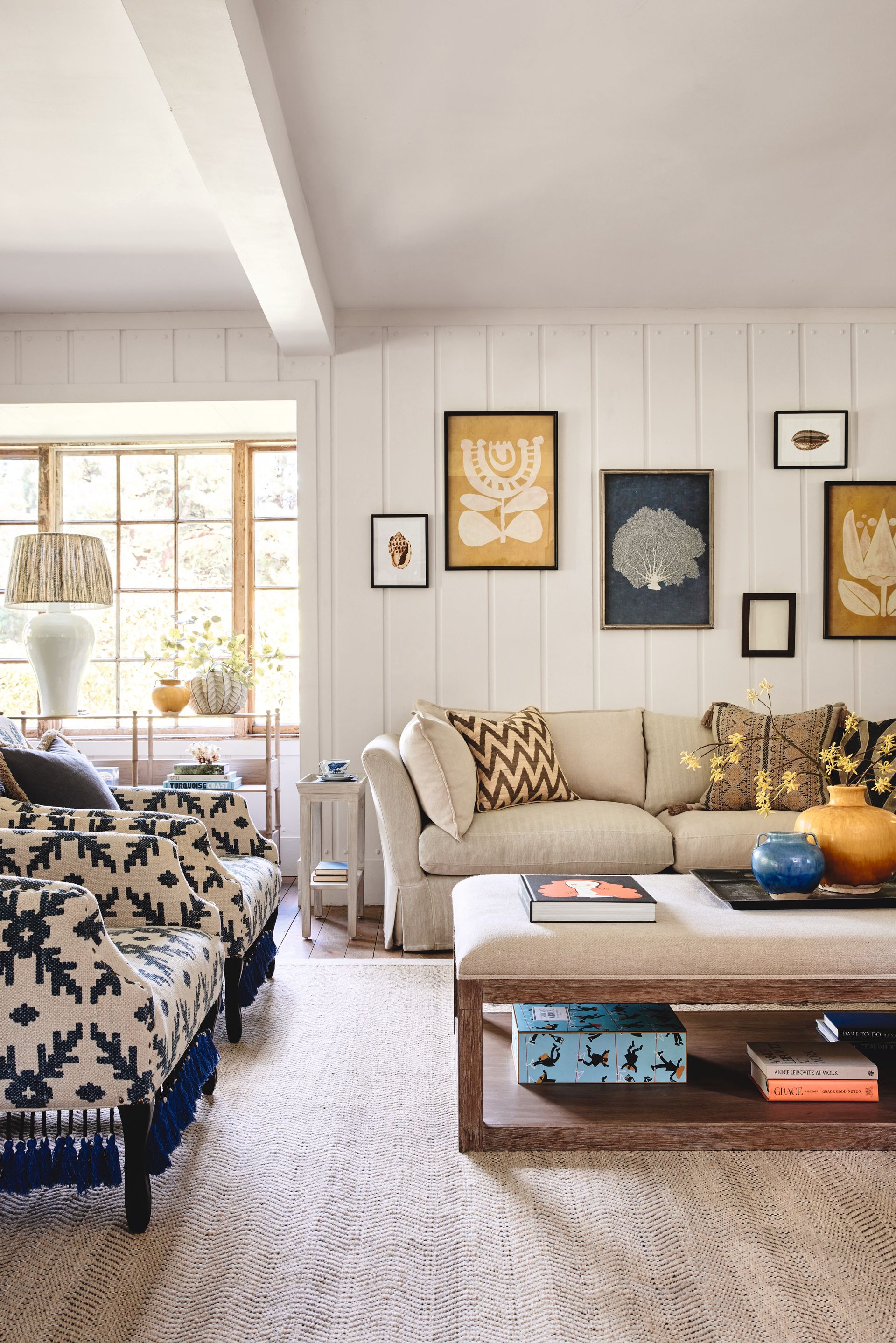 Farmhouse decor ideas are all about creating a relaxed and comfortable look, so if that's what you're after then consider a sink-in loose-cushioned couch covered in beige linen. 
A key benefit of opting for neutral walls and a beige couch in a living room is that they can both be easily updated from season to season with new cushions and accessories. In this farmhouse living room (opens in new tab) a chunky, classic sofa from Oka (opens in new tab) has been livened-up with patterned linen cushions while vibrant blue and yellow wall decor brings life to the plain ship-lap wall paneling. 
5. Pair linen with sleek lines for a cool contemporary look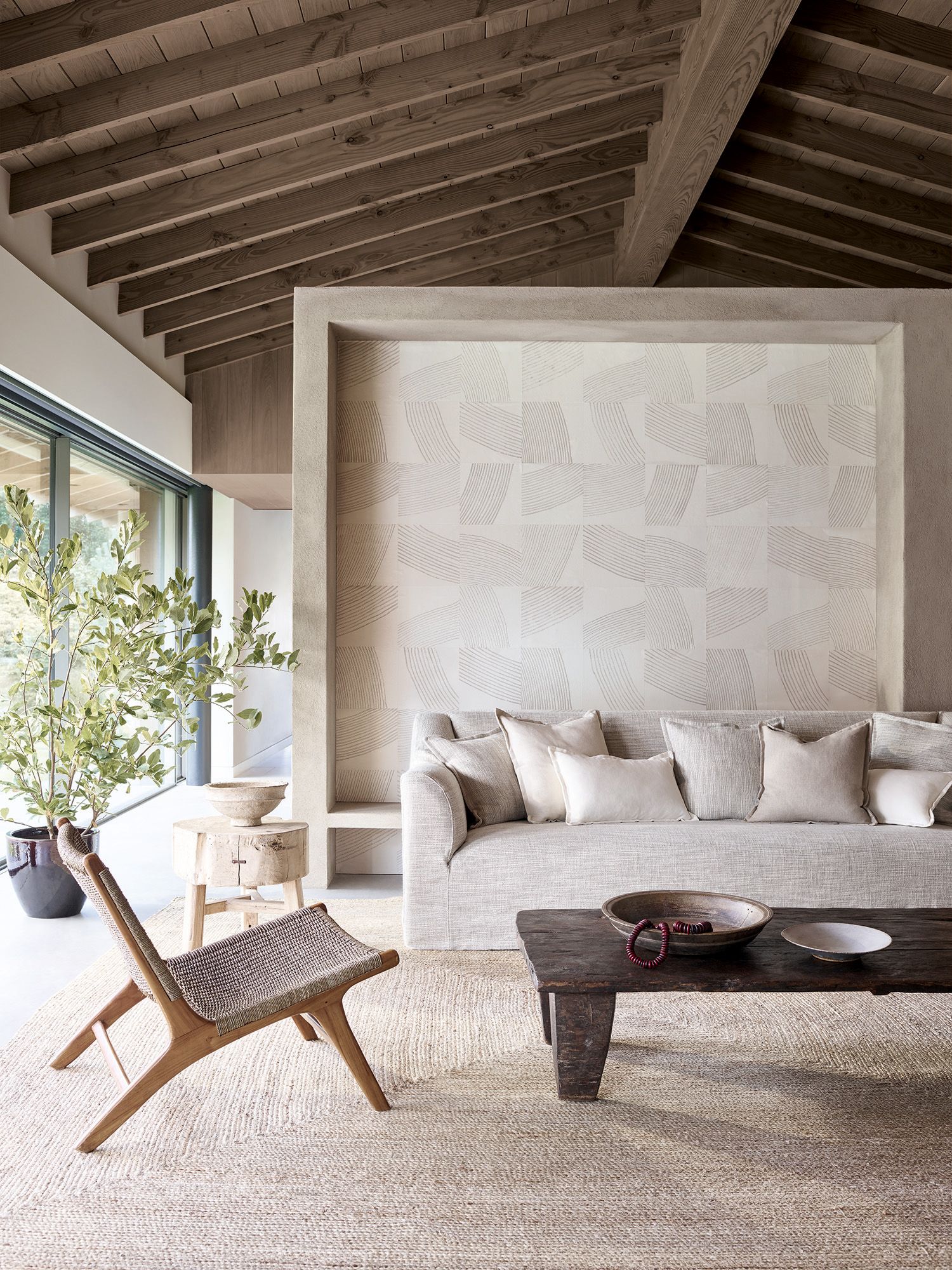 In the past beige has suffered a bad rep for being dated, but it can look effortlessly stylish and contemporary as this scheme by Mark Alexander proves.
Featuring simple, elongated lines and a fitted seat-cushion, this fuss-free beige couch helps bring a contemporary feel to this neutral space, while the textural Cross-hatch linen fabric adds to the relaxed and laid back feel.
'Natural qualities and understated design come together to form a stylish and minimalist space,' says Mark Bucher, head of Mark Alexander (opens in new tab) of this living room. 'Linen is the perfect textile to create a cool and calming effect,' he adds.
6. Team a beige sofa with natural materials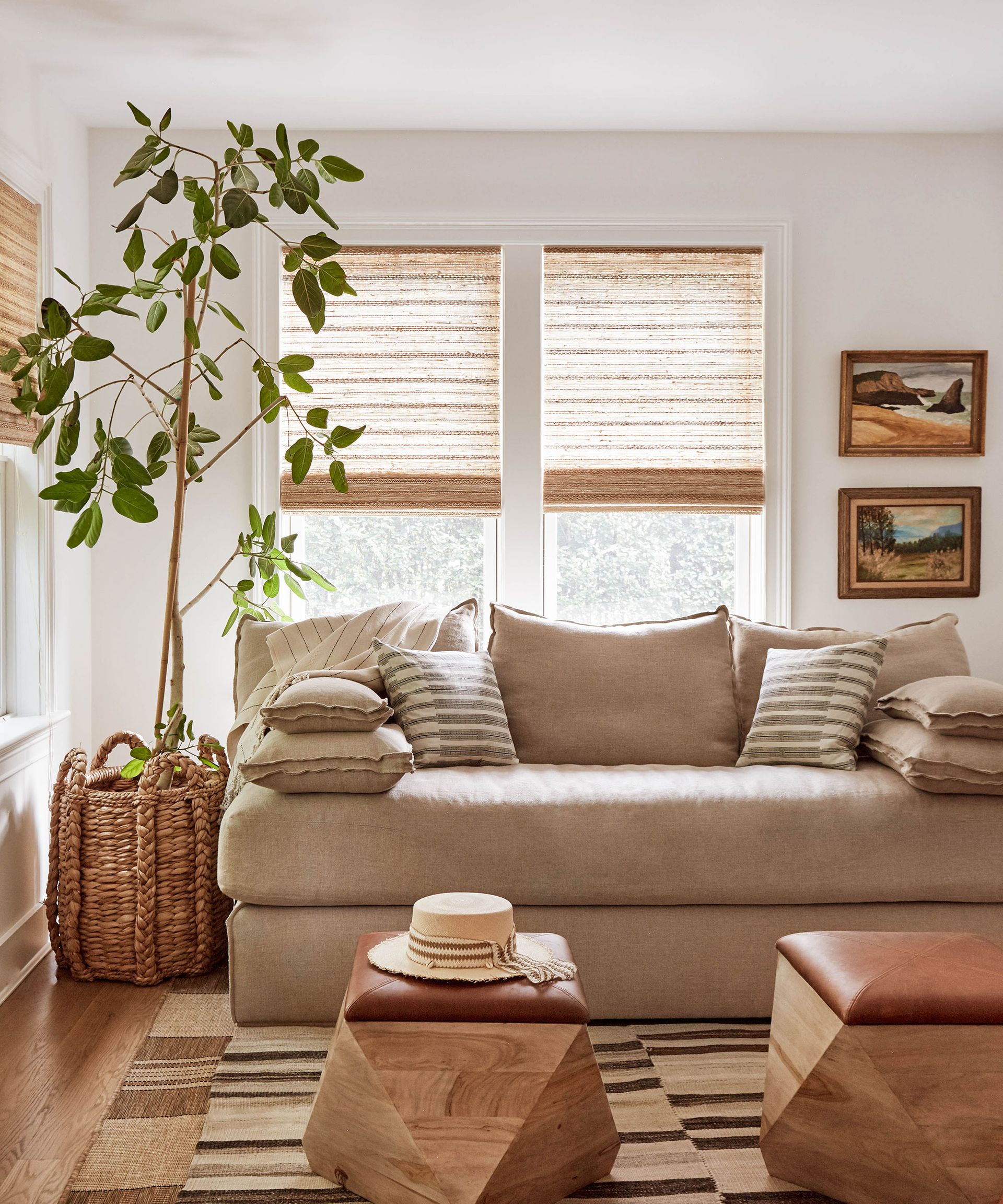 Decorating with natural materials is a wonderful way to create a relaxed and sustainable living room full of texture. 
In this living room by Becca Interiors (opens in new tab) a dark beige linen sofa makes a perfect focal point and pairs beautifully the organic textures of jute, tan leather and timber for a calm and earthy feel.
'Keeping in with the neutral theme in the rest of the home, we included a custom Verellen fold-out couch – upholstered in a flax linen – with layered hemp rugs underneath for texture,' says Becca Casey of Becca Interiors.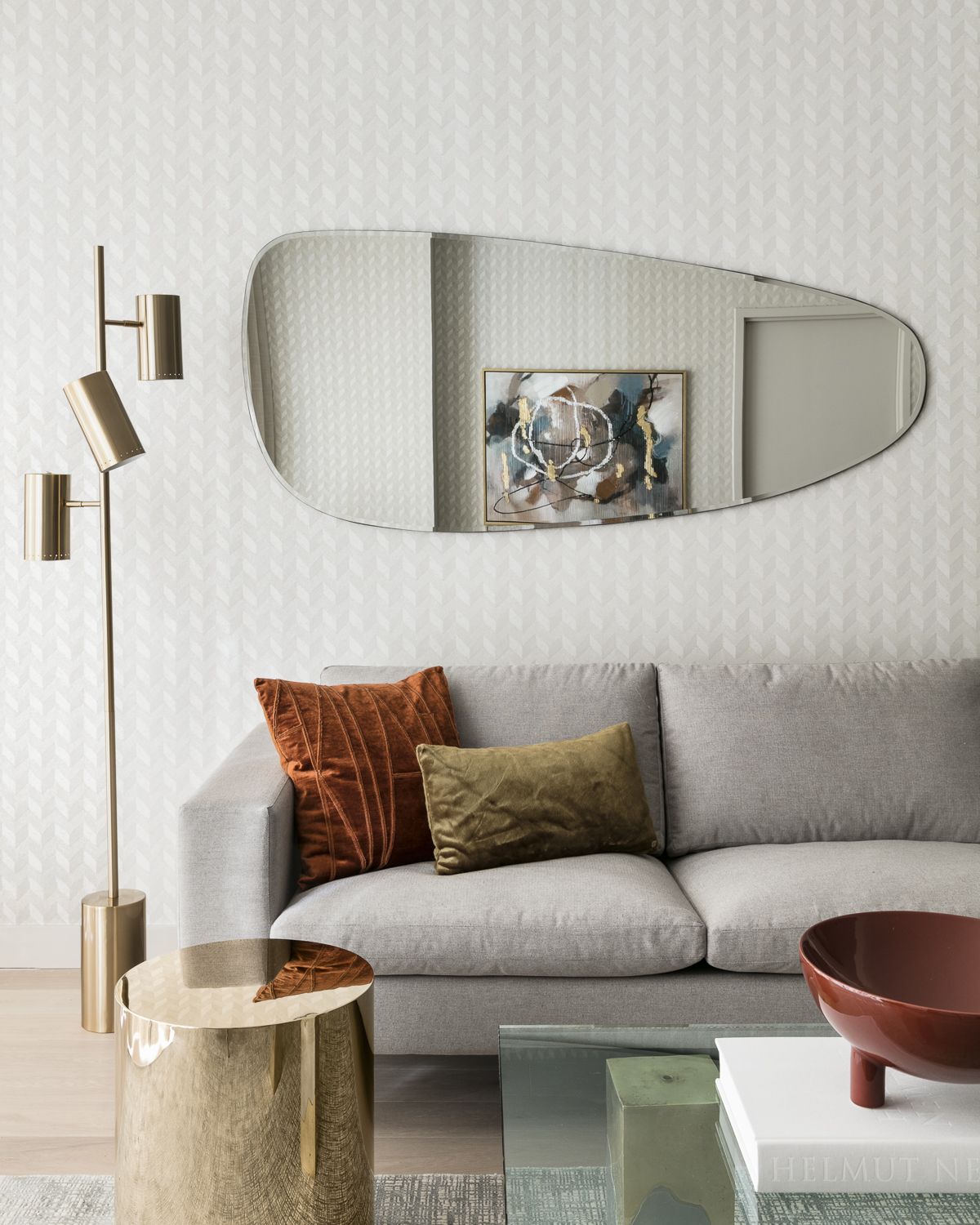 An all-beige scheme can sometimes feel cold and lifeless, especially when the sofa and walls are all in a grey-beige or a greige shade, but adding in accessories in warm accent colors for beige will instantly liven up the look. 
In this living room by The New Design Project, cushions in rich terracotta and gold velvet add depth and warmth while the mirrored gold side table and metallic floor lamp bring a touch of glamor.
'We wanted to appeal to a broad audience without being bland, so we chose small geometric patterns and warm neutrals for the wall treatments and large furniture, but chose strong accent colors for the accessories and smaller furniture,' explains NYC interior designer Fanny Abbes of The New Design Project (opens in new tab).
8. Pair a beige sofa with florals for a country look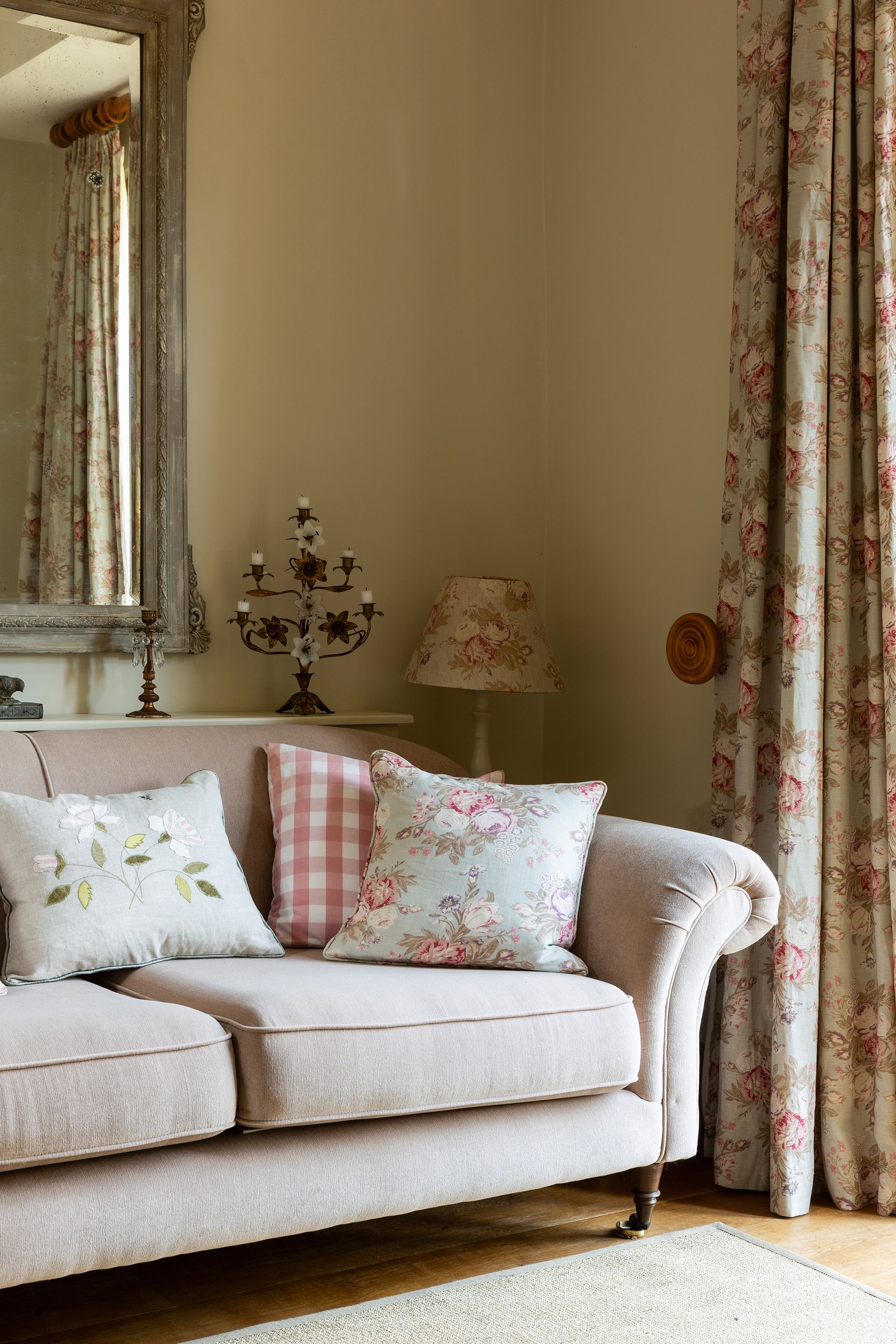 If you're looking to create a calm country living room then you cant go wrong with a traditional beige sofa with elegant scroll arms, plus opting for pared-back beige upholstery leaves plenty of scope for experimenting with pattern through curtains, lampshades and cushions. 
To add to the pretty, rural look accessorize with a mix of French floral linens and pastel gingham prints.
9. Choose a beige sofa for a Scandi look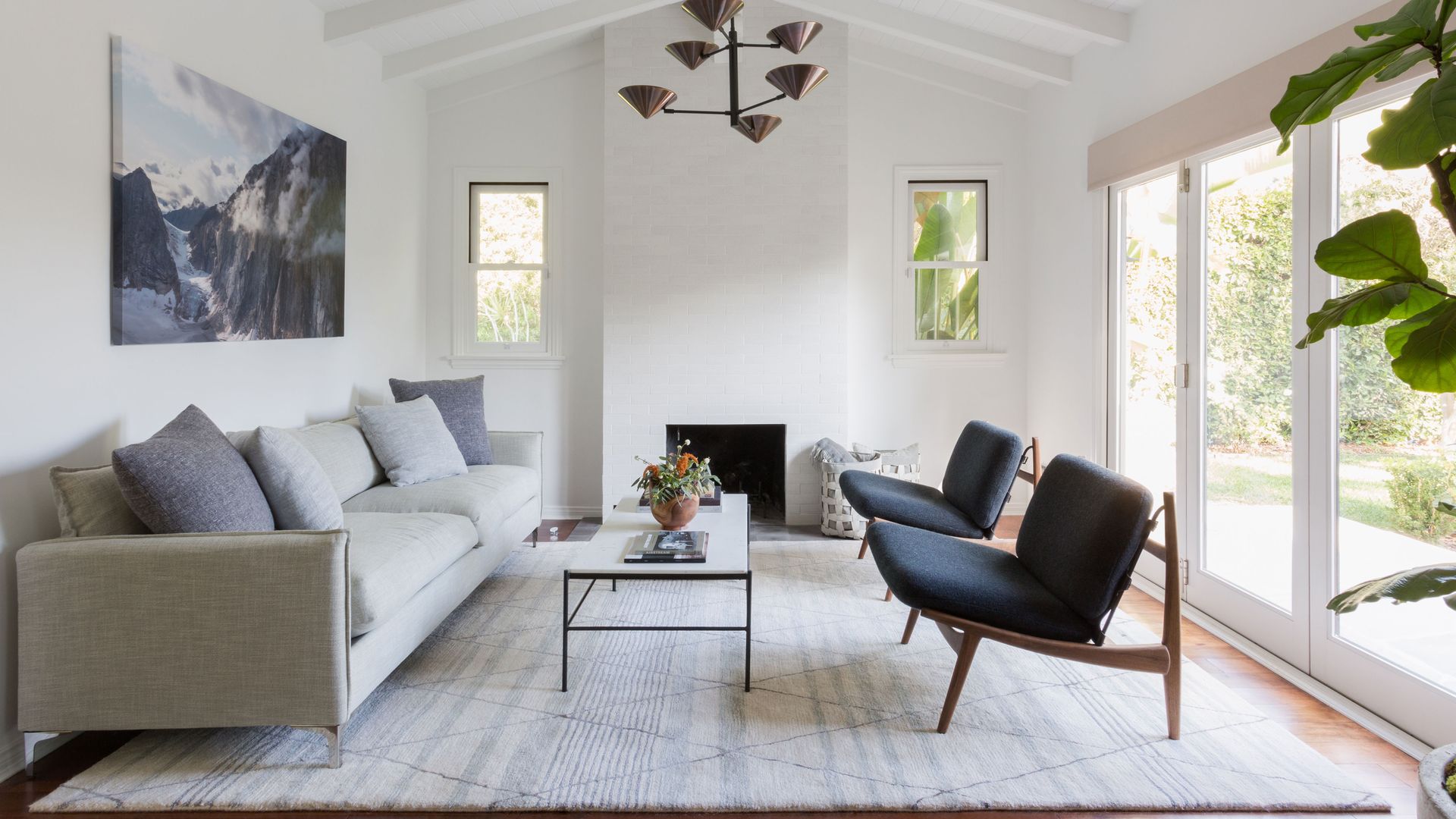 Neutral palettes are a hallmark of Scandinavian living room ideas and when it comes to sofas you can't go wrong with a sofa in a light, off-white, plus, be sure to think about the size, too, says Genna Margolis of Shapeside (opens in new tab).
'The best way to create a Scandinavian look while brightening up your living room is to use a cool color scheme (whites, gray, light woods, silvery/ blue tones) and to remember less is more,' says the Los Angeles-based interior designer.
'You don't want furniture that is going to fill the entire space. You want pieces that still leave a lot of room so the size of the pieces should be a little bit smaller than usual to get the look.'
10. Embrace gentle pattern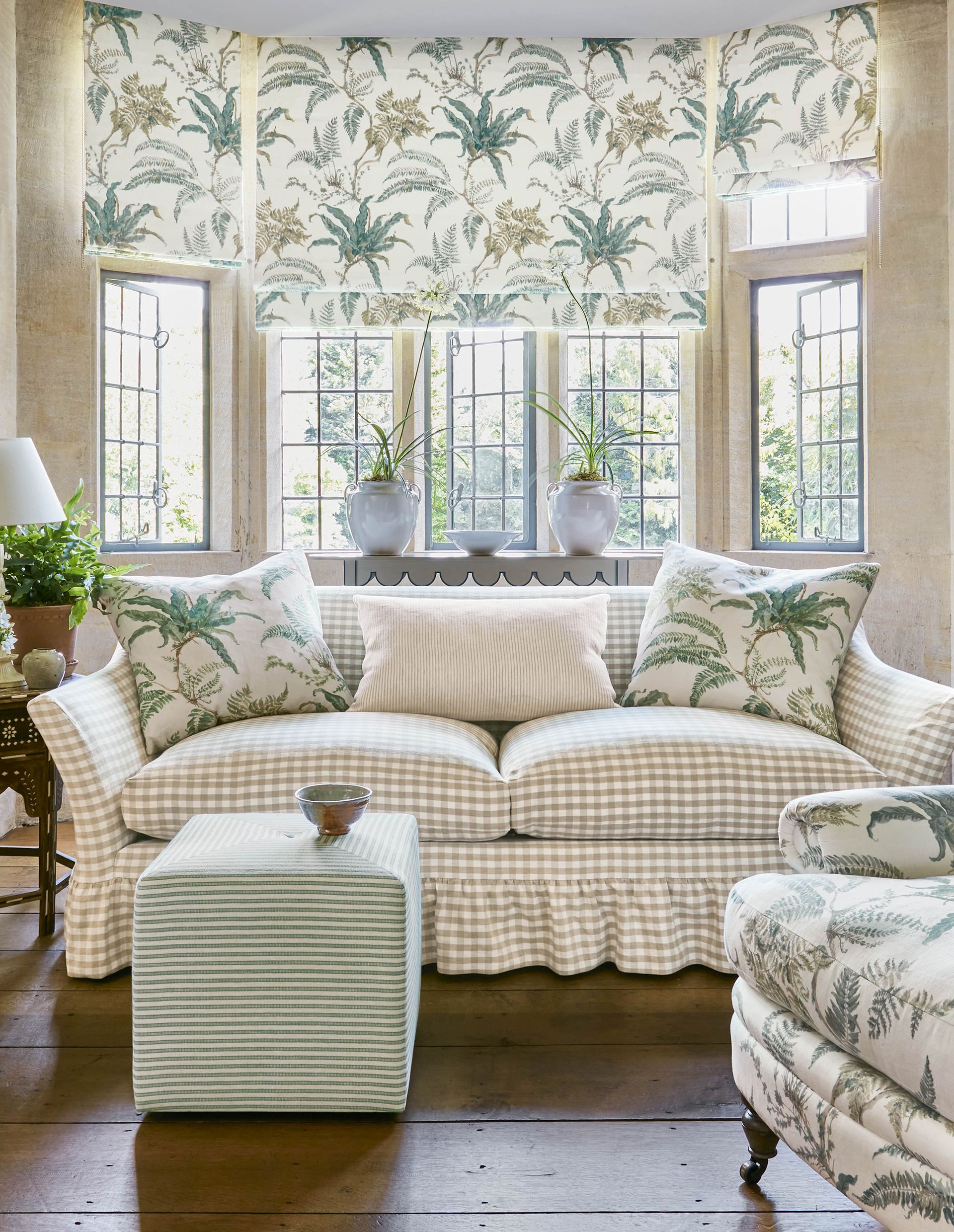 Opting for a couch with a delicate pattern such as a timeless stripe or classic gingham or check is a great way to bring texture and interest to neutral living room walls. 
Simple and versatile, gingham is brilliant if you're after a French country living room look, plus when used in beige colorway it can pair well with more ornate fabrics. Alternatively, a couch in a beige ticking or stripe would make a lovely feature in a coastal living room. 
11. Choose a light beige for a large couch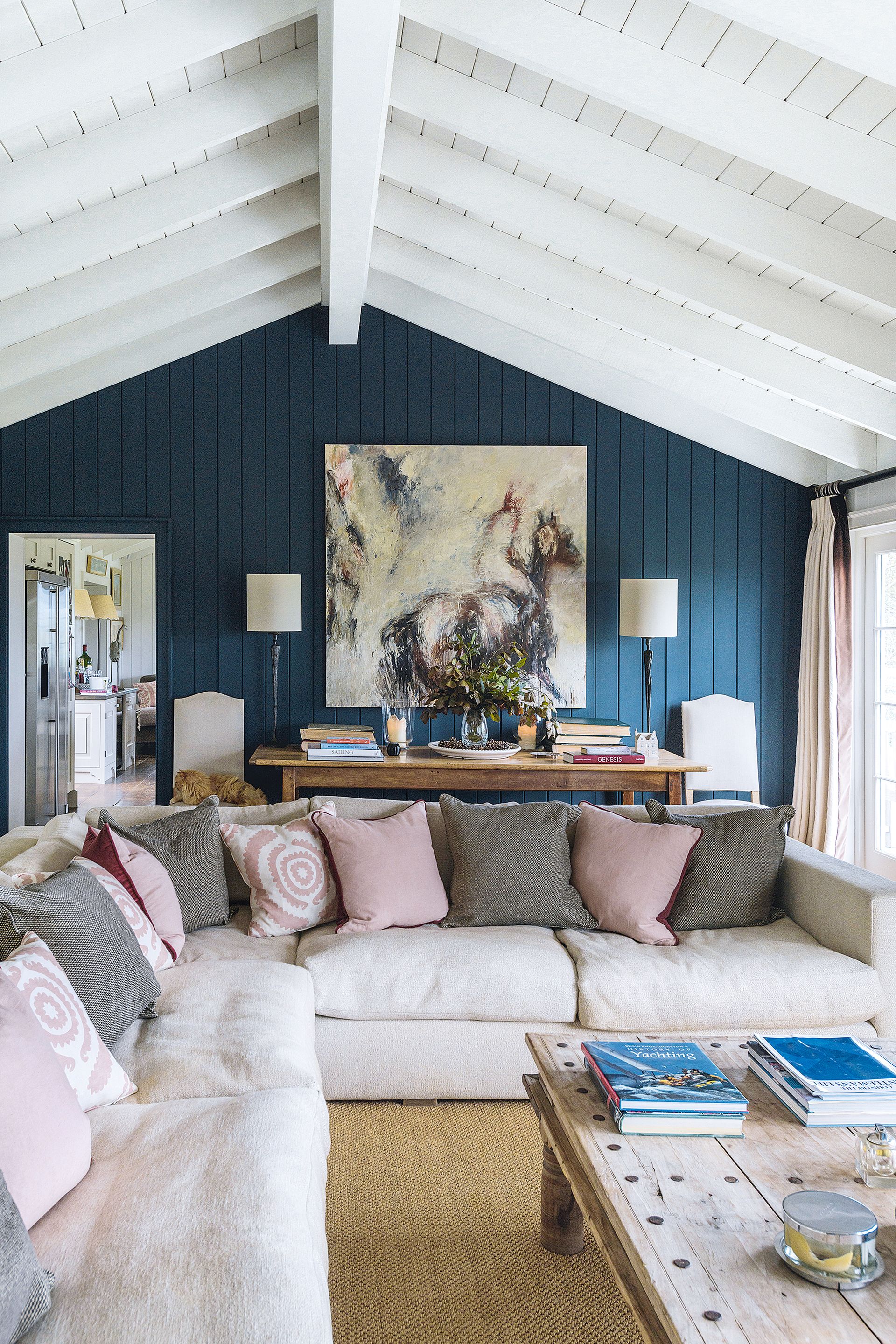 Large, robust pieces of furniture such as chunky three seater sofas are wonderfully comfortable and sociable, but they can dominate a space visually. While a large, robust sofa in a dark color might be too dominating, opting for a soft, warm beige shade will help keep the living room feeling light and uplifting. 
In this beautiful farmhouse living room, the beige couch and pastel pink cushions are a perfect antidote to the dark living room wall color. 
What color goes with beige sofas?
Being a warm, neutral shade, beige is extremely versatile and can be paired with a huge array of colors from bold hues to soft pastels – the color wheel is a useful tool for finding complimentary colors when decorating,
'Warm neutrals are colors that envelope and comfort look at their best within a palette of natural tones like other earthy shades and soft grey greens,' says Justyna Korczynska, senior designer at Crown (opens in new tab).
How do you brighten a beige couch?
Accessorizing with an assortment of cushions and throws in colorful prints and patterns is a quick way to brighten a beige couch, plus the cushions can be easily updated from season to season. 
For best results choose co-ordinating colors but play with different sizes, patterns and scales. As a warm, neutral color finding accent colors for beige is easy, however warm shades such as terracotta, orange and red work particularly well. 
If you want to keep the scheme more neutral consider adding cushions in a mix deeper and lighter beige tones as well as tan and brown. Black can also work well with beige if you're looking to create a contemporary, chic look.