Both structural and cyclical forces to shape office real estate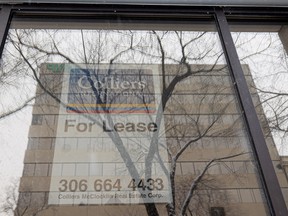 Article content
Canada's office real estate markets have coped well with the huge shifts in demand brought about by short-term shocks due to the pandemic lockdowns and the long-term changes in corporate culture resulting from hybrid-work environments.
Article content
The future of office real estate relies on how companies adapt to this changing work culture, the growth and aging of the labour force, and the shift in where workers live and how they commute.
Article content
Carl Gomez, chief economist and head of market analytics at CoStar Group, identifies two distinct forces shaping the office real estate markets.
The short-term forces are cyclical in nature: job growth will be slower with an economic recession on the horizon and there is a large influx of new office supply coming online at the same time.
The more significant challenge is the structural shift in the economy, given that working from home has resulted in evolving hybrid-work models that allow employees to operate remotely for some days or even some weeks of the month. The rapidly aging workforce presents the other structural shift.
Article content
Working from home is not as prevalent as it was at the peak of the pandemic, when two out of five workers reported operating from home or remotely, but it still affects millions of employees, albeit only partially in many cases. These trends have resulted in a relatively slower increase in the demand for office space.
Even when the labour market resumes growth after the impending recession, it may not necessarily result in a commensurate increase in office space demand because of these hybrid-work environments.
The urban-suburban divide in office real estate resilience is another factor. Office vacancy rates in Toronto show a sustained and faster increase in downtown vacancy rates and they are now higher than in the suburbs. The increase in new office supply in the urban core has contributed to the growth in vacancy rates.
Article content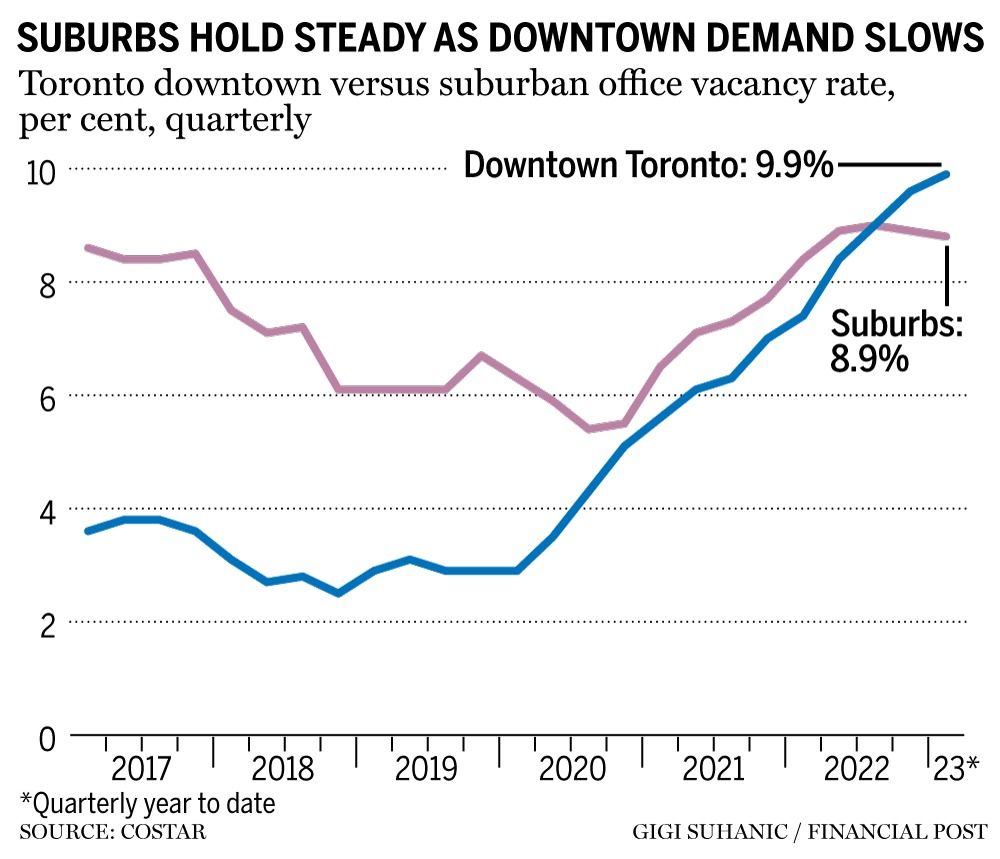 The tech sector, which accounted for a noticeable recent increase in office space demand, is also pulling back. In Vancouver, where the tech sector enjoys a relatively large office space footprint, a slowdown in tech will have a much more noticeable impact than in other cities.
An unexpected, and undesirable, outcome of the growth in office space at a time of slowing demand is that the new supply will likely entice tenants from older buildings, which may not be suitable for hybrid work in a post-pandemic economic recovery.
The design of floor plates, the quality and quantity of elevators, and modern heating, ventilation and air conditioning systems to cope with any future outbreaks are some reasons why tenants may switch to newer buildings.
Article content
In an almost zero-sum game, where supply increases and demand weakens, the cannibalizing of tenants by newer office buildings is expected to keep vacancy rates at stubbornly higher levels.
The hybrid-work culture is also encouraging many tenants to sublease surplus space. Given that office leases are a multi-year commitment, subleasing allows tenants to rightsize the floor space they need, and there has been a noticeable increase in subleasing in large office markets.
For example, the sublease space in Vancouver during the fourth quarter of 2022 grew by 59 per cent from the previous year, and 23 per cent in Toronto during the same period.
Rents have remained relatively stable as office vacancy rates increase to double digits from almost zero in many urban core markets. But this may not be a cause for celebration.
Article content
First, office rents have not kept pace with the rapid increase in inflation. Secondly, the increase in competition for large tenants means landlords are offering generous incentives to tenants, resulting in lower effective rents.
Why those waiting for a return to normal in commercial real estate will get left behind

Mall owners bet they can save bricks-and-mortar retail by being more like Amazon

Working from home is here to stay and that has consequences for both housing and office space
The flux in office space demand and supply also makes it difficult to generate reasonable valuations. This is not helped by a lack of sufficient comparable transactions for appraisals since the pandemic. The good news is that downtown office real estate is often owned by pension funds and others well-positioned to weather any downturn.
Article content
The long-term view on office real estate may require a rethink to repurpose some older office buildings, especially those struggling to find tenants. Conversion to residential use might be a possibility in some cases. Such a transition will find allies in provincial and federal governments that have set targets to build millions of new homes in the next 10 years.
The future of office real estate will be defined by the willingness of industry leaders to adapt. Nathalie Palladitcheff, chief executive of Ivanhoé Cambridge Inc., has been asking the industry to adapt and adjust to the new environment of hybrid work and a recession. The new spatial equilibrium in real estate markets requires fresh thinking rather than hopes of returning to the pre-pandemic world.
Murtaza Haider is a professor of real estate management and director of the Urban Analytics Institute at Toronto Metropolitan University. Stephen Moranis is a real estate industry veteran. They can be reached at the Haider-Moranis Bulletin website, www.hmbulletin.com.