Lighting is one of the most important elements of a well-designed room. Not only does it help make the space more functional, but it also helps create a designated atmosphere or ambiance, as well as adding decorative appeal. Your living room, in particular, can benefit from good lighting the most, considering it's likely where you spend most of your time.
A simple way to make your living room pop is by installing a statement light fixture. The term "statement lighting" is pretty general and goes in accordance with every design approach, from the most bare-bones minimalism to busy, eclectic décor. More than adding a bold decorative pop in your living room, statement lighting can help accentuate certain architectural elements of the room, like a unique window or cathedral-style ceiling, as well as bring all the design elements together, notes Joyful Derivatives. Keep reading for some ideas on how to incorporate gorgeous and effective statement lighting in your living room.
1. Simple gold cluster globe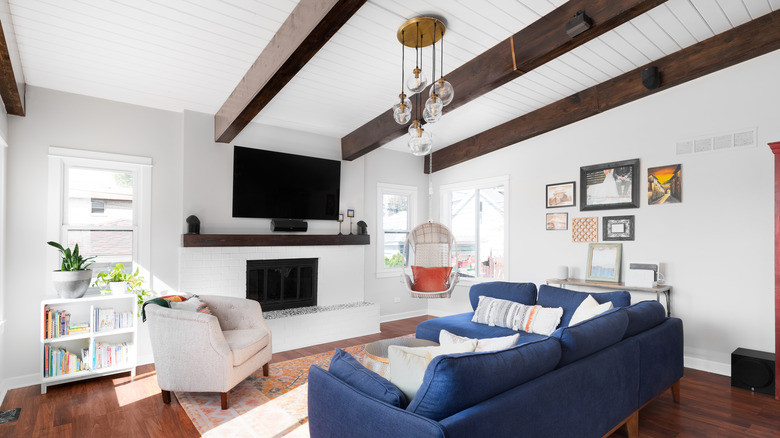 Hendrickson Photography/Shutterstock
A simple way to add a pop of gold to your living room is with a contemporary cluster globe light fixture. Multiple lights hang down at different heights, creating a unique design while casting a ton of light in your living room.
2. Sophisticated ring chandelier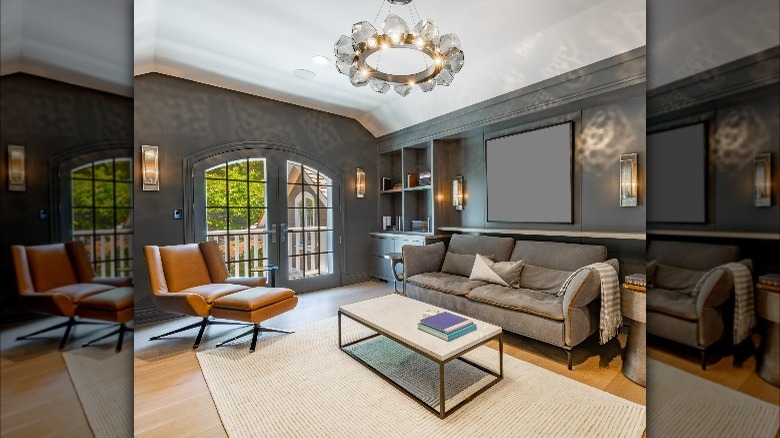 Sheila Say/Shutterstock
While traditional chandeliers are obviously eye-catching, fantastic statement light fixtures, they can sometimes be a bit out of place in more contemporary living rooms. Opt instead for a ring chandelier with some unique bulbs at the end for a special design flair.
3. Mid-century inspired Sputnik chandelier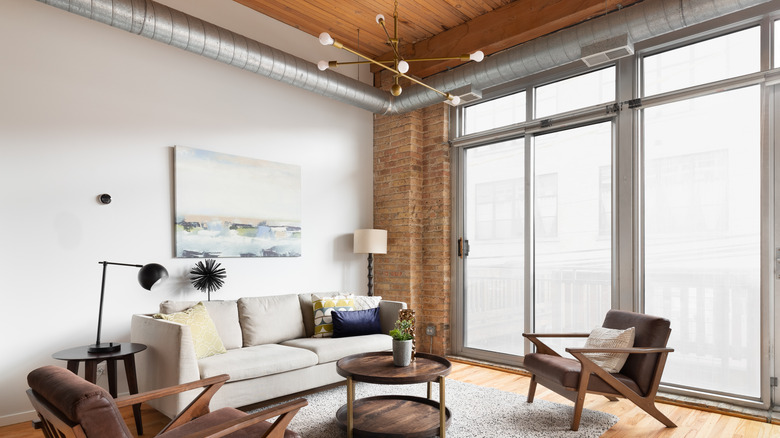 Hendrickson Photography/Shutterstock
For a more retro, mid-century-inspired approach, consider installing a Sputnik chandelier. These unique fixtures are most commonly found in gold or warmer-toned metal finishes, which only adds to their retro charm.
4. Layered pendant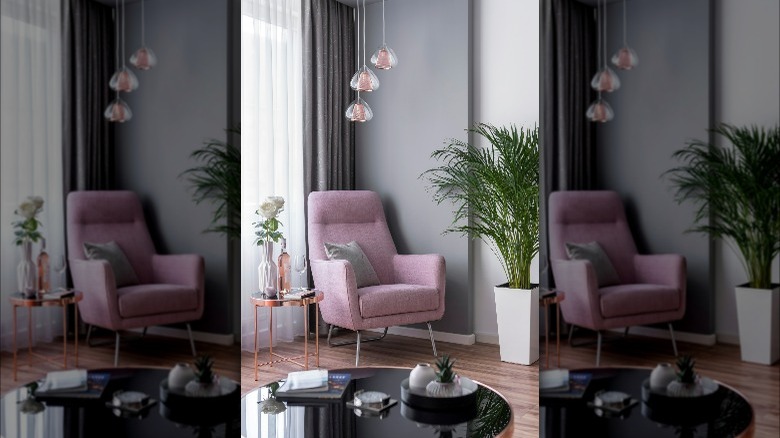 Tamas Gabor/Shutterstock
Brighten up a dull corner — both literally and decoratively — with a light fixture. Keep it simple but effective, such as a multi-layered pendant cluster.
5. Silver starbursts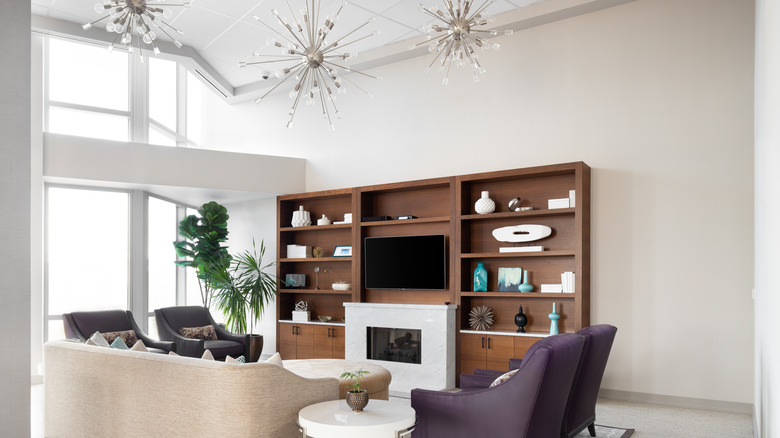 Hendrickson Photography/Shutterstock
Sputnik chandeliers are also found in fuller, more starburst-shaped fixtures. Use their cosmic quality to your advantage by opting to mount multiple silver fixtures, creating a modern and trendy lightscape in your living room.
6. Tiered wagon wheel chandelier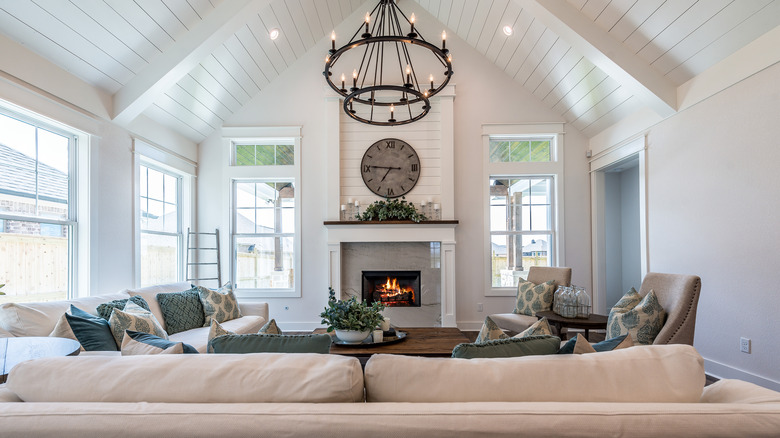 Pc Photography/Getty Images
Another type of chandelier ideal for more rustic, farmhouse living rooms is a wagon wheel chandelier. Similar to a ring chandelier, this one resembles an antique wagon wheel with lights where the spokes would go. Go even more dramatic with a tiered version.
7. Glass cage light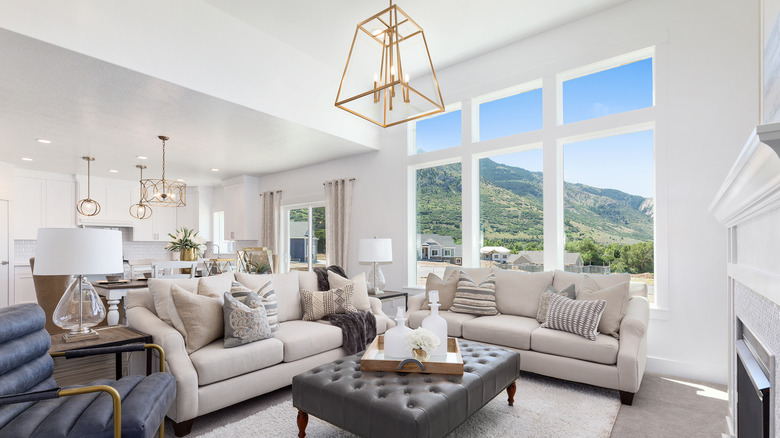 Pc Photography/Getty Images
A clear glass cage around your light fixture or a simple chandelier can instantly make it seem more modern and trendy, especially with gold accents.
8. Rope extender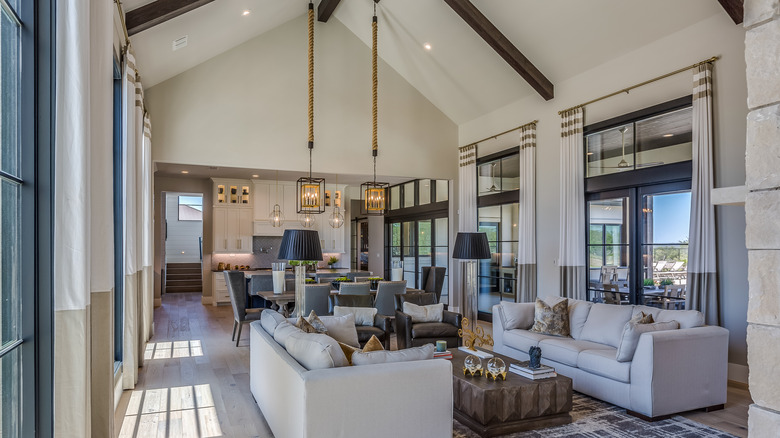 Pc Photography/Getty Images
The actual light doesn't have to be the only interesting part of your statement light. Instead of a simple wire or metal finish, opt instead for a rope extender running the length of the wire.
9. Orb chandelier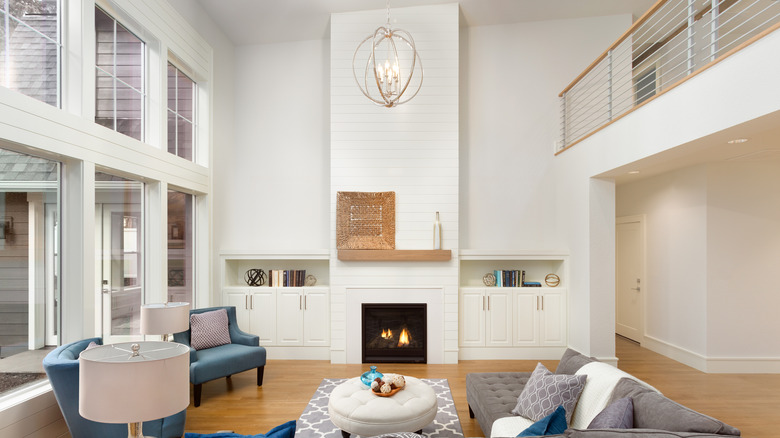 Hikesterson/Getty Images
Orb chandeliers have vertical rings circling the center lights, and create a very sophisticated but nonetheless modern and effortlessly stylish look. For a more understated approach, opt for neutral silver or light gold.
10. Abstract wire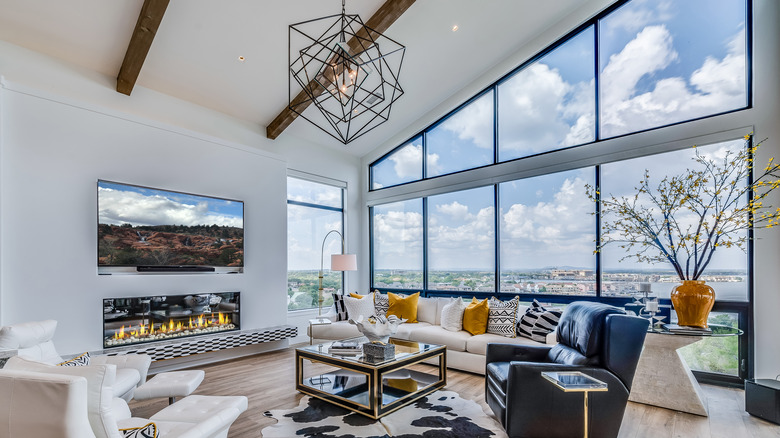 Pc Photography/Getty Images
For those wanting a more abstract, unique statement light fixture, look for a large, wire-constructed chandelier or fixture. Black metal finishing will give it a sleek, trendy look.
11. Art deco chandlier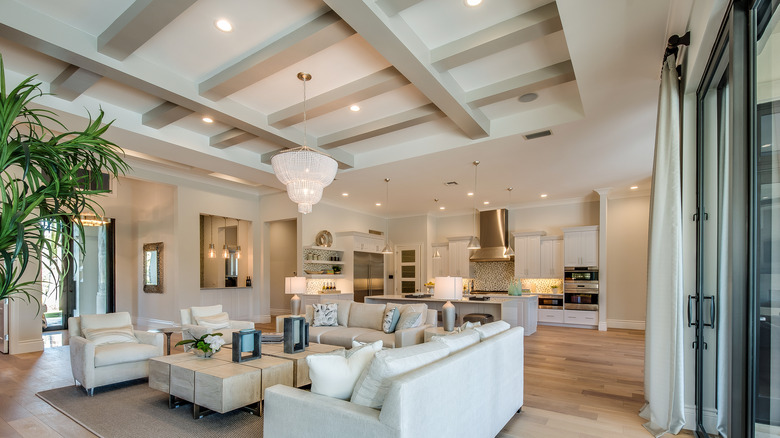 Pc Photography/Getty Images
An easy way to add a lot of drama and flair to a room through statement lighting is with an art deco-inspired light fixture. Look for something sparkly, large, and tiered, preferably with gold hardware.
12. Fun wire shapes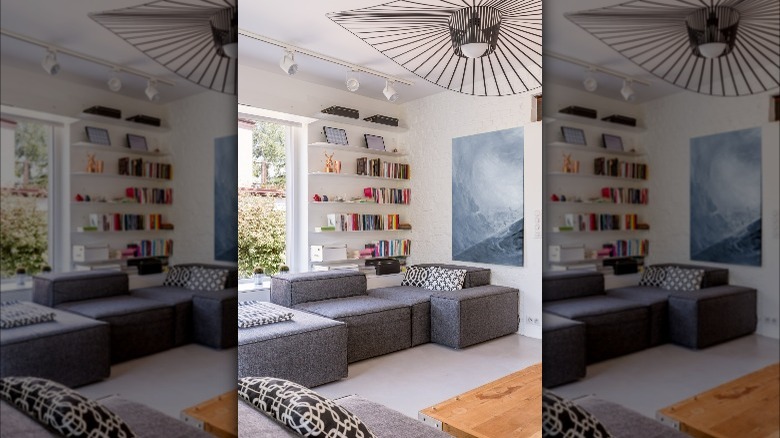 Katarzynabialasiewicz/Getty Images
Transform a simple wire cage light fixture by extending the wire in an artistic, creative, fun manner, creating unique shapes and designs on your ceiling.
13. Simple wagon wheel
A simple, one-tiered wagon wheel chandelier is also a very effective statement light in and of itself, creating an almost medieval, historical feeling in your living room.
14. Modern Sputnik style
Sputnik chandeliers may have a natural retro feel, but they can also be found in much more modern designs. Look for round, minimalistic bulbs, black finishes, and less delicate lines.
15. Boho flair
For a more boho, eclectic approach to statement lighting, look for a Moroccan or Turkish fixture, ideally with carved metal shapes so the light casts unique patterns onto the wall.
16. Unique bulbs
While the actual design of the fixture plays a large part in effective statement lighting, so does the bulb. A simple Sputnik chandelier can easily be made funky and unique with oblong-shaped, opaque bulbs, as opposed to a classic clear, round bulb.
17. Mix and match
If you have an open-concept home or studio, use statement lighting to break up each room. The trick to this method is making sure each fixture complements the next. Have fun mixing utilitarian, brushed metal pendants with a mid-century-inspired chandelier.
18. Modern ring chandeliers
Instead of having the light from your ring chandelier be on the side or top, opt for modern, futuristic lights on the bottom of the circle.
19. Abstract pendants
Really unique statement lights can function as pieces of art and decor by themselves. Look for uncommon, abstract-shaped pendants with harsh lines and modern colors.
20. Classic chandelier
Keep it simple but nonetheless dramatic with a traditional crystal chandelier. You can look for modern touches, like black hardware or slightly contemporary silhouettes for a more subtle approach.
21. Elongated Sputnik
For a twist on the trendy, mid-century Sputnik chandelier, opt for an elongated one with an emphasis on its vertical silhouette. This can also help make a living room with tall walls feel a bit cozier and more intimate.
22. Rattan basket pendant
Another boho-inspired statement light option is a large, bowl or basket-shaped rattan pendant. The larger the basket, the more dramatic the effect will be.
23. Tiered chandelier
Although they have a tendency to invoke the art deco movement, tiered chandeliers are a great way to add some eye-catching flair to your living room. Simpler designs will have more modern effects.
24. Rattan chandelier
An earthier derivative of the classic chandelier is a rattan chandelier. This can look good with almost any design, but particularly more free-form, eclectic styles like boho, rustic, or even farmhouse.
25. Geometric cage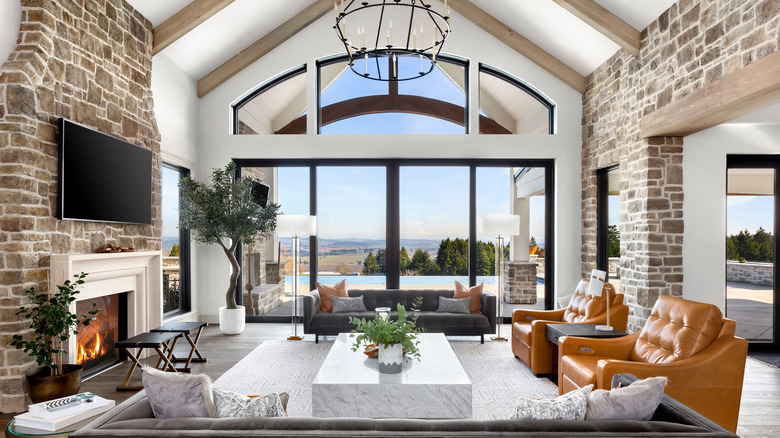 Justin_Krug/Shutterstock
For a more rustic but modern approach, look for a chandelier with a geometric cage shape, ideally either in a wood or black steel finish.