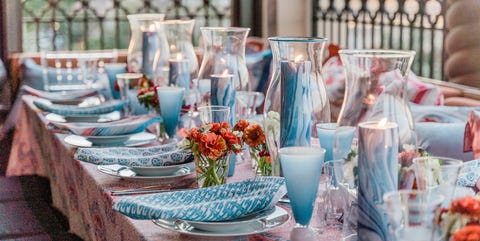 Jay Simon | Ten Ten Creative
Spring is just around the corner, and as we start to emerge from hibernation and winter festivities, nothing welcomes the season better than a colorful, layered tablescape. It's finally time to welcome back the rosé, pastel tones, and longer days. Check out these 20 spring table decoration ideas that can be perfect for your Easter lunch table, Sunday brunch, annual dinner party, or any special occasion!
Advertisement – Continue Reading Below
This table setting is inspired by nature, both in color and form. Jen Leigh Watkins, from Host the Event, was inspired by the organic waves of the plates' edges and scalloped porcelain bowls, which give tactility to the tablescape. "It is delicate and light, much like the first blooms of spring," she says.
Nothing says elegance quite like lace. A simple yet detailed lace runner is the perfect addition to your spring table. Chloe Ward loves "crisp white blooms and fresh green foliage to give a new-beginnings feel."
Tabletop stylist Suzanne Zing was inspired by an April Cornell tablecloth while creating this table setting. "I am a big believer in using the good china, crystal, and silver, to get it out and enjoy it," she says. Paired with some rosé and a bunch of fresh flowers, nothing sounds better.
This has to be the perfect centerpiece for any Easter table. "I love to mix old and new and add hand-picked treasures from many small shops to create a unique blend of farmhouse and classic home aesthetic," say Tina and Taylor Oddo—proof that we needn't be afraid to dive into the closet or storage room. You never know what might be repurposed as a splendid statement piece.
This spare but eye-catching table setting is sure to make your friends and family the happiest of guests. The Clicc created the look with "gingham napkins, mustard swirl candlesticks, and orange Murano glasses." It's a nod to the long summer days to come.
Alessandra Branca from Casa Branca created this table by using different colors and patterns from their collection. "It feels fresh and dynamic," she says. "The tablescape is really all about establishing an inviting and fabulous atmosphere." Bonus tip: Give your table a fun touch by using different napkins to elevate the look.
Cathy Graham drew upon her love of nature and woodland creatures to create this table setting, which is part of her Woodland Collection with Christopher Spitzmiller. Offbeat vegetables, colorful blooms, and Peter Rabbit–esque serveware make for a tablescape that is as bright as it is earthy.
Blending into its orchardlike backdrop, this deep green glassware completes the table for a casual alfresco moment, especially when the table blooms are sourced from your own backyard. "I always try to use the things I have on hand and always use the flowers from my garden," says tablescape artist Maria Paz Rath, who says she enjoys creating table settings that make people feel comfortable and welcome. "My style is relaxed," she adds.
Appropriately going under the title of Country Meets Coast, Paige Brown's design style is "full of color, print, pattern, and fabrics—a mix of old meets new," as she describes it. Hot tip: Mix prints with coordinating hues—as Brown did with these floral napkins from Furbish Studio, Bordallo Pinheiro cabbage ware, and green confetti Aerin double old-fashioned glasses—for a look that is maximalist in all the right ways.
Nothing says classic outdoor dining like the traditional navy-and-white buffalo check pattern. Let the table linen speak for itself by pairing it with subtle crystal glassware and casually chic rattan cutlery and accessories—a Kylie Redden favorite. For flowers, a giant bunch of baby's breath is all that is needed to "create a stunning and unexpected centerpiece," she says.
The inspiration for this centerpiece comes from the panoramic eco-regions of Hawaii, which are brimming with lush foliage and tropical notes. For this spread, Susana Matías Pacheco was going for the eclectic look, combining old and modern pieces with varying textures. "You get a hint of freshness and fun from the parrots and cockatoos, which is why I added the feathers as a centerpiece," she says.
Holly Page designs her tables with one key hero piece. In this case, a gorgeous coral and green hand-blocked tablecloth saved the day. Paired with Bordallo Pinheiro cabbage-ware plates and green handblown Moroccan glassware, the colors in the tablecloth really pop. Page's favorite detail? "The bamboo handles on the cutlery added to the rustic garden charm of the table," she says.
What creates a better centerpiece than items you already have in your kitchen? Nothing! Bright-colored fruits atop a delicate ceramic plate or bowl are simple yet efficient ways to create a beautiful table moment. Inspired by a Coco Chanel quote—"Simplicity is the keynote of all true elegance"—Kylie Redden is a big fan of paring back and letting a few key items speak for themselves. "Less is more when it comes to styling in general," she says.
A fresh, crispy artichoke is one the best ways to kick off a meal. Created by Plume Table owners Clementina Roversi and Maria Alejandra Coll, these plates celebrate the underrated vegetable and add something special to the table decor. "Mixing a classic piece with daring colors and patterns is what makes a table unforgettable and effortless," says Roversi. We're all about getting our greens in!
Blue is often a forgotten color when it comes to spring, but it doesn't have to be. When Heather Dewberry from Huff-Dewberry prepped this table, she wanted a "relaxed but exuberant setting," she says. She paired white tulips with the tablecloth's floral motifs, topped with matching porcelain plates to celebrate the blooming season. "Raffia accessories and block-printed linens always loosen up a table setting and signify a warm-weather fete," she adds.
Embrace the soft pastels of the season with a complementary pink-and-green motif. Enter Blue Maisonette's Fifi Matiga, who paired friendly pink embroidered placemats with a patterned sage tablecloth to create a look that is both whimsical and bold.
17
Attention to the Centerpiece
If you want to stay minimal with dishware and cutlery, a fantastic floral centerpiece will call effortless attention to your dining table. Floral designer Cathy Graham played it safe by hand-painting a white metal cachepot with tiny blue flowers and vines. "I embellished paper candle shades to match with the blue hydrangeas, a few white garden roses, ranunculus, and anemones," she says.
"For me, an Easter tablescape has to include all the key elements: spring flowers, bunnies, and eggs," says interiors blogger Melanie Lissack. Go all out with your Easter lunch table, and use natural elements that can easily be reused year after year. As for Lissack? "I used chunky wood slices as coasters and painted ceramic eggs with some leftover Farrow & Ball paint," she says. Bon appétit!
"I like to use pieces that are vibrant in color and unique in shape but still feel traditional," says Angela Birchak, the owner of Union Birch. For this table setting, she used a vintage Italian cabbage tureen and layered pastel-colored plates.
This coastal table setting screams spring. "The trio of chinoiserie bud vases are filled with fragrant Erlicheer," explains stylist Kylie Redden. This pretty tablescape keeps it simple with striped napkins and all-white dishware.
Advertisement – Continue Reading Below