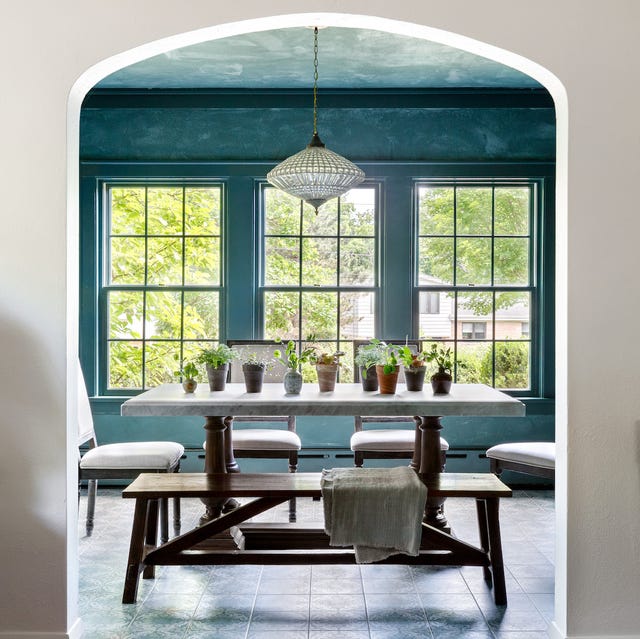 Caroline Turner
Aside from the table and chairs, there isn't much else that goes into a dining room. Sure, there may be a fun bar cart moment or dinnerware display cabinet, but we can probably all agree that the table is the main character. Even if it isn't the only surface area you have for decorative objects, the dining table is likely the primary gathering zone and also the first thing people notice when they walk into the room. So decorating it well is of utmost importance! Just like styling your coffee table, your dining room table deserves extra attention. Ahead, find over a dozen ideas and tips, and then recreate your favorites.
Advertisement – Continue Reading Below
Stone bird figurines animate this large dining table in a farmhouse designed by Hadas Dembo of Mise en Scène Design. A vintage french chandelier (hanging where there was once a hayloft) sets a dainty tone, while the durable furniture adds an air of sensibility. The tabletop itself is a marble fragment sourced from an old chocolate factory in Vermont. A pitcher full of fresh-cut flowers is the perfect fit for a formal yet storied and cozy farmhouse dining room.
A large rosegold egg figurine steals the spotlight on this vintage Hans Wagner dining table in a space designed by Shawn Henderson. Picking up the bronze sconces, pendant, and candlestick holders, Henderson proves that mixing metals and woods (dark mahogany cabinets, distressed beam overhead, whitewashed oak floors, and rosewood screen) is a strong way to deepen the soul of the room while sticking to a simple palette.
3
A Collection of Florals
A collection of vases make this classic dining table in a home by Alexandra Kaehler feel fresh and full of life. We love that the floral arrangements are all coordinated while the vases are a variety of heights and shapes for both cohesion and variation.
A figurine enclosed in a glass case makes for an unexpected centerpiece in this dining room designed by Juan Carretero. This circa-1790 dining room in the Catskills region of New York is making us swoon. The ceiling is painted a high-gloss blush, which gives the room a candlelit glow and really enhances the gorgeous Art Deco carpet. The contrast of the curvy modern dining chairs against the gilt-framed portrait is even cooler.
In this case, the boat motif draws the eyes up and keeps the center of the dining table clear for a large catch-all and matching glassware.
"The Bauers wanted a home that felt elegant but super practical and fun," designer Augusta Hoffman explains of this project. "They are constantly entertaining and asked for a space to comfortably host large gatherings. The table in the dining room expands to seat 25 people." Guests or no guests, the fun tablecloth adds a lively spirit to the whole space, and warms up the hard surfaces.
In this dining room by Raji RM, the large-scale artwork anchors the room and sets the tone. While it speaks to the classic dining set and sconces, the bones of the room appear modern. A decanter and a simple vase make the room ready for entertaining.
8
Sculptural Place Settings
Everything in this dining room designed by Cara Fox was inspired by the tableware on display in the corner, from the prints and color scheme to the traditional floor and ceiling paint embellishments. As for the dining table, scalloped edges set the tone for rounded placemats and ruffled bowls.
In a minimalist dining room, use your table to show off your favorite ceramic pieces. Here, in a dining room designed by Workstead, bowls and vases bring character.
Instead of one big central vase, designer and homeowner Brittney Bromley scattered several smaller silver vases and filled them with the same florals that playoff there color scheme of the tablecloth.
This moody dining room designed by Anne Pyne proves that formal doesn't necessarily mean fussy! Rich jewel-toned fabrics and lush layers of patterns help, but they're used with restraint so the art gallery-esque table and light fixture can also assert a more edgy and serious tone. The tabletop decor features an accent color for just the right touch of contrast.
Robert McKinley Studio brought the circle motif to life with a spherical paper pendant light but added contrast by sharpening the window trims with black paint, laying a square rug on the concrete floors, and hanging a small classic gilt frame. A lazy Susan on the center of the table adds personality and makes it easier to reach the salt.
A sunny shade of sisal wallpaper connects the open kitchen to the dining room and separates it from the seating area in this great room designed by Halden Interiors. The planter is large enough to stand its own, and the gorgeous marigold centerpiece speaks to the color scheme throughout.
Designed by Martha Mulholland for Jacey Dupree, this dining room table is spruced up with a collection of candlesticks and a lush bouquet of flowers. It strikes a nice balance between formal and casual.
Who needs floral arrangements when you can have a quirky display of succulents and plants instead? In this dining room designed by Caroline Turner, the dining room table decor speaks to the green trees outside.
Advertisement – Continue Reading Below