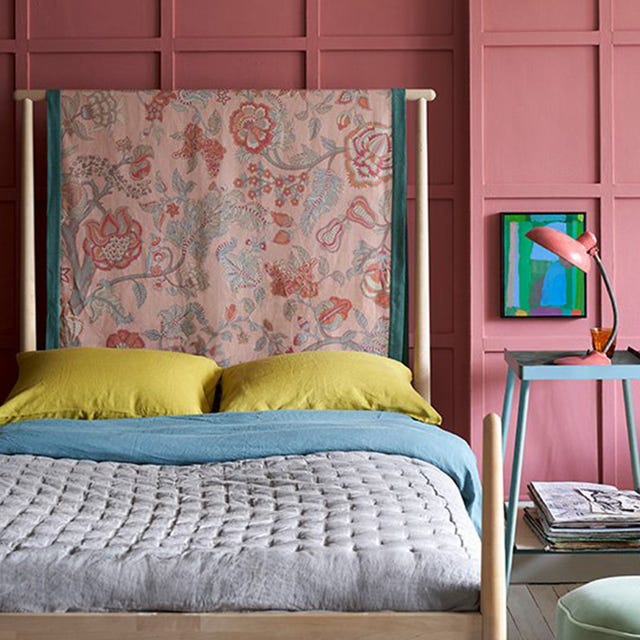 DFS, Farrow & Ball, Mylands
Dopamine dressing is the most joyful interiors trend of recent years – one that forgoes the pristine and intentional curation of the home in favour of pieces that sparks joy, colour pairings that inspire and invigorate, and a design scheme that puts a smile on your face.
'Dopamine décor can be interpreted as using colour, pattern and tactile furnishings in your home as a way to make you feel happier,' says Suzy Chiazzari, Colour and Design Consultant. 'You might start off small – by introducing a print here and a coloured piece of furniture there, or you might fully commit to vivid colours, such as zesty yellows, punchy pinks, and brilliant blues to dress homes and evoke feelings of happiness.'
Colour is perhaps the most important part of dopamine decor, as it has such sway on our mood.
'Express your individuality – your personal space should be a reflection of your personality,' says Jodie Hatton, Design Manager at Brintons. 'What you want from your home and how you want to feel when you enter a room, is very important. The warmness, coolness, saturation and intensity of colour, all create different effects. Consider how each room will be inhabited and experienced and most of all have fun with colour!'
Here, we look at 13 ways to dopamine dress your home.
Advertisement – Continue Reading Below
1
Dopamine dressing – if in doubt, go pink
The paint colour that launched a thousand Instagram posts, Setting Plaster Pink from Farrow & Ball is a great starting point for dopamine dressing. It's a bold choice when used for a whole room, but soft enough to not be overpowering. We love the cheery yellow accents here too.
Pictured: Walls painted in Setting Plaster Pink at Farrow & Ball
2
Dopamine dressing – colourful geometrics
This colourful bedroom creates playful geometric shapes with paint. 'Strong geometrics will continue to dominate in 2023 and they are continuing to evolve from the chequerboard to the broader stripes and shapes derived from travel,' says Amy Wilson, Interior Designer for 247Blinds and 247Curtains. 'Arches and curves are continuing to feature in furniture, and fabric patterns will add softness and a statement at the same time.'
Pictured: ANYDAY Dresser at John Lewis & Partners
3
Dopamine dressing – warm tones
There is a misconception that dopamine dressing requires floor to ceiling colour, but if you err on the side of minimalism, keep your room neutral and add in warm tones in the form of XL wall art or a feature sofa.
Pictured: House Beautiful Amouage Rug at Carpetright
4
Dopamine dressing – pops of colour
'The wonderful thing about adding pops of colour is that it doesn't require an entire overhaul, it's actually very easy to pull off by adding joyful accents to your existing space,' says Kate Salmon, Homeware Buyer at Oliver Bonas. 'Experiment with colourful wall art and mismatched photo frames on a gallery wall and drape your sofa with exuberantly coloured throws and piled cushions for an instant refresh.'
Pictured: Lick x Barker & Stonehouse Quinn Dresser
5
Dopamine dressing – colour drenching
You can't talk about dopamine dressing without mentioning colour drenching, or colour saturation as it is sometimes known. 'Colour saturation will be big in 2023 – taking paint colours up walls over ceilings in bold saturated colours is an easy way to inject a new lease of life into your home,' says Amy.
Pictured: Walls painted in House Beautiful Boutique Blues at Homebase
6
Dopamine dressing – in the bedroom
Dopamine dressing is at its core very playful and so youthful shapes and patterns do well. Take a cue from this happy Habitat bedroom and choose rugs with organic motifs, a scalloped headboard, and a modern feature table lamp.
Pictured: Furniture and accessories, all Habitat
7
Dopamine dressing – the joyful kitchen
Andrea Waters, Head of Brands at Spode, believes that contrast is key in dopamine dressing: 'Think less about what will go well together and work in harmony, but more about what you can contrast perfectly and having the confidence to do it. Layering textures, colours and patterns is the key to pulling this trend off and the wonderful thing is, anything goes!'
Pictured: Hope Pattern Chair at DFS
8
Dopamine dressing – tablescaping
Dopamine dressing can translate to all areas of the home – the kitchen table included. Jess Martin, party decoration expert at Ginger Ray, says: 'Combine vintage or secondhand pieces with some new favourites for that ideal mixture of shapes and styles. Opt for opulent jewel tones for your glasses and table linens and add in some candlestick holders with bright candles for a multicoloured, maximalist look.'
Pictured: Tableware at Oliver Bonas
9
Dopamine dressing – brave design choices
One for the bravest of decorators. Besides the striking walls and feature sofa, note the mismatch of patterns – a cowhide rests on top of a striped rug, polka dots and zig-zags sit side by side on the sofa – this fabulous living room really goes for it.
Pictured: Walls painted in Stone Blue at Farrow & Ball
10
Dopamine dressing – pastels
If you're a light sleeper, and tend to decorate your bedroom in calming shades, consider pastels. 'Introducing pops of colour could be the perfect way to subtly inject some positivity into your bedroom, without this impacting on your sleep quality and quantity,' says Sammy Margo, Sleep Expert at Dreams.
Pictured: House Beautiful Maisy Bed at Dreams
11
Dopamine dressing – accents in colour
Dopamine dressing can just be an exercise in choosing the right accents. 'If pattern is something you are new to and makes you feel nervous, consider using in just one part of your home,' says Amy. 'A statement window dressing in the form of some beautiful curtains could be a great way to start your pattern journey and you can keep the rest of the room more pared back in a neutral tone.'
Pictured: Woodwork panted in Long Acre at Mylands London
12
Dopamine dressing – the creative bedroom
'If you have a showstopping wall in your bedroom, there are two ways you can approach the rest of your bedroom design,' says Lucy Ackroyd, Head of Design, at Christy. 'The first option is to mirror the design within your bed linen. For example, if you have a floral pattern on your feature wall, use a duvet cover with subtle botanical prints like dainty daisies or beautiful blossoms that look like they have been delicately hand-painted onto the bed to achieve balance and harmony within the room.
'The second option is to stick to plain white bedding and accentuate the prominent colours found on the wall art by using bright and bold soft furnishings to decorate your bed without taking the focus away from the ornate backdrop. Style with throws and cushions, and add lush greenery or fresh flowers to truly bring the room alive.'
Pictured: Walls painted in Fruit Fool at Farrow & Ball
13
Dopamine dressing – the bold choice
Further proof that dopamine dressing is a practice in contrasts. This fabulous dining room creates a palette from totally disparate colours, and accents with a totally unexpected black.
Pictured: Walls painted in Coral Orange at Mylands
Follow House Beautiful on TikTok and Instagram.
Advertisement – Continue Reading Below