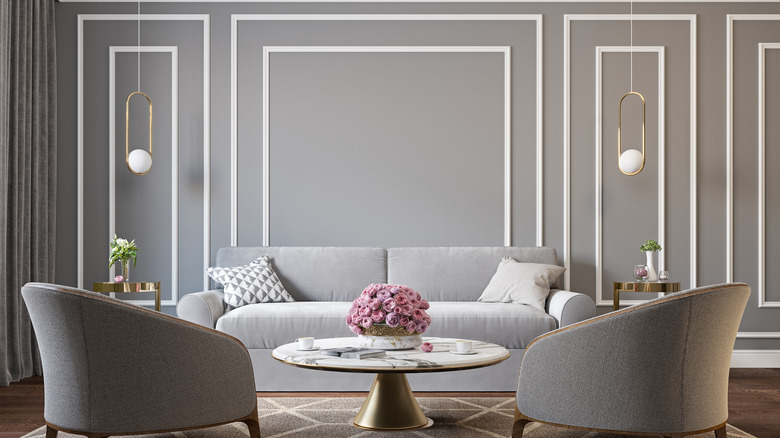 Ykvision/Getty Images
Paint and wallpaper are great ways to spruce up your walls, but neither are quite as effective and eye-catching as wall paneling. Wall paneling is an umbrella term for a variety of applications, including retro-style wood paneling, classic wainscotting, hyper-modern flat paneling, and so on.
There are a variety of reasons to consider wall paneling, the main reason today being the classic, refined look it gives to a room. However, Architectural Facade Solutions explains that historic builds used paneling for increased insulation. Wall panels are also much easier to install now, especially additions like board and batten or beading. While it may be unsuitable for rooms like your kitchen or bathroom, wall paneling can make a lovely addition to your living room. It can help center a certain design choice or spruce up a boring wall, grounding your living room as the heart of your home. Keep reading for some living room wall paneling inspiration and ideas.
1. Mid-century wood paneling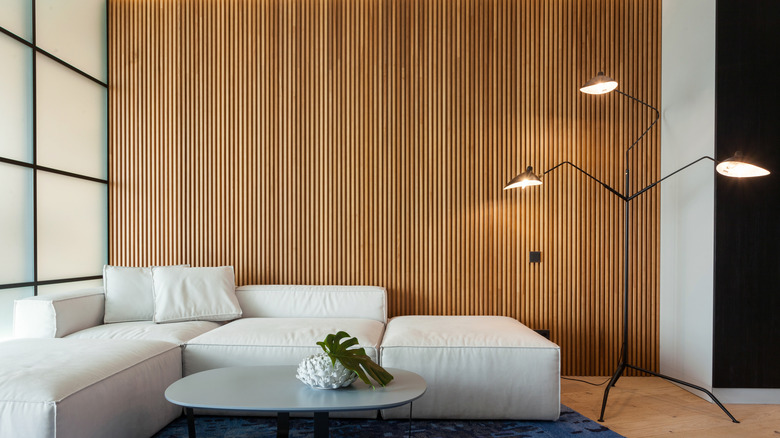 brizmaker/Shutterstock
Add '70s flair to your living room with warm, orange-toned wood paneling in your living room. Keep it refined and modern with thin, vertical panels instead of authentically retro, thicker planks.
2. Picture ledge half wall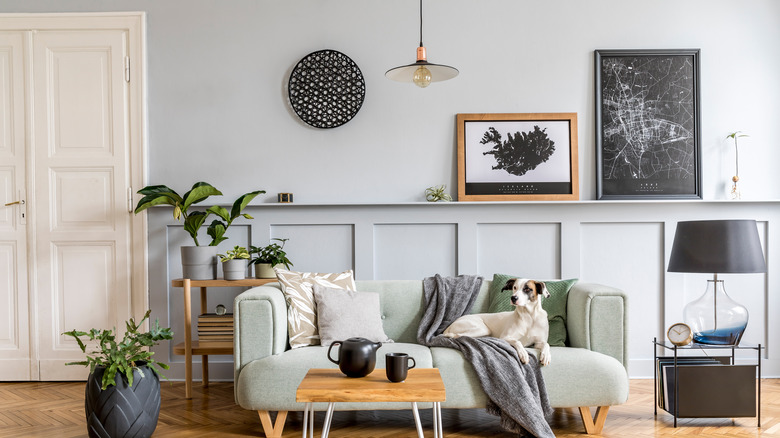 Followtheflow/Shutterstock
Get crafty with a thicker board and batten half wall, turning the top ledge into a shelf thick enough for plants, decorations, and picture frames.
3. Two-tone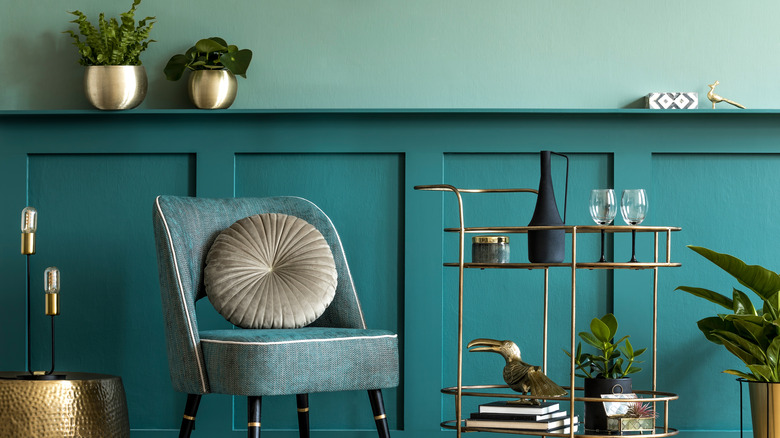 Followtheflow/Shutterstock
If you have half-paneled walls of any kind, make the distinction even stronger with two varying tones. Keep it in the same color family for a more cohesive look, or two oppositional colors for bold contrast.
4. Stone accents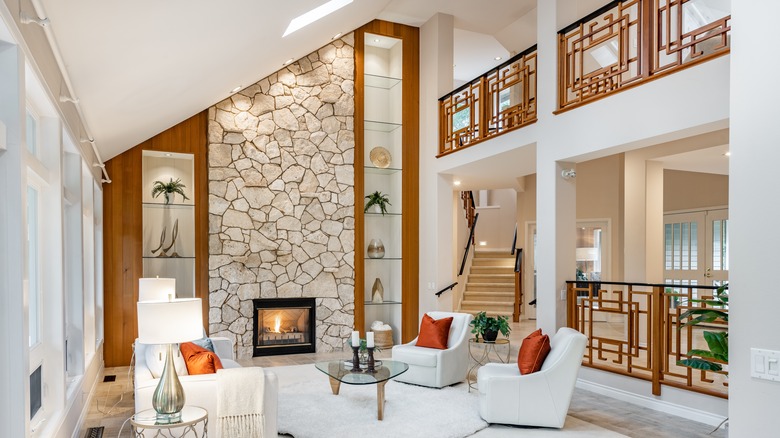 Sheila Say/Shutterstock
Break up a heavy wood paneled wall with stone accents. Add a fireplace at the base for a more seamless addition, while providing lots of warmth and coziness to your living room.
5. Art deco style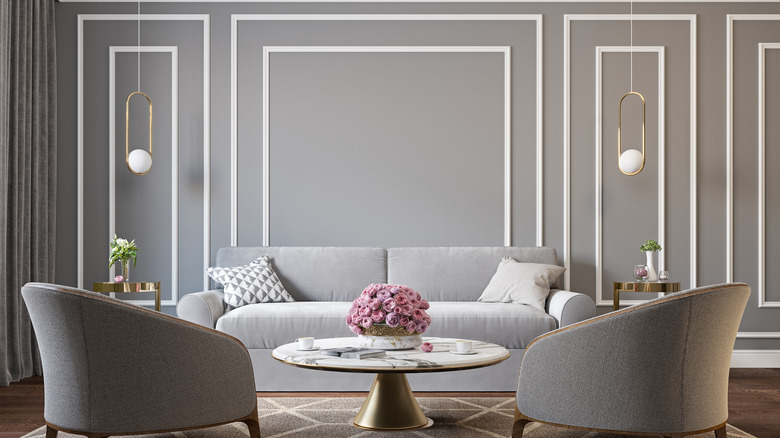 Ykvision/Getty Images
Add lighter-colored, thin framed wall paneling to a clean gray wall, creating a modern take on an art deco classic architectural feature.
6. Shiplap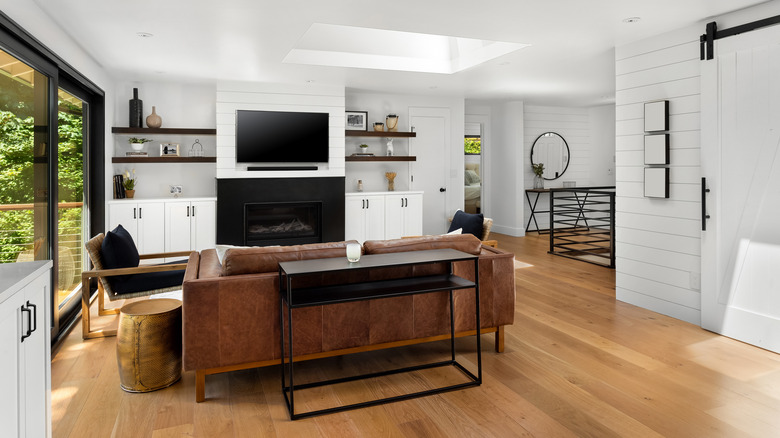 Justin_Krug/Shutterstock
Shiplap's trendiness is in large part due to its versatility and timeless look, especially in farmhouse or rustic rooms. Simple white shiplap used as accent walls throughout your living room will give it a slightly rugged, but unique and textured look.
7. Flat concrete paneling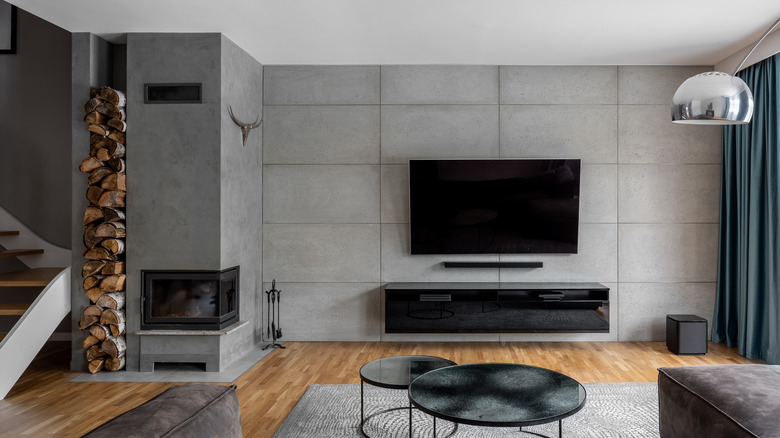 Dariusz Jarzabek/Shutterstock
Flat paneling is a great way to get the visual intrigue of paneled walls without the business, creating a more modern sensibility. Go ultra-modern, even brutalist, with concrete or cement flat panels. 
8. Board and batten
Flat board and batten walls are a classic way to add some texture and intrigue to your living room. Paint your walls a deep, striking color to help accentuate the paneling. 
9. Flat wood paneling
Another flat paneling material option is wood. While it could look a little retro, a lighter shade with a natural grain will give your living room a very modern, contemporary, and refined look, while still adding a lot of warmth and depth.
10. Traditional wainscotting
It doesn't get any more classic and timeless than traditional wainscotting paneling. You can't go wrong with white walls, creating a luxe but inviting look that goes with any design style.
11. Cabin style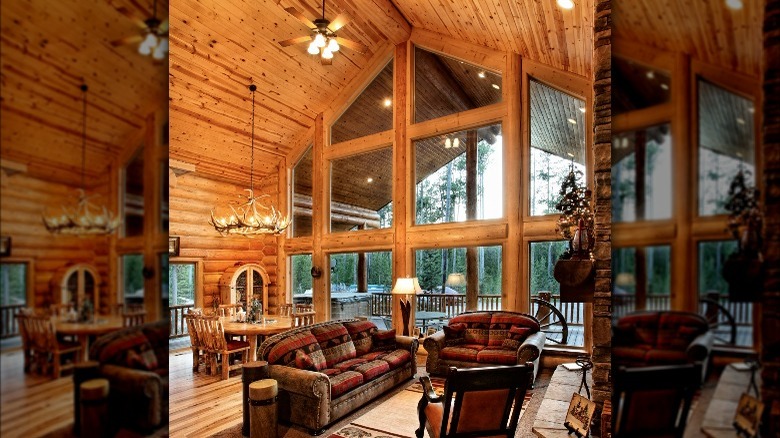 B Brown/Shutterstock
Wood paneling looks its best in a rugged, unpolished finish in a cabin-style home. Lean into the look with lots of leather, fur, and craftsman or rustic furniture and decor pieces.