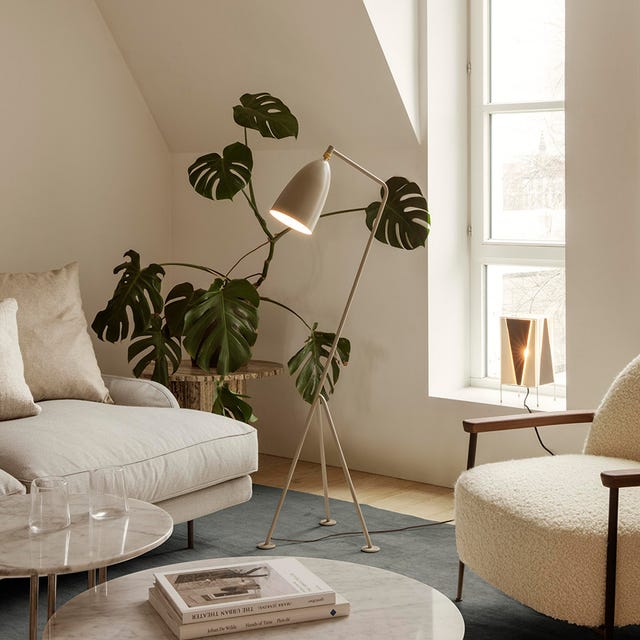 Soho Home / Nest
If there's one interior style destined to remain ever on-trend, look no further than Scandinavian-inspired homes. It's a style that perfectly blends design and functionality, carefully balancing a sense of understated curation and a minimalist aesthetic with a laid-back, welcoming feel.
For a Scandi living room think pared-back but striking silhouettes, a neutral colour palette with bolder hues subtly woven throughout, a mix-and-match approach to texture, plus natural materials aplenty. A modern Scandi home is effortlessly cool – both minimalist enough to feel thoughtfully put together, but relaxed enough to welcome guests.
If you're unsure where to start, you're in luck. We've gathered 10 inspiring Scandi living rooms to get your creative juices flowing, plus, our favourite homeware finds for getting the look just right.
Advertisement – Continue Reading Below
1. Add intrigue with curved homeware
Sculptural design plays a large part in modern Scandinavian design, particularly curved silhouettes. Adding homeware to your interior with interesting (but understated) outlines helps to draw the eye without shouting for attention. We especially like this curved magazine rack.
Image: Walls in Sloane Square No.92 & Pure White No.1, both Mylands
GET THE LOOK
housebeautiful.co.uk
Maggie Magazine Holder in Burgundy
2. Use a textured lampshade to grab attention
Natural textures and ample lighting is key to adding a cosy appeal to your home. Use natural materials, such as cane and rattan, to add a tactile quality to your interior. A lampshade is an easy way to achieve this, serving both a functional and decorative purpose.
Image: Sydney Cane Living Room, Soho Home
GET THE LOOK
nkuku.com
Kaithur Rattan Dome Lampshade – Small
£190.00
£115.00 (39% off)
3. Refresh your walls with abstract art
Abstract prints are the perfect fit for Scandi-inspired homes, thanks to their loose, laid-back nature. Stick to subtle colours and bold shapes – the combination creates a pared-back but interesting look.
Image: Navy & Pink Art Print, Abstract House
GET THE LOOK
housebeautiful.co.uk
Neutral Line Print in Green
4. Use greenery to bring the outside into your interior
Plants – whether real or artificial – are a lovely nod to the great outdoors. Plus, they inject a welcome pop of colour into an otherwise largely neutral space. Tall, leafy varieties are perfect for filling empty corners, whilst more petite plants are ideal for dressing up side tables.
Image: Sejour Lounge Armchair, Nest
GET THE LOOK
crocus.co.uk
Swiss cheese plant
5. Invest in an accent chair
Adding an accent chair to your living room doesn't only provide an extra seating option for guests, but it's a brilliant way to add a sense of personality to your space as they're often far bolder in design than other seating, such as sofas.
Image: Lambert Accent Chair, Cult Furniture
GET THE LOOK
hm.com.uk
Low Lounge Chair
6. Add a little bit of hygge
Hygge – aka the Nordic art of getting thoroughly cosy – is essential to achieving the right look and feel in a Scandi living room. Even if you're not fortunate enough to have a log fire, the addition of plenty of texture should do the trick. Think sheepskin rugs, boucle chairs, knitted throws and textured cushions. The more the merrier, we think.
Image: Super Sumptuous Sheepskin Rug, Jord
GET THE LOOK
dunelm.com
Single Pelt Sheepskin Rug
7. You don't have to shy away from colour completely
There's a common misconception that when it comes to Scandi-interiors, colour is to be avoided. However, this simply isn't the case.
Yes, you don't want to go overboard or opt for garish shades, but warming tones applied carefully are a wonderful way to make your living room feel snugger. Sofas, artwork, and soft furnishings are ideal for trying out this Scandi living room look.
Image: Bloomingville Barri Cushion, Sweetpea & Willow
GET THE LOOK
oliverbonas.com
Tress Orange Corduroy Chair
8. Opt for natural materials
If you're in the market to update your living room furniture, opt for natural materials such as wood. The light and natural finish of wooden coffee tables, sideboards, and television consoles align perfectly with the pared-back colour palette seen in Scandi living rooms.
Image: Zuiver Oak Tray Coffee Table, Cuckooland
GET THE LOOK
housebeautiful.co.uk
Zyra Round Wooden Nest of Tables in Brown
To achieve the laid-back nature of a Scandi living room, remember to add in your own personal touches – soft furnishings, accessories and artwork. Don't aim for things to perfectly match, either. An eclectic approach is what helps to keep the final result effortless in appearance.
Image: Nordic Living Room, B&M
GET THE LOOK
layeredlounge.com
Rustic Black Candlestick
10. Make the most of light
Light is a crucial component of a welcoming space, especially in a living room, so try to get as much natural light into your home as possible during the daytime, then when the night draws in, opt for warming lamps and candles.
Image: Ambience Table Lamp, Nest
GET THE LOOK
Dunelm
Elements Lahti Table Lamp
Advertisement – Continue Reading Below